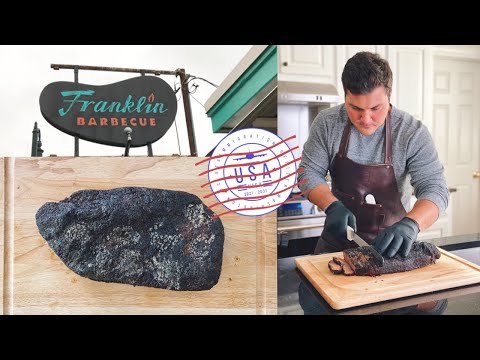 Watched thru this (too hot to be outside the next couple days), the Money Shots begin at 9:15 if you have a life.  I didn't know you could mail-order a Franklins brisket, only $250!  
 It comes very well-wrapped, with ice packs on both sides of the meat but it isn't frozen.  Pkg comes with instructions on three different ways to reheat it (stovetop, oven, and Sous Vide).  He went with oven (which included some sliced butter on the top, unwrapped).  Amazingly juicy, from what I could see, for mail-order; the EweTuber raved about it.  
And here's the question: he sliced the flat across the grain, up to the deckle, but then rotated the double-thickness 90º and sliced thru BOTH layers.  I normally pull off the point (along the horizontal layer of fat) and continue the flat until finished in the original direction, 
then
turn the point 90 degrees.  Have I been doing it wrong?  
____________________________________________
"Had I known I would've lived this long, I would've taken better care of myself."  
   -**** Van Dyke, 24 May 2021