First off I want to start with apologizing for mostly asking questions and not answering any (your probably better off with out my help I can screw up toast) .
Second. I got a Anova Precision Cooker 900 watts during amazon prime day least year and never took it out of the box until today.
I plugged it in hooked it up to the anova app and doing a test to see how long it takes to get my cooler filled with warm tap water to temp so I can give 10 x 2 1/4" thick dry aged porterhouse steaks a bath tomorrow (Saturday) night.
So here is my question; after I figure out how long the preheat process is going to take and again I have never sous vide before, how long should I leave the 10 x 2 1/4" thick dry aged porterhouse steaks in to make them rare to very rare then Ill char them up on an egg at at least 750 dome temp? The app say I should sousvide at 124 for 1.5-2 hoursAs best I can tell that is the same number whether or not it is 1 steak or 20 steaks. My only concern is cooking at sub 130 is 1.5-2 hours safe for the meat to be out that long with out getting my guest sick. 
I know I probably already know the answer but I have about a grand of steak going on tomorrow night and I would like to not ruin them in fact I would love to wow my guest.
So this is what I have in mind.
1. Preheat cooler to 124 degrees
2. have steaks in vacuum sealed bags with corse salt and pepper (still tossing around the rosemary and garlic not sure if I should or not)
3. Cook steaks at 124 for 1.5 hours
4. about 45 minutes into cook get egg fired up and let it get to 750+ dome temp
5. about 1.25 hours into cook melt some butter on stove and when I take the steaks out of the bag put all juice (I hope there will be some again I never did it so not sure) into butter to pour onto steaks while im searing them on egg
6. Sear steaks about 20 seconds then flip wait another 20 seconds and flip and turn and repeat 1 more time so total time on egg should be less then a minute (mind you 10 steaks might go longer)
7. Serve immediately and pray there good or preferably great
Any info or advice is greatly appreciated!!!
Here is a photo of my cooler on the test run to see how long it takes to get to temp. (I knew not to through away my old cooler after i got the pelicans, that I would use them for something some day)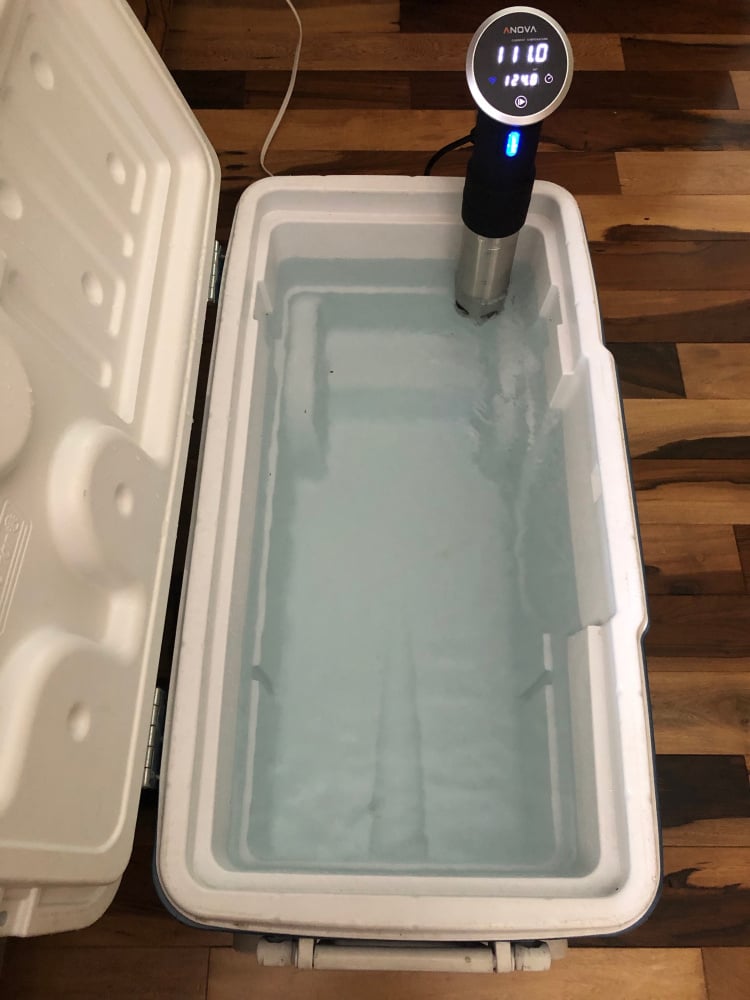 THANKS AGAIN FOR ALL THE HELP!!!