I have been trying to figure out how to make bread that makes
me
happy for a good while now. I like a round loaf with a chewy crust and an open crumb. I've played with hydration, rise times, bought books, watched videos, stomped, cussed, and everything else along the way. I have now made several loaves that make me happy.
Here's some discussion for anyone that might be interested.
I've learned the flour makes a difference. I used local bread flour for a while; when I switched to King Arthur flour my bread improved. Other flours might be great - these are just the choices available to me locally.
I measure in metric units using an electric scale. I use the baker's percentage for measuring the amount of water (hydration level).
ingredients:
430 grams flour
322 grams of room temperature water. That is 75% hydration. 430 grams flour x .75 = 322.5 grams water.
1tsp salt. Non-metric is easier for me on this one. Hey - don't judge - my scale isn't accurate in small amounts.
1/4 tsp instant yeast
procedure:
I have to plan ahead - I mix the dough 12+ hours before shaping and baking. Sometimes I'll mix at 5:00-6:00 PM when I get home so I can bake in the morning (my weekend plan). Sometimes I'll mix about 5:00-5:30 AM so I can bake after work.
I weigh out the flour and dump in a plastic container I use for the bulk rise. Then I add the salt and yeast to the flour and stir together. I weigh out the water and add it to the flour mixture. Using a dough whisk I mix until the ingredients come together and all the flour is absorbed.
If I'm home I'll fold the dough every 30-45 minutes for 2-3 folds total. If I'm not home I don't stress over it.
Here's the rising container:
As you can see I also use it to store my bread flour.
I let the dough rise for 12-18 hours. It's not something I stress over. Only in summer does it try to rise too much.
When I'm ready, I roll the dough out gently on a lightly floured surface - I use my cutting board.
Here's something that changed my bread - I learned how to "stitch" when shaping my loaves.
https://youtu.be/YY1qzaOdSdQ
I place the shaped bread in a linen lined banneton.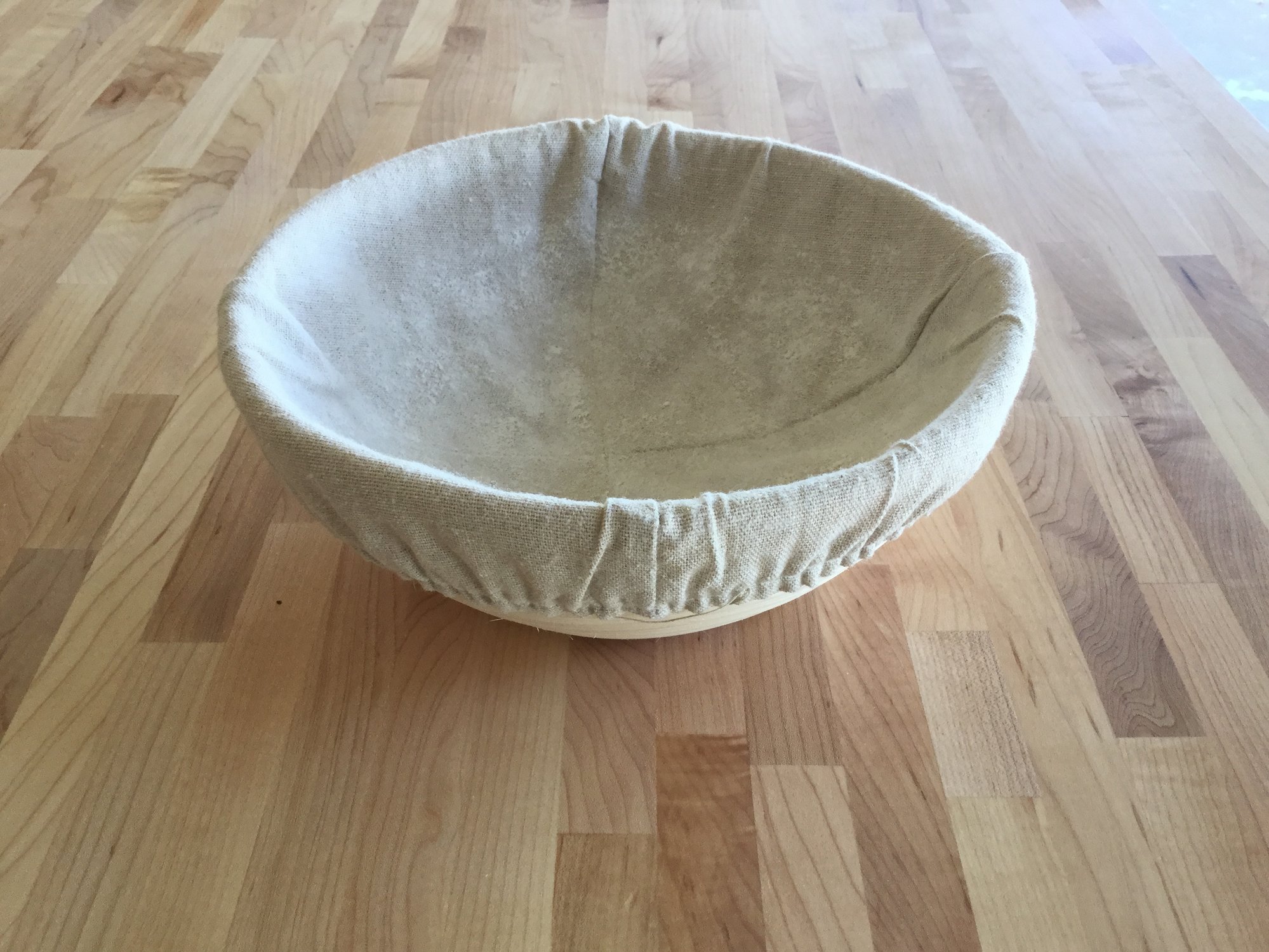 Here's another game changer for me - dust the linen with a 50/50 mixture of bread flour and rice flour. The rice flour makes a HUGE difference in the bread not sticking to the linen.
i let the dough rise for about 1 1/2 hours.
While the dough is rising I preheat the oven or egg to 500 degrees. I use a cloche on my pizza stone.
I think it is important to let the ceramics all come to temp and saturate as well as settle at the desired temperature. I give everything the full 1 1/2 hours of rise time to heat up and stabilize at 500 degrees.
When it's time to bake I sprinkle cornmeal on my wooden pizza peel (I make sure the bottom of my loaf has some of the rice flour mixture on the dough). I roll the dough out on the peel.
I slash the dough with a ghetto lame made from a coffee stirrer and a razor blade.
Use the peel to launch the loaf on the pizza stone. Welding gloves are useful for handling 500 degree ceramics.
I bake the bread under the cloche for 20 minutes. Then I remove the cloche and bake an additional 10 minutes.
This method has been yielding consistent results that I enjoy. I know there are many ways to make good bread, but this has been working for me. If this helps someone else, I'm happy.
Here's another loaf I made last week:
Thanks for looking.