Just Another Good Turd
Jalapeños
Carne asada (thin sliced)
Pork chorizo
Cream cheese
Spicy Beef Dry rub
Leave the handles on the jalapeños.   Using a paring knife slice from the shoulder to the tip of the jalapeño.  Lay the jalapeño in your hand lengthwise from finger tips to thumb.   Squeeze hand closed to open the jalapeño. (Like a coin purse) Use a small cocktail spoon to hollow out the seeds and membrane.
Smear cream cheese into the cavity and add chorizo. 
Lay out the thin sliced Carne Asada and season with beef rub of your choice.  Cut the piece of asada lengthwise.   Take the seasoned strip of asada and wrap the stufted jalapeño.   Use a tooth pick to hold together.
Dust with honey powder for a little sweet to beat the heat!
Into the egg at 250-300 for 2.5 hours indirect heat internal temp 190°. (Be sure the chorizo is cooked) 
Then... enjoy!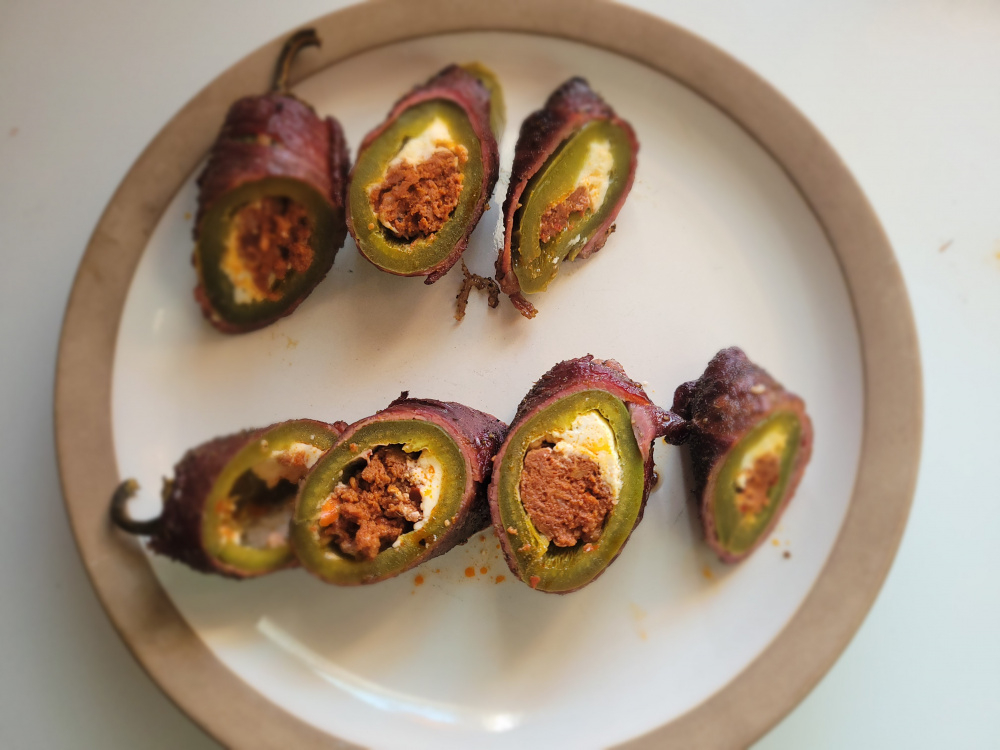 *Chef's note as you can see the chorizo has very little extra fat.  Be sure to buy the 'dry' chorizo from the Mercado. (It's the stuff hanging behind the butcher)