Fellows, here is a real treat to compliment the sausage loaf exceedingly well. They compliment each other like peanut butter and jelly. With the formalities aside, here it is as you requested my friends.
Ingriedants:
1 pound ground beef. I prefer 70/30 as it doesn't dry out. 
1 can of cream of mushroom soup.
1 bag of quality tater tots.
Provolone cheese.
Parmesan cheese. (Block, not powder). 
For the remaining cheese, use what you like. Shredded cheddar, Montery Jack, Colby Jack or a combination of different cheeses etc, etc. The sky is the limit here. Again, just use your preference for the top layer. 
Directions. 
First, brown the ground beef. It doesn't matter if it's frozen or thawed. Examples of both frozen and thawed. They work equally well.
Frozen.
Thawed.
After browning drain the meat well. Unlike the sausage loaf, you do not need not want the excess grease. 
Drain meat.
After draining, spread meat into a baking dish.
Stir in 1 can of Cream of Mushroom per 1 pound of ground beef. 
Now lay down a layer of sliced Provolone.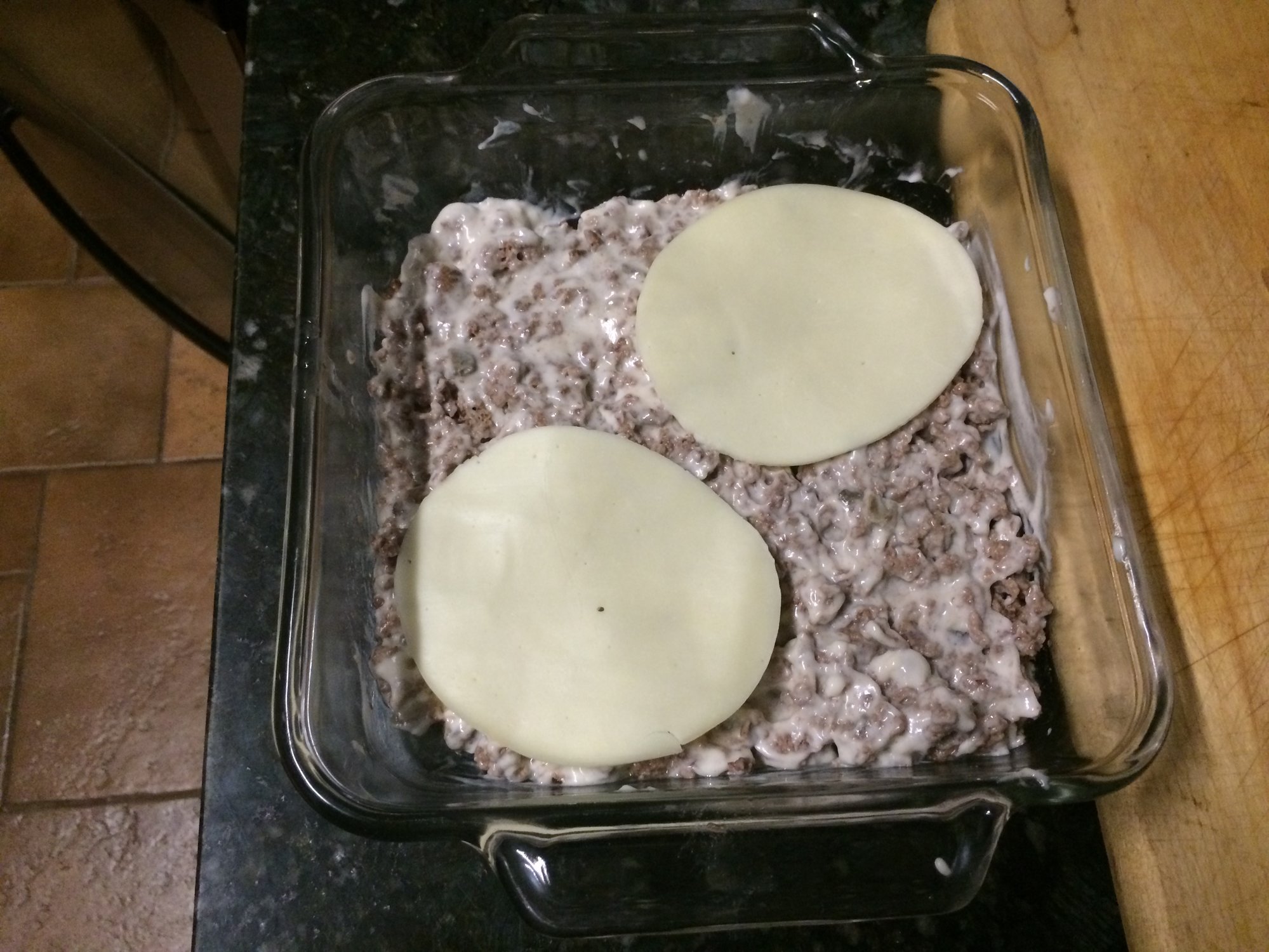 Now lay down a good tight layer of tater tots. Once you lay down your layer of tater tots, salt them to your taste. 
Now really put the the shredded mozzarella, cheddar, etc, etc, to it. Don't be scared of the cheese. Put it to it. The more the better. 
Due to its thickness, cook at 350 degrees to avoid scorching the cheese. Don't be tempted to run this higher than 350. Cook until hot through and through. As a rough guide, as long as the very center reads 140 degrees, you are good to go. 
About 10 minutes before it is done, top with a coat of the best Parmesan that you can find. Not powder.
Parmesan block. This is a outstanding one. I use it on chargrilled oysters.
Parmesan block.  
This is can be cooked in the oven, BGE, or my personal favorite, a big unit. However for clarity, smoke adds very little to this dish. To be honest, most folks seem to prefer it without smoke. As such, cook it at your discretion. 
Tips:
You can make this as big or as small as you want. Just keep the proportions the same. 1 can to 1 pound. Or 1,000 cans to a 1,000 pounds. The 1 to 1 ratio works perfect.  
Once you lay down your layer of tater tots, don't forget to salt them. I go pretty heavy, but I like salt.  
If possible, use a good quality Parmesan, not a can of powder. It makes all the difference in the world. 
Drain the meat well. You do not want the end result to be greasy. 
Bake at no higher than 350 to avoid scorching the cheese. 
Skip the smoke. It brings nothing to the table with this dish. 
Dont be scared to really put the cheese to it. This in not Jenny Craig, it's SGH.
Last but certainly not least, hope that yall enjoy it my friends. 
Unit #1 purring along at 350 degrees. 
Hope that y'all enjoy it as much as I do my friends. 
Location- Just "this side" of Biloxi, Ms.
Status- Standing by.
The greatest barrier against all wisdom, the stronghold against knowledge itself, is the single thought, in ones mind, that they already have it all figured out.