Well- I've been on the forum for a while, and this is my first post.  You see, I didn't have a Big Green Egg.  My brother did, and I really liked eating the food he would cook for me.  I had a weber smokey mountain, and got to know it pretty well.  I did a lot of ribs, butts, turkeys, etc, but no matter how good they would turn out, they never seemed to be as good as what my brother could do on his BGE.
Then... It finally happened.  My wife got me an XL BGE for Father's Day!  After seeing some pretty awesome tables on the forum, I decided I would try to build my own.  I only had one week to put it together before my egg was delivered.  I spent about $350 on treated lumber at Lowe's and was able to put this together...
At first, all I had were these dimensions I found online, and I calculated and drew out the rest myself
First I made the frame, with wheels:
Then I built the "floor" for the egg, and put on sides and a bottom
Then came the cabinet doors
then the tabletop.  I had some leftover hardwood flooring from when they built our house that I used for the counter.  I'll be putting some epoxy over the top of the countertop this weekend.  As you can see here, I was toying with the idea of having some thin tile for under the egg, but ended up taking that out as the dealer was going to throw in some "feet" for the egg with the purchase.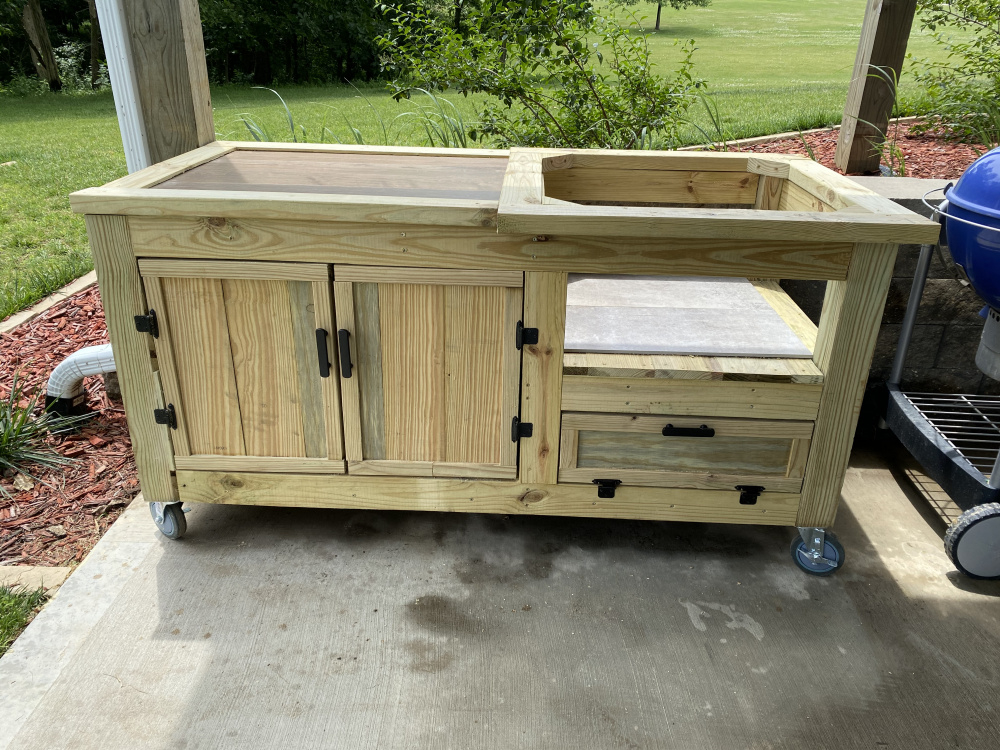 And last, but certainly not least came my XL Big Green Egg!  The dealer that I bought the Egg from had some of these old "feet" that she threw in for free.  She told me that they used to come with all the Eggs, and she still had a few sets of them.  I have also now installed a hook rack on the right hand side of the table.  My brother said to me that he would have built the table with the egg on the other side, and wondered why I did it this way.  For some of you, the answer will be obvious.  It's because I share something in common with Ned Flanders (I'm a lefty).
Needless to say, I was quite excited to give the egg a try.  For my first cook, I decided to do some basic ribs, and they were great!
Since then, I've done a few other cooks, and am really enjoying learning about how to use the big green egg.  Just today, I bought the Eggspander, and egg'd two Papa Murphy pizzas.  They turned out great.
So how about it- any tips to a fellow just getting started? Anything you wish you would have known?  Thanks!