Here is two of the greatest DE razors currently being manufactured today. If you are really wanting to take your shaving game to the highest level possible without transitioning to a straight, then look no farther.
First up, the Merkur Futur adjustable. Some call it the "future" of shaving.
The Futur on the left flanking the R41.
The Futur is an adjustable razor. It can be dialed up and down to fit your shaving style and needs. On its lowest setting it is a very mild razor. However with a simple turn of the dial it can be turned up to be pretty darn aggressive. Not quite in the same league as the wicked Muhle, but still more aggressive than most will ever need.
It is a very large and heavy razor. But it's balance is near perfect. As far as quality materials and assembly, the Futur is as well built as any.
A close up of the head.
If you are an experienced wet shaver and want to reach the epitome of shaving, or if you are just a brave soul looking for a challenge, well look no farther my friends, the Muhle R41 has you covered.
With its open comb design and wicked blade exposure and gap, it is simply a wrecking machine. A blood bath in waiting for the inexperienced or careless shaver.
However in experienced hands, due to its wicked blade exposure and gap, the mighty Muhle can easily approach the shaving closeness of a straight razor.
Like the Futur, the R41 is an extremely well built machine. Balance is near perfect. It's a cats whisker smaller and lighter than the Futur.
A close up of the wicked R41.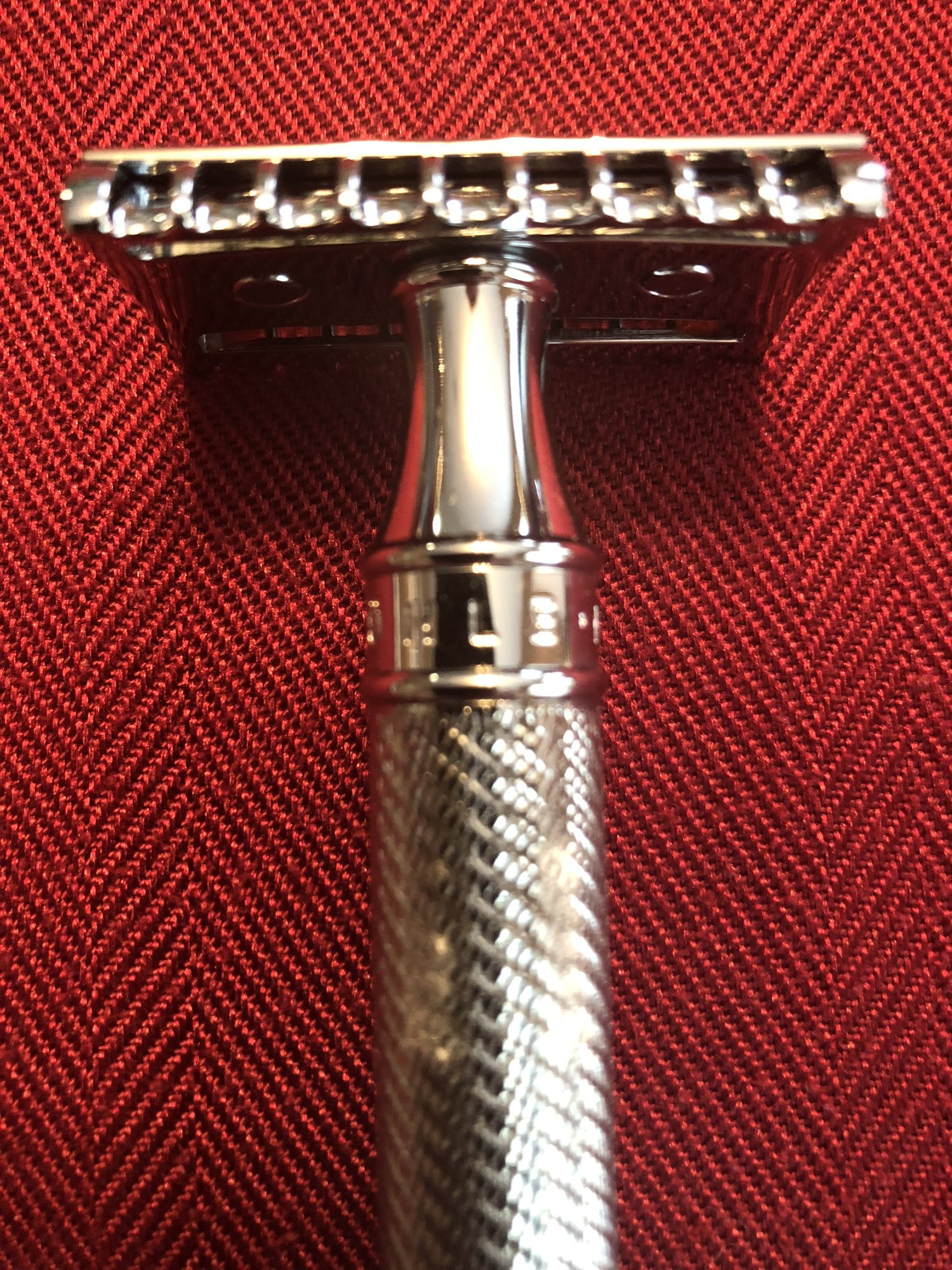 With all of the above said, in no way is the R41 for novices or beginners. It is simply to aggressive. When loaded with a Feather blade, it's a blood bath waiting to happen in inexperienced hands.
However in a trained and skilled hand, the R41 will bring you as close to a straight shave as you are going to get. The Muhle R41 stands at the top of the food chain. It is the pinnacle and Holy Grail of DE razors. It is simply unchallenged and reins supreme in the world of DE shaving. Once you master the Muhle, you will be hard pressed to do any better short of a straight.
One word of advice, if you try the R41, use the slickest soap that you can find. It won't be a bad idea to use a preshave oil as well until you get use to its aggressiveness.
I hope that y'all enjoyed a look at these two shaving machines my friends. Have a great day and shave on.
Location- Just "this side" of Biloxi, Ms.
Status- Standing by.
Arsenal-Just a small wore out and broken down Weber kettle. No other means to cook at all.


Virtus Junxit Mors Non Separabit

The greatest barrier against all wisdom, the stronghold against knowledge itself, is the single thought in ones mind, that they already have it all figured out.

Just a man with a Muhle.

Grab'em by the Pelosi !!