Decided it was time for a gathering of the friends and you have to have food to go with good company.  The night got underway with some cheese and wine for the warm up
We just kinda jumped in and cooked as the night started. Next up was Mediterranean Roasted Cauliflower seasoned with EVOO,Baslamic Vinegar, onion powder,garlic powder, basil,oregano,thyme with some S&P.  Fresh Parm went on just before eating 
Next up was Southwestern Egg Rolls.   Earlier in the day I did a chicken on the small for the egg rolls.  The skin got a little extra crispy but that didn't matter cause all I needed was the meat. Egg rolls had chicken(duh) black beans,onions,garlic,red pepper,jalapeños and spinach plus a big helping of Colby Jack cheese. 
 Rubbed a Tri Tip with DP Raising the Steaks and dropped it for SV swim at 134° for 4ish hours. 
 Egg Rolls and Tri Tip waiting to hit the egg.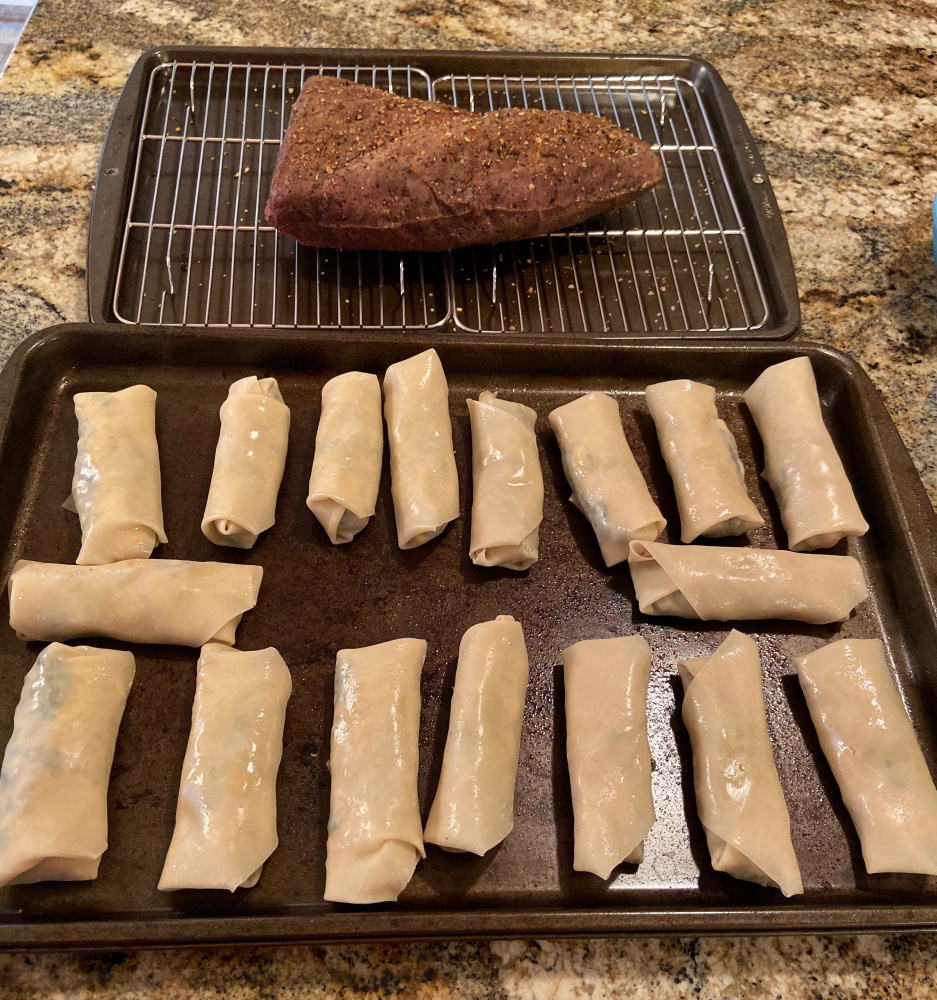 Egg Rolls on the Large at 450 indirect 
Just came off the egg and waiting to cool down some so I could slice them 
Pulled the woo out and had the spider down deep for the sear action. I tossed around the idea of caveman but decided to go with what I knew. 
Slice up Tri Tip on little toast with some horseradish 
A lil slice action that Mrs 3969 got a pic of.  
And as close to a money shot as I got for
@lousubcap
Now for dessert. We cored some Granny Smith apples and filled with a mix of chopped dates,raisins and apple pie seasonings.  In the SV
@184
for 2hrs 
And topped with some homemade whip cream 
A great night of friends and food.  Thanks for taking the time to read.  
-----------------------------------------
2008 -Large BGE. 2013- Small BGE and 2015 - Mini. Henderson, Ky.