Welcome to the EGGhead Forum - a great place to visit and packed with tips and EGGspert advice! You can also join the conversation and get more information and amazing kamado recipes by following Big Green Egg to Experience our World of Flavor™ at:
Want to see how the EGG is made?
Click to Watch
Egg'd Deep Dish Pizza
So- I finally did it.  After
@casslong52
had got me started on baking pizzas in the egg, its been like operation warp speed to bake a deep dish pizza in the egg.
I started out by buying this pan on Amazon:
https://www.amazon.com/gp/product/B07MJM2R35/ref=ppx_yo_dt_b_asin_title_o01_s00?ie=UTF8&psc=1
While it was shipping, I started scouring the internet for deep dish pizza recipes.  I came across this recipe/instruction video, and followed it mostly with a few exceptions:
https://www.bingingwithbabish.com/recipes/deepdishpizza?rq=deep dish
I had to increase some of the ingredients, as he had made a 12" pizza, and the pan I had bought was 14".  Also,
@casslong52
had shared this (below) pizza recipe, and we loved the garlic and oregano in the crust.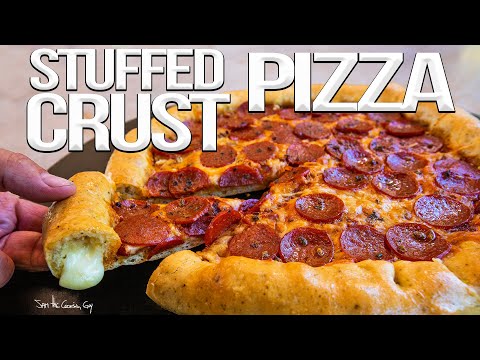 https://www.youtube.com/watch?v=tU5pgqVV4QM
What I ended up with for the crust was (roughly): 3 1/4 c flour, 1/2 c yellow corn meal, 1 1/4 tsp salt, 1 Tbs sugar, 1 packet active yeast, 1 1/4 cup water, 1/4 tsp cream of tartar, 1 stick of butter (1/2 at first, then the other half mixed in after the dough had risen for about an hour) 2 Tbs oregano, 4 cloves of garlic.
After the dough had risen, I put about 1 1/2 pounds of raw Italian sausage on the dough, then a layer (8 0z) deli style provolone cheese, then a layer of deli style low moisture mozzarella (16 Oz), then topped with the Sam the Cooking guy sauce (above), with bunch of grated Parmesan and extra virgin olive oil on top and around the crust.  
Put it in the egg at 425 for about 30 minutes, and...
This thing was a monster!  Huge!  I broke a little sweat getting it out of the pan, but the integrity of the crust held it all together.
Will DEFINITELY do this again!  I think next time I'll put in 2 pounds of sausage, and probably a little more mozzarella.  Was hoping for a little bit of a better cheese stretch here, but I think I let it cool too long.  
Any other pointers for a fella getting started on this Chicagoan delicacy?
Comments