First and foremost, for anyone new, buy a Big Green Egg. I'm not here to promoting this particular smoker.  It's just another tool along with the BGE and a learning experience. That is all. 
A big thanks to
@HeavyG
for letting me pick his brain about tips and tricks on the smoker as it literally fell in my lap without me knowing much about it. 
A week or two ago, I was outside digging up my yard to extend rock around my shed and put in edging. After digging for awhile I needed a short break for some water. During my water break I pulled out my phone. After checking my email, I did the daily smoker check on Craigslist. Absolutely no intentions of purchasing a smoker but fun to see what's available. It's usually a whole lot of nothing being here in MN. Most "BBQ" grills are Weber and Brinkmann gassers. It's usually a quick search and doesn't take more than 30 seconds. That's until I came across......
I must have been excited about my find as my wife stopped down by the shed and said, "What are you so happy about?" I said, "I'm buying a smoker..  if the ad isn't fake." She says, "What do you mean if the ad isn't fake?" I say, "The smoker is located in North Minneapolis for a price that is suspect. So I'll either get a smoking deal or stabbed and robbed." 
Here's a screen shot of the ad I came across. 
I'm not even sure the email I sent was in English let alone made much sense. The ad was posted 3 hours prior of me sending the email. So I sent the email as fast as I could write it. I received a response an hour or so later from the seller saying he works until 4 and I could stop over afterwards. The next 3 or 4 hours may have been one of the longest of my life. I already had it set in my mind that the seller was going to email me back saying he received offers of $750/$1000+ for it by the time he was done with work and by the time it took for me to get up to North Minneapolis. I received a follow up email from the seller an hour later saying he was going to get off work at 3 now and that he's a "real seller". Wait...what does that mean? He's a "real seller". Yeah, I'm pretty sure I'm going to get stabbed and robbed of my $250 now. I was probably over thinking it but that seemed kind of a weird thing to say. I did some rational thinking and realized Karubecue would be a really strange item to list and rob someone with. Most people don't know what a Karubecue is and that person wanting to rob someone would have to wait for someone to email them on it and it could be hours or days before that happened. It seemed unlikely but I still wanted to be cautious. Especially being in North Minneapolis. I told the seller that I wouldn't have cash on me and that I'd go and take out cash after looking over the smoker. 3:00 goes by and I don't hear anything. 3:15, 3:30, 3:35, 4:00. I wasn't feeling very good at this point as I didn't hear anything from the seller after getting off work. I also had to play a fine line of not sounding desperate and purchasing it before he gets other offers on it. So I sent an email at 4:05 and causally mentioned if he was still interested in meeting up. The seller said he was home and gave me his address. I made sure my wife had the sellers address and phone number so that if they found me in the river it might help a little.
The dog also came with.
It turns out the seller is a retired bbq caterer. Far from any mobster from the mafia.
A real nice guy. I asked him why he was selling it. He said, "To be honest, I purchased it as a write off and it's too much like an oven." Ha! I'll take the gamble. 
The smoker itself is in nice shape. He said he hardly used it. I took this past week to clean it up. I have used a gallon plus of white vinegar cleaning everything up. 
I carefully cleaned the controller as it is recommended every 100 hours. 
The inside and racks are all cleaned up. 
A couple outside shots of the smoker.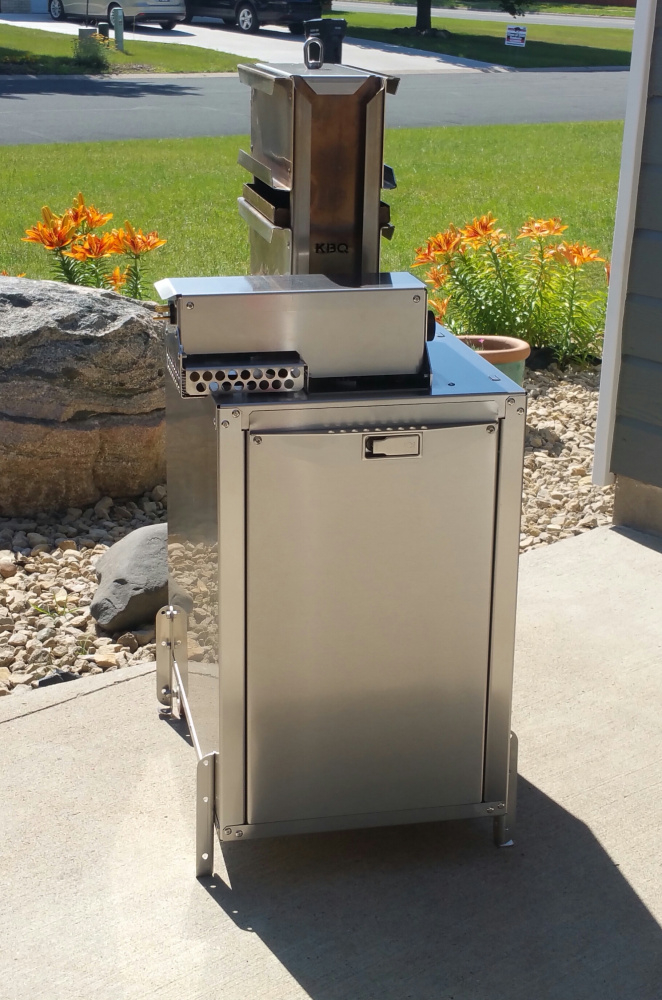 I'm going to toss on some ribs a little later this afternoon to see how this smoker works. 
Thanks for reading if you got to this point. A lot of nonsense from the beginning to the end!
"The pig is an amazing animal. You feed a pig an apple and it makes bacon. Let's see Michael Phelps do that" - Jim Gaffigan

Minnesota