My story starts about a year and a half ago when @Sea2Ski helped me plan a trip to the San Juan Islands for my 30th anniversary. Phone calls, texts, navigation while at sea, Mark was always most helpful to the success of that trip. We later met at last year's Butt Blast where he shared some sausage he had made. Being a big fan of Italian Sausage, I wanted to learn how to make it and spend some time with him and his lovely wife Valarie. This weekend I cashed in some airline points and made the trip up to Pennsylvania for a visit in their lovely home. We absolutely had a great time. We worked hard with processing quite a bit of pork and raw ingredients into some fresh made Italian sausage.

We started out Friday evening with slicing some bacon Mark had curing for in advance. More about this later....will post a separate thread later. Saturday morning, we woke up and had a great breakfast (including the bacon, and fresh eggs from the chickens he raises. they were beautiful birds, and if you have never had fresh eggs, you need to find a way to find yourself some.....After a hearty breakfast sandwich and side of bacon. Now on with the process......some of the tools.
We begin with....Cutting the pork butts and off to the freezer to firm up a bit.
The grinder is an old Toledo Commercial unit that was handed down to Mark from his grandfather who had a meat market in the Philly area. It is a pleasure to use this antique equipment that has heart strings to the love of the sausage making.
Mark (teacher) working with the first rough cut grind. He was an absolute marvel to watch. As a rookie, I had photo responsibilities here.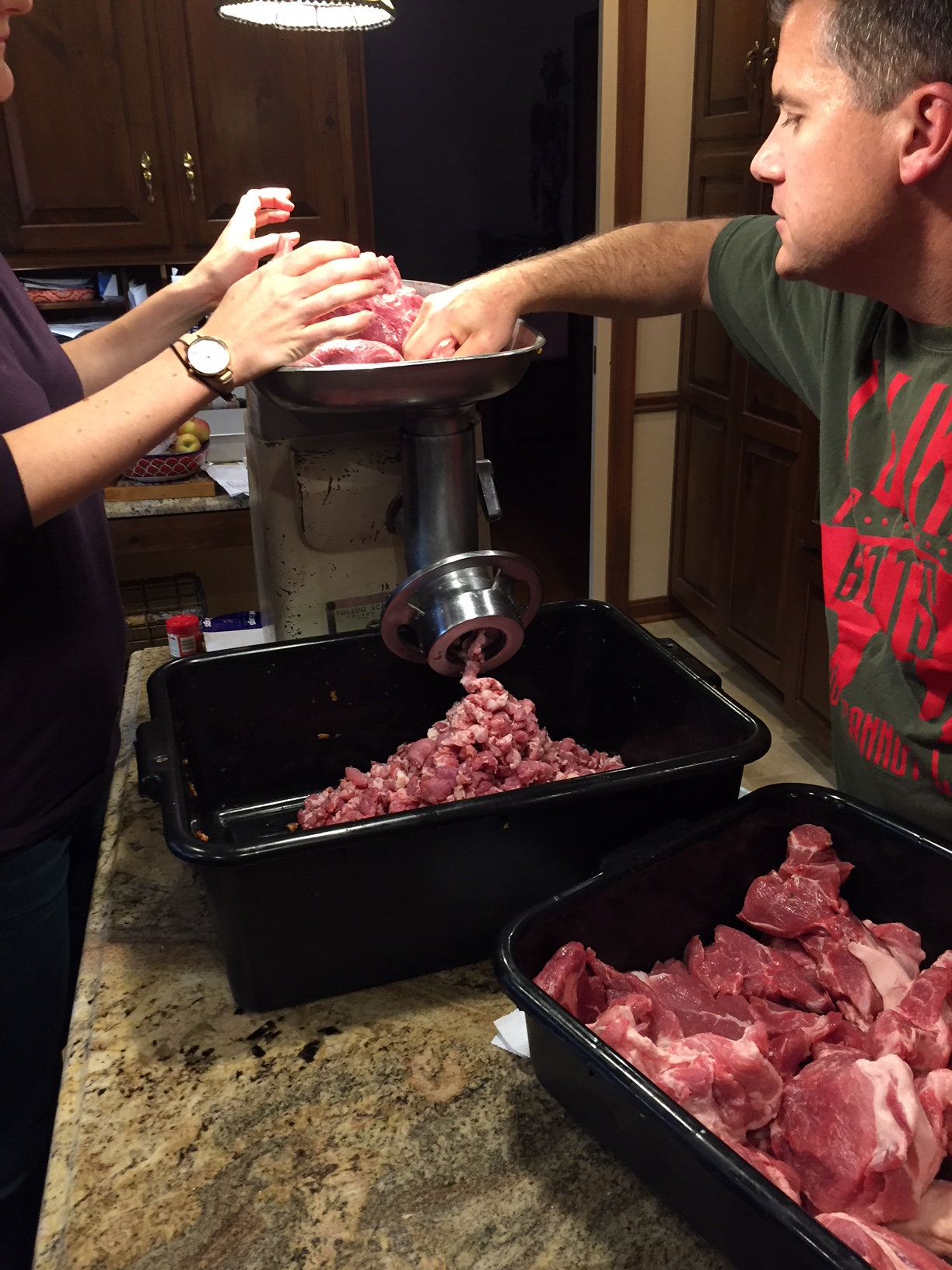 While they are grinding....I am given the task of measuring out the dry ingredients along with some wet ingredients fresh garlic and sun-dried tomatoes.
A friend of Mark's (also named Mark, was celebrating a birthday) and his wife was a big part of our team. He and his wife shared the interest of learning and producing sausage for their frig / freezer. Here he is seen mixing in the ingredients in preparation of our second grind. This included adding in some red wine and some Parmesan Cheese.
Here i am mixing the flavor ingredients with the ground pork......which is extremely painful due to the nature of the very cold meat. I had some help...and powered through it.
Mark II's wife was struggling a bit with the cold hands as well.....she was a trooper.
Megan mining the grinder...
We all worked the grinder / stuffer and make a butt load (no pun intended) of sausage......and had a great time doing it.
We bagged and vacuum sealed our sausage.....it was a long day of fun and hard work. You know you have to do some Quality Assurance along the way. You just have to...
I want to personally thank Mark and his wife Valerie for all of their transportation, tutelage, lodging, hospitality and overall kindness this weekend. We talked about food, wine, chickens, firewood, leaves, rodents, neighbors etc...... I am grateful to have met and spend time with Mark and Valerie, and hope you all have an opportunity to enjoy their company at some point. Thank you BGE and all those who participate on this form....for sharing their knowledge and friendship. I appreciate the great time(s) and new found knowledge I have picked up. As Mark has told me previously....pay it forward if you have an opportunity. Wise words from a wise guy (not the smart ass kind).
Thanks to the rest of you good folks for looking.
Robin