These were really, really good.
I went with a variation of the recipes here on the board and
this video
on YouTube. Bought a dozen jalapenos, then cooked up some chorizo. Sliced the peppers to split them open (but not halve) and then cleaned out the seeds and the rest of the insides to remove as much of the heat as possible. Stuffed some with Mexican cheese, the rest with a mix of the chorizo and cream cheese. Wrapped with bacon and dusted with DP's Red Eye Express. Here they are before going on the BGE: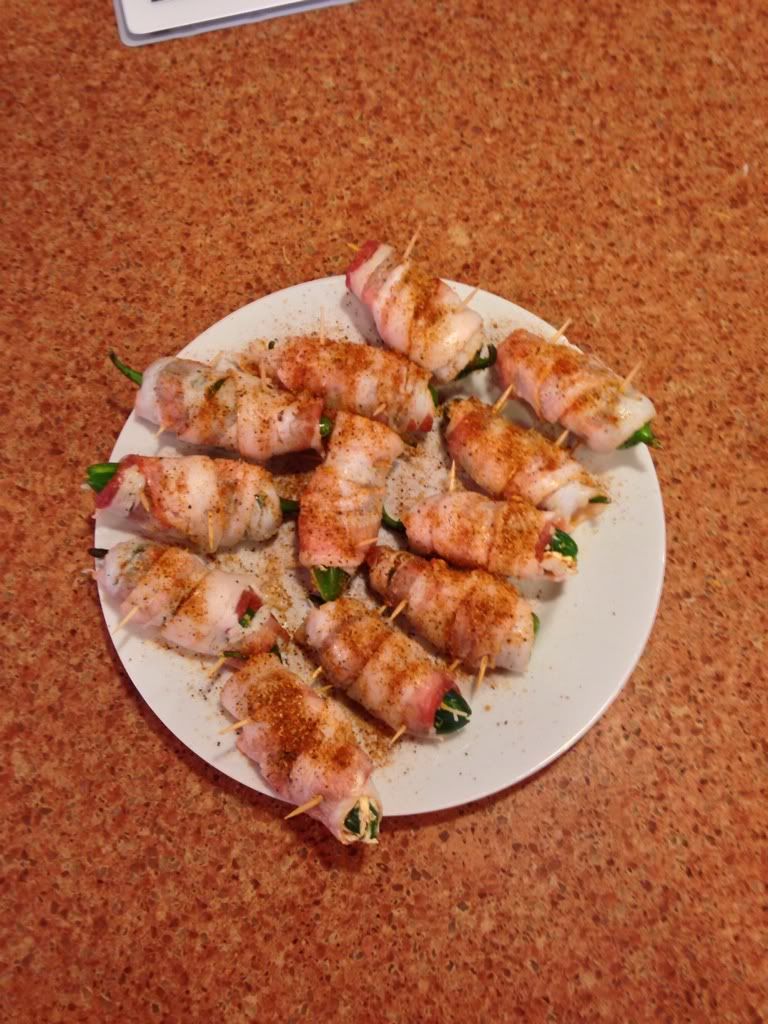 I set the Egg to 350 indirect, placesetter legs down. I cooked them on the grid for 50 minutes, turning once. I probably should have gone a bit longer following the guidelines here, I'm not sure, as the bacon looked like it was a little crispy but not too much. Here they are off the Egg:
I sliced them in half between the toothpicks so you could just pick one up and eat it. They tasted great. We ate them while they were still pretty hot (temperature-wise). They had some heat for flavor from the peppers and chorizo, but not too much - just right. Wife thought the ones with chorizo were much better.
I'd be interested to try these when they're halved like many of you do, but frankly I really liked them whole like this. It's a bit of a mouthful but oh so good.
We were supposed to have my folks over to share but they ended up not being able to make it. So now I have about six of these sitting in the fridge. My folks are going to try them tonight. Any suggestions as to how to reheat?
"If the world is something you accept rather than interpret, then you're susceptible to the influence of charismatic idiots." - NdGT
"The truth is, these are not very bright guys, and things got out of hand." - DT