I posted this over on the What are you doing thread, but in retrospect, decided it deserved a thread all of its own.
Was wanting to throw a party, but weather was seeming shifty. After I got the lawn mowed and then it rained, I thought it was all clear, so I texted some friends and then headed out to Costco this afternoon. King of Prussia on a normal Saturday is just batshit crazy, but somehow the storms had managed to get the traffic signal at the intersection before the KOP Costco stuck. Everyone finally figured that out and took turns like civilized human beings. That was amazing...
Since this was a last minute thing, I outsourced the sides and desserts. The main feature was going to be Prime ribeyes, so really, who cares about the rest, right?
Sliced it up to steaks, half for tonight and half for the freezer. Got the XL to smoking temps with KJ Big Block lump and some oak and pecan chunks. Set it up with the AR and put  them on.
And then another storm cell moved in. Holy crap it rained. We had a friggin' river in the back yard. I ran out and temped them a couple times during the downpour, but thankfully, it moved out before they were ready to sear.
Once they got to around 120*-ish, moved them over to the friggin hot Hasty Bake
Seared, flipped, seared, etc.
Since we were feeding a crowd, and some were finished somewhere between rare and medium, I sliced the whole mess up and let the masses pick what they wanted
And then the swarming...
And then, it all started falling apart...
And then there was rum...
And then, my buddy ended up with my kid's Ikea posable dude. And a Nerf dart...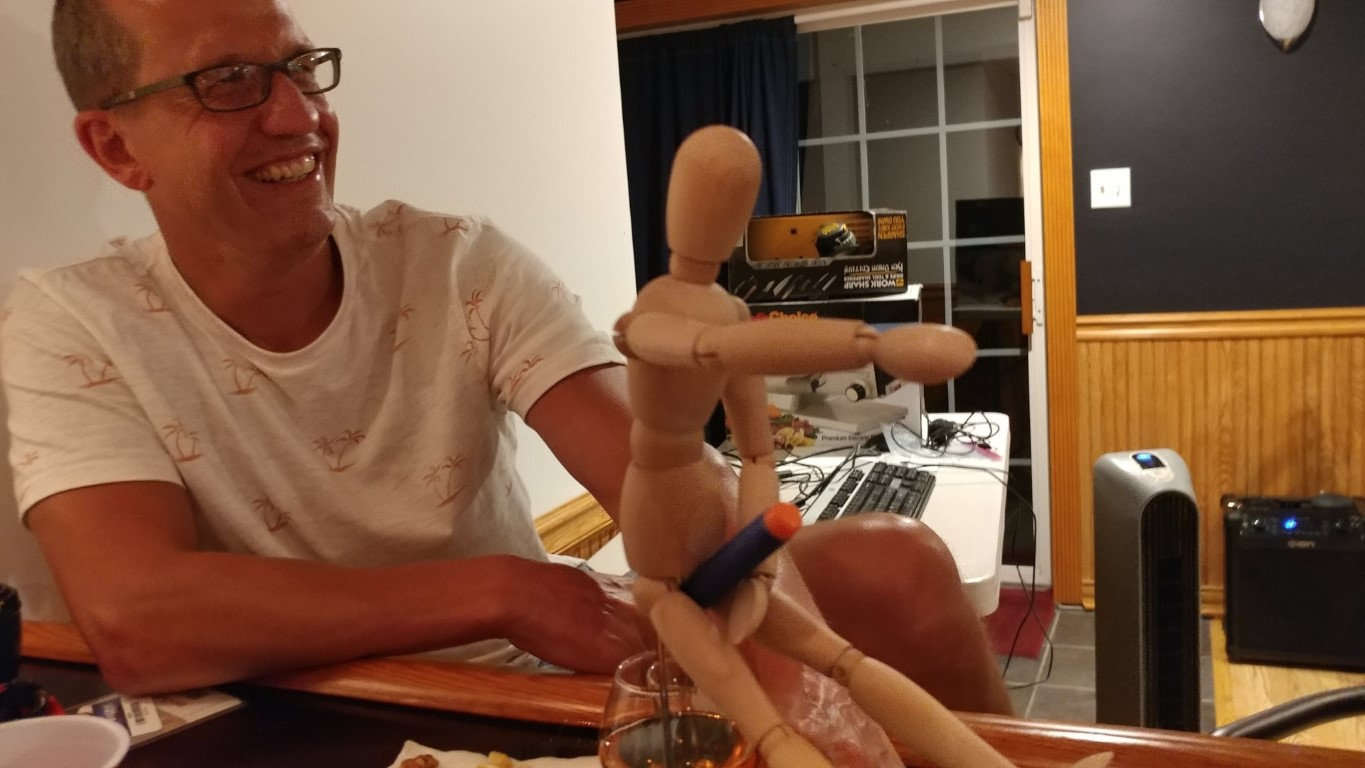 And then, I quit taking pics...
Good times, good food, good peeps.
Morgantown, PA
XL BGE - S BGE - KJ Jr - HB Legacy - BS Pizza Oven - 30" Firepit - King Kooker Fryer -  PR72T - WSJ - BS 17" Griddle - XXL BGE - Akron Jr - BS SS36" Griddle