Welcome to the EGGhead Forum - a great place to visit and packed with tips and EGGspert advice! You can also join the conversation and get more information and amazing kamado recipes by following Big Green Egg at:
Want to see how the EGG is made?
Click to Watch
DEFY this Tyranny! RESIST!
FIGHT BACK against the Tyranny of Winter!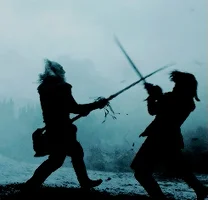 Even
when faced with this :
We began The Resistance with drumettes "marinated" in one of our favorite Hot Sauces.(
Actually, it was more of a 'rinse' than true marination - only about 45 minutes

 -
seasoned afterward
.)


On the Egg . . .A handful of Drumettes and a single Hot Link
(
of Moo & Oink fame
)
@ 400°, dome.
And
. . . THE Wife likes these Chicken Sausages
(
They're actually pretty tasty
.  
Who knew? 
)
It
pays
to RESIST! See?
(
NOT shown:  Frozen Mac and Cheese . . .
 . . . 'cause that would be embarassing.
)
Resistance trumps capitulation.
Summer is Coming!!!
"Too bad all the people who know how to run the country are busy driving cabs and barbecuing."