Welcome to the EGGhead Forum - a great place to visit and packed with tips and EGGspert advice! You can also join the conversation and get more information and amazing kamado recipes by following Big Green Egg to Experience our World of Flavor™ at:
Want to see how the EGG is made?
Click to Watch
Turbo brisket success
So on national brisket day I had a brisket in the freezer that I wanted to use up for a gathering we had.   Long story short I trimmed her up and ended up with about 11-12lbs, I didn't weigh it.  I injected about 16oz of water and minors au jus prep, then vacuumed sealed it overnight.   I got the egg up to 350 indirect and rubbed with SPG and just a little hot pepper rub, threw it on. 2hrs, then put a rack in an aluminum pan with 8oz of the au jus and wrapped in aluminum foil for another 2.5 hrs.  I probed and it was at temp and probed like butta.  Pulled it and wrapped her in a blanket for 6 hrs.  I haven't done too many brisket cooks,  but this was by far my best offering.   Melted in your mouth,  juicy,  flavor was on point.  I separated the point and cut up to make burnt ends.  Sliced the flat and I was left with no damn leftovers to make tacos or chili with.   I apologize for not getting better pics because I was very leary about how this would turn out.   I got the idea from Myron Mixon.  May be worth a try for folks out there. 
After the first 2 hrs.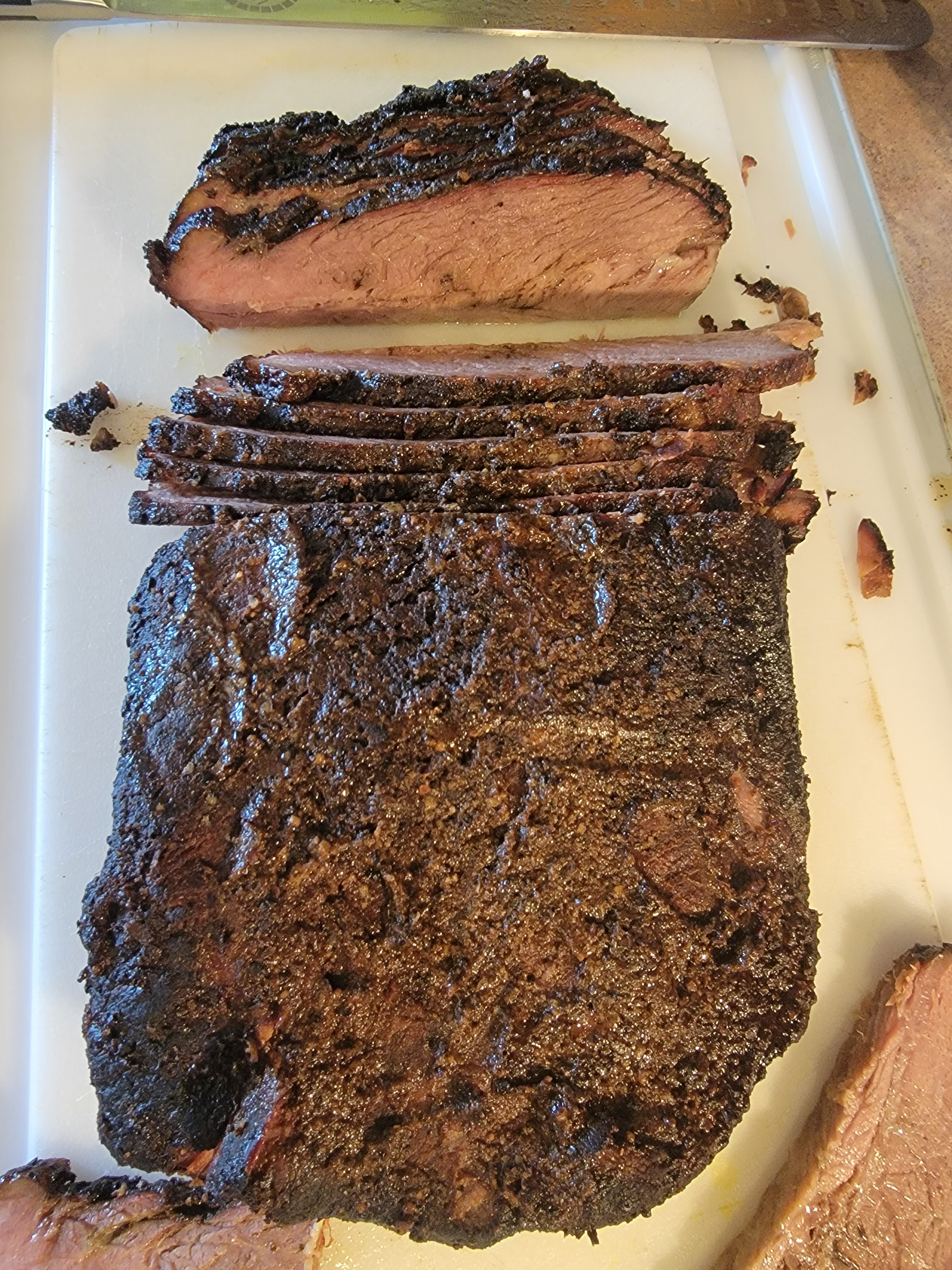 If I were to do over again,  I would take the first 2 hrs to maybe 3 to get more bark,  but this was a trial and didn't want to change much.   No pics on the burnt ends because of beverages and lack of optimism on this cook,  but I'll definitely do this again. 
Comments