Maybe my second post can go up without a fight, I'll leave the science and opinion out of this one lol... Pics in whatever order they loaded:
This guy lived on my pepper plants in my house while they survived the winter and made it all the way till spring... These are Aji Charapita and are the best tasting pepper I've grown or had.
A few of the pepper varieties I grow, They were all great except the one in the top right, it was so bad I forget it's name.
Some strawberry mint lemon vodka drink I made up just to use fresh strawberries and mint from the garden.
Damn maybe I am going to start a fight again... Unfourtunatly this loaded before anything egg related, my other go to outdoor cooker, a 80,000 BTU cooker from an undisclosed brand to keep it safe
Wagyu Ribeye that I'm super lucky to be able to buy from the local Lowe's Foods. I always do steak reverse sear on the Mini Max. This one was unusual the left is the cap and right is the main body of the ribeye. A huge contrast in "rareness" considering the reverse sear I don't usually have that much contrast.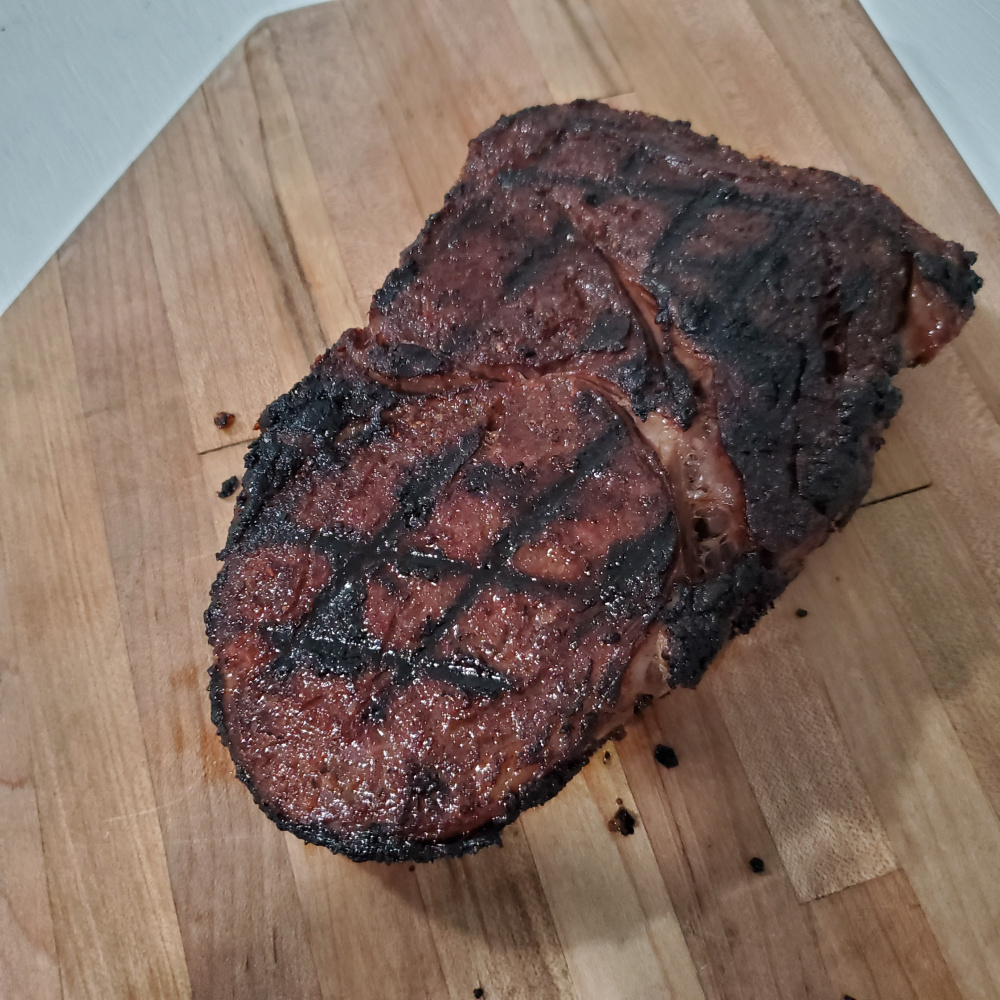 Same
Same but with SRF "chefs gold" this stuff is amazing.
First time using the rotisserie on the Large (better not use that name either), **** the pan says Lodge 
More Wagyu and SRF Gold
Sous Vide Tuna with sort of a Wasabi/Teriyaki glaze. Seared on cast iron on the Mini
SRF Wagyu A123 ribs. Honestly these were just too rich, I'd rather have prime.
The wok I'm in love with using on the other not to be named cooker above.
Fresh carrots from the garden, pepper plants in the background
MMMM chimichurri with some of my favorite peppers.
Left overs from above and a cardinal sin, cheese on a taco.
A flounder so big it almost didn't make it on the Mini
Despite what it looks like this was cooked on the egg, its just cooling of here. That's a bit of short rib and some garlic scapes from the garden.
Monster flounder again. It's actually home made curry, I know a bit weird but I love Indian food and I had the spice left over.
First time with the basket.
Blue cheese strip.
Local grocery store dry aged Wagyu
The cap from above sliced in half. It's a toss up between that and the round muscle in between for best bite for me.
Wagyu Denver steak and some mushrooms and home grown garlic.
Speaking of home grown garlic.
No explanation needed
You honestly can't beat that. The one in the back has that round muscle I say competes for best bite with the cap muscle. It's noticeably absent from the front two cuts.
You can already guess what that is.
Crabs pulled in from the trap off our just finished dock. First thing I've had out of the creek out back.
Stir fried them in that wok.
Can't possible eat all the peppers I grow so here goes drying some.
Mushrooms and home grown garlic and parsley.
The round muscle I've been talking about sliced in half off one of the best steaks I've ever cooked.
Love some asparagus, on the mini again (almost always use the mini max over the large)
Those wings from way above, these are AMAZING in that rotisserie basket. The garlic and habenero melted into the wings. This ruined all other wings for me.
Chicken from earlier
This is what they all look like after the slow cook part of the reverse sear.
Jalepeno, italian sausage, garlic, shallot, onion, cream cheese, blue cheese. So good. I stuff habeneros too.
My pepper plants making a surprising recovery after being leafless from a 500 mile move in the back of a pickup truck.