Had some friends (including my Egg dealer) flying in to town to see the Dallas game Sunday and they asked if they could stay with us Saturday night. But of course. What to cook? Brisket, by golly! Got to cleaning out the Egg Friday night. What the hell is that? Guess I somehow missed some foreign object mixed in with the charcoal last time I filled up the Egg.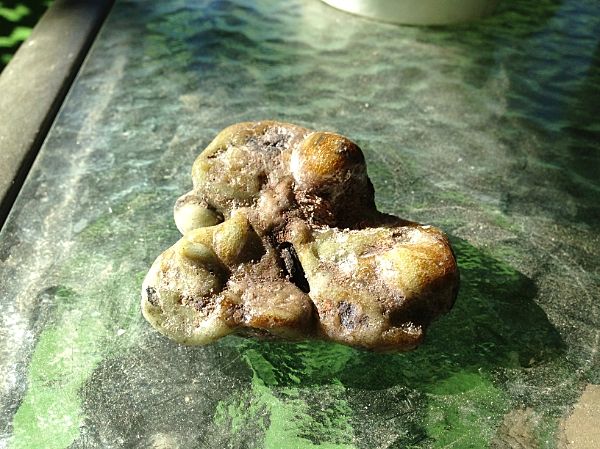 This was the brisket. Picked it up back in July and with a $10 off coupon only ran me $4.04!! Not too shabby. Wanted to try something new and I've never injected a brisket so I tried Dr. BBQ's beef injection which can be found all over the net. Some beef broth, worsey sauce, garlic powder, onion powder and cayenne. Rubbed it down with some worsey sauce and 50/50 salt and pepper. IMHO still the best rub for brisket.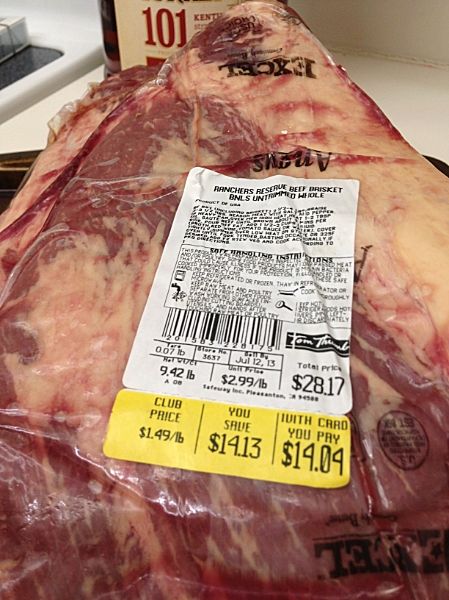 Got the Egg stabilized at 250 grate level, plugged in the Auber and tossed the bad boy on at midnight. Was a bit impressed that Mrs. G was still awake (and was a trooper staying up till 2am, not cuz we needed too, but because we were watching movies and well lubricated)
Saturday, I got up way earlier than I wanted too. Not because of the Egg, but because of the dogs. For some reason, they didn't get the memo about it being Saturday morning and me needing my beauty sleep. Egg was right at 249 and the brisket was looking good.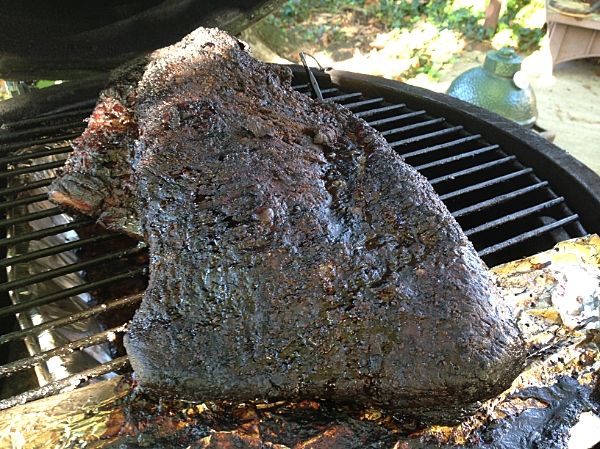 Weather was so nice, we decided to take the bedroom tv out to the back patio because who wants to waste a gorgeous day watching tv inside when you can watch it outside?
First up was Mrs. G's Screaming Eagles (Fighting Eagles? I don't know. UNT) against Georgia.
My plan was for the brisket to be done at 2:00. That would be a 14hr brisket. Didn't finish till 2:30. Pretty close prediction I would say.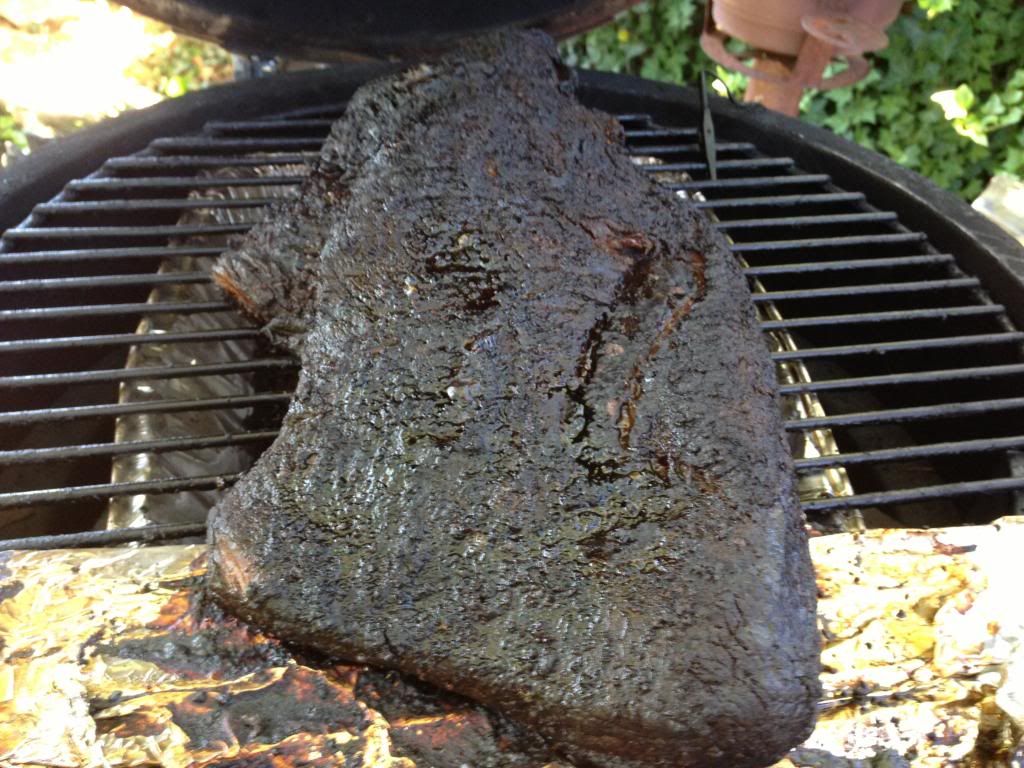 Then the Mini got called into action to cook some Swamp Balls (sausage cheese balls with Swamp Venom in them). 375 using the Mini Woo and two pizza stones, 12 to 15 minutes a batch. Bad picture, I know.
While those were going, the point got cut off, cubed, more rub added and back on for our first attempt at burnt ends.
I really don't know what happened with the brisket. I thought it was the worst one I had ever done, or at least in a long time. Mrs. G said my logic was a bit fuzzy from the Wild Turkey and that I was my harshest critic. Everybody else seemed to enjoy it, but I thought it was dry and a bit tough. The injection added no flavor or moisture that I could detect. Maybe it was that I sliced the whole thing up before taking it to the table. Not sure why I did that, I usually slice as we eat. Maybe Mrs. G was right about the Turkey.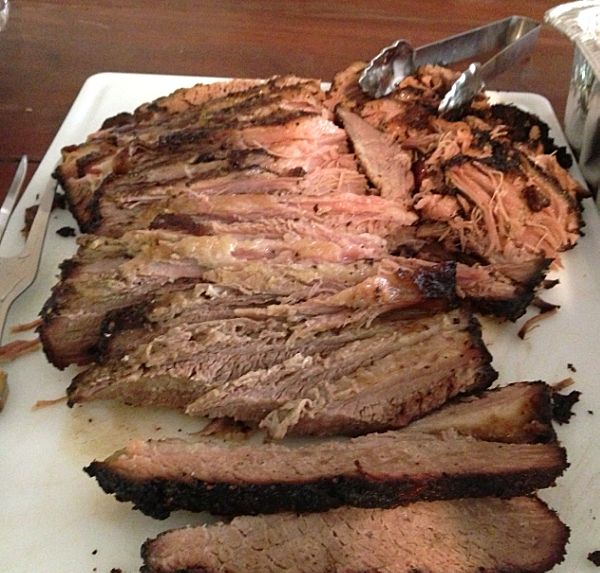 Burnt ends came out really good. Better than the flat, but I think I need to find a different sauce. We used Stubb's and it was ok. What sauce do you use for your burnt ends?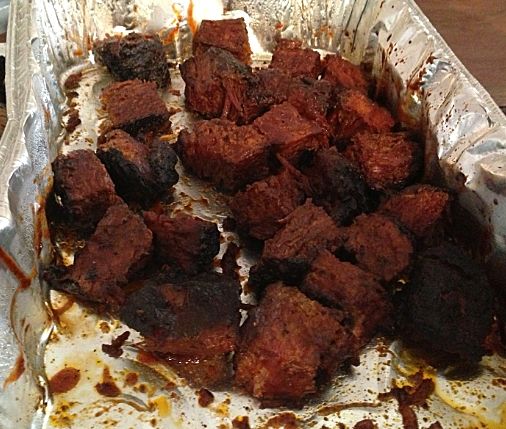 Mrs. G also whipped up some of her MeeMaw's (Grandmother's) Alabama Mashed Potato Salad and some borracho beans. She's gonna get me the recipe today or tomorrow for the potato salad, but we've been sworn to secrecy on the borracho beans.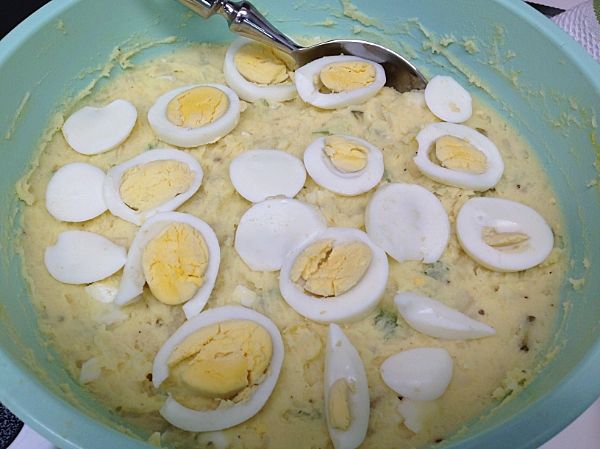 All in all a pretty great Saturday. Watched my Bears destroy Monroe (until the guests made us change the channel for the Aggies since it was such a killing). Watched that for awhile before we switched to UT and then partly through that game I went inside and played pool with anybody who was interested. Good thing nobody took me up on playing for money as I was in rare form, and I don't mean I was playing well. Things just got hazy after that.
I will say that the next day I warmed up some brisket to go with my eggs and it wasn't as bad as I thought, especially considering I nuked it. Actually was pretty tender. I guess I am my worst critic. Football, cool weather and Egged food...does it get any better?
Rowlett, Texas
Griffin's Grub or you can find me on Facebook
The Supreme Potentate, Sovereign Commander and Sultan of Wings