Last week I was in Orlando at my favorite Oriental grocery store.
Found these piggies and brought some bacon home:
Bacon:
Pork, Belly, Roast, Richard Fl
INGREDIENTS:
1 `4 1/2 Lbs Pork Belly, 6" X 12"
Seasoning
Spicy Seasoning Salt
Indian River Rainbow Pepper
Indian River Italian Spice Blend
Garlic Granules
Marinade
Soy Sauce
Basting Liquid
Remaining Marinade Sauce
Some Peanut Oil
Some Sweet and Sour Sauce
PROCEDURE:
1 Took the skin side and cut a 1 inch diamond pattern thru the skin and into the fat area. Rubbed with seasoning.

2 Then sprinkled the marinade sauce over it.
Marinaded it for 2 hours: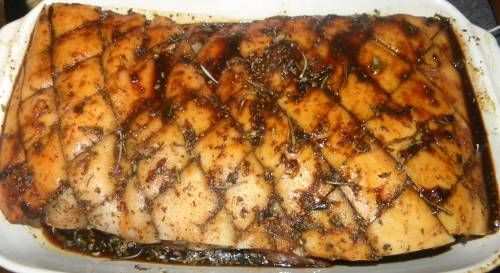 3 Rolled and tied with butcher twine every inch:
4 Placed on the Large BGE indirect with rotisserie. 425°F with apricot chips:
5 Cooked 425°F for 20 minutes then shut the top and bottom vents until temp reached 300°F about 20 minutes. Basted with basting liquid and let cook for a total of 1 hour 20 minutes: Removed when internal temp was 150°F: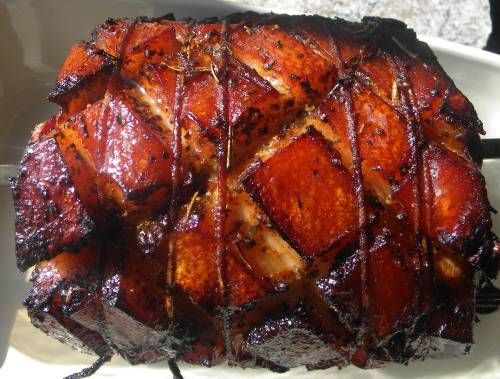 6 Sliced some for lunch and will place rest in refrigerator and tomorrow will slice into 1/8th to 1/4" slices depending on how the slicer treats it. Then will fry like bacon.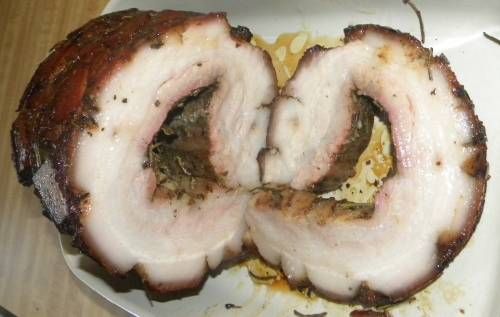 7 Over all this had a very nice sweet and spicy flavor and was almost like cured bacon. Will do again.
Yield: 4 1/2 Lbs
Recipe Type
Appetizer, Main Dish, Meat
Recipe Source
Source: BGE Forum, Richard Fl, 2013/01/13