Thought I would do a lemon chicken on my large Imperial Kamado which has a Rotisserie unit. Did indirect 60 minutes 300F then finished 30 minutes direct. Used rosemary twigs for smoke. Great flavor, nice and moist and krispy.
See some chicken fried rice in the future: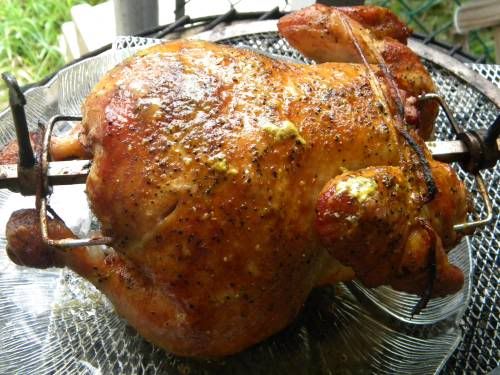 Wonder what size whole pig would fit on the spit??
---
Richard Melbooooring Fl.
"KING OF LONEY", SELF APPOINTED!!!!!
IF YOU WANT TO DRINK ALL DAY, YOU HAVE TO START IN THE MORNING!!
LAGER PRAYER
OUR LAGER, WHICH ART IN BARRELS, HALLOWED BE THY DRINK, THY WILL BE DRUNK, AT HOME AS IT IS IN THE TAVERN. GIVE US THIS DAY OUR FOAMY HEAD, AND FORGIVE US OUR SPILLAGES, AS WE FORGIVE THOSE WHO SPILL AGAINST US, AND LEAD US NOT TO INCARCERATION, BUT DELIVER US FROM HANGOVERS. FOR THINE IS THE BEER, THE BITTER, THE LAGER.