first, this photo is proof that i am simultaneously the best DAD in the world, and the worst parent.
my son's dinner saturday night. :unsure:
sunday we tried a stuffed breast of veal. this thing was less than 3 bucks a pound. about 8+ dollars for four adult servings, easily. Nice cook. i will do this again.
please excuse the pic quality, as these are from an iPhone
fixings for the stuffing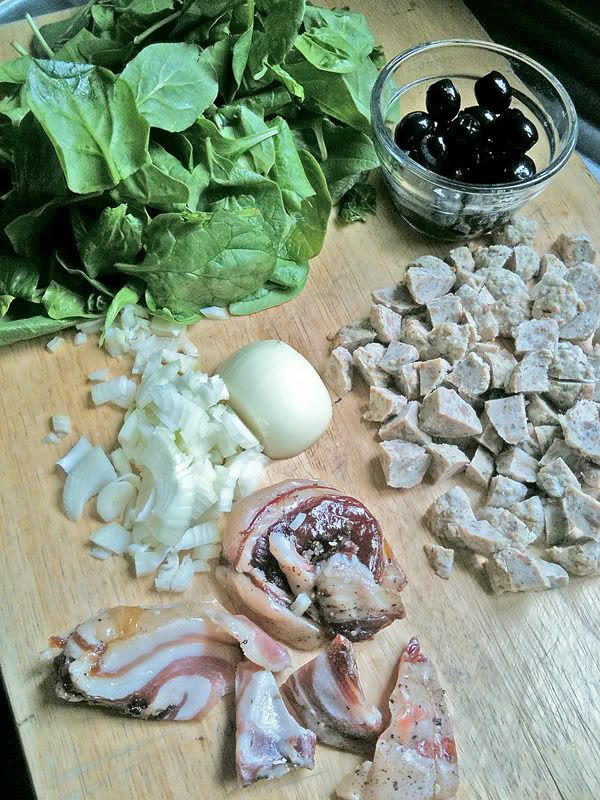 9 or 10 ounces of washed baby spinach, black olives, half an onion, some cheapo premade (storebought!) mini-meatballs (left over from a run of moink balls for thursday and saturday cooks), and the ends off of one of my pancettas from april.
the veal breast actually came with a pocket already cut, but i had to extend it greatly, as it was kind of a 'ho-hum' attempt by the butcher. work a filet knife in there and really open it up, take it within maybe a half inch of the edges
over a fire (about 400 dome) on a raised grid, with grape vine and a small amount of hickory, until you get some nice color
while thats' on, toss the pancetta in with the diced meatballs, then add onion, then chopped olives, then finally the spinach, til wilted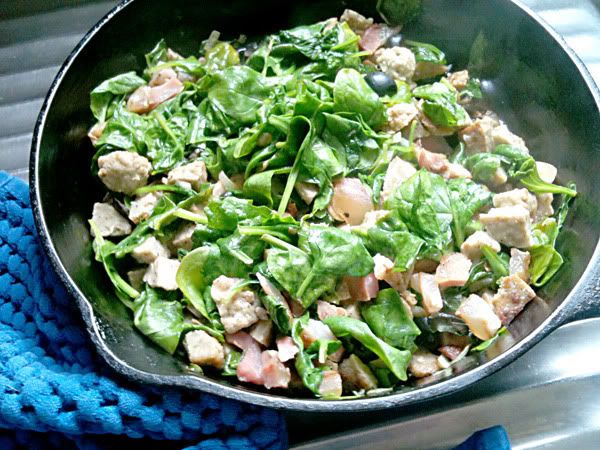 let the meat rest while the stuffing cools a bit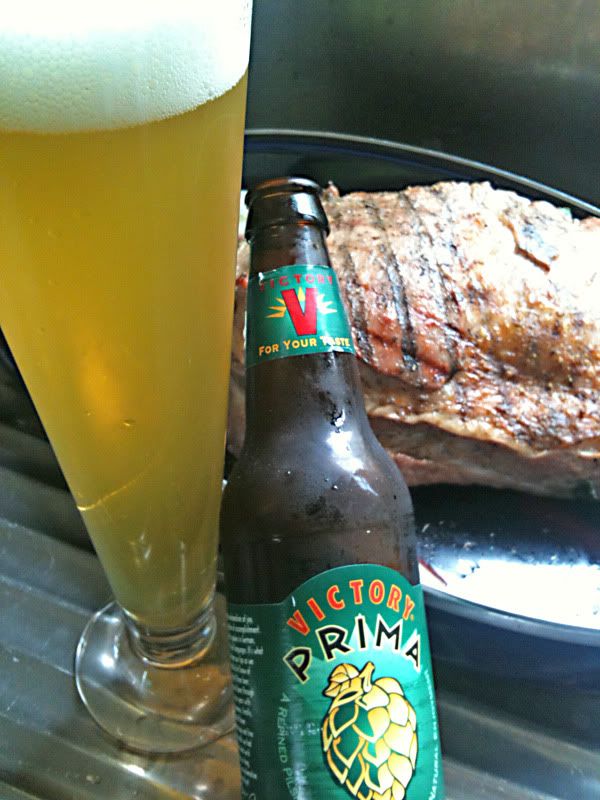 (the real test of a brewery is their pils. nothing to hide behind)
then stuff it good, packing it in there quite firmly. sew it shut or pin with skewers. I threaded butcher's twine, but it can pull out. go around a rib if you can. (it looked frankly like i had made my own homemade baseball glove). put it to braise in a small roasting pan, with a few carrots, couple stalks of celery, quartered onion, thyme, pepper
add wine (i used red, since we had no cheap-o white on hand), cover, and let it simmer in a 350-400 degree egg for two hours.
(the red wine dyes everything s little purple-brown. would be fancier-schmancier with white wine)
pull and let rest about 15 minutes.
and (sad photo, here, sorry). slice between the ribs. you could slide the ribs out if you really wanted and then slice however thick you wanted.
serve with a nice bottle of wine that your friends who know wine gave to you the last time they visited, but don't tell anyone it was a gift, thereby making it look like you know all about wine when you really don't