I have probably posted this already so stop me if you've heard this one before. Today's was extra good so I'm sharing again.
I start my Carne Asada with SRF Black outside skirt steak. It's expensive but I buy it in bulk and sort of forget about it in the big freezer until I need to cook.
Let the steak thaw out in the fridge for a day or two and then you make a nice salsa which doubles as a marinade.
Serious Eats recipe here:
https://www.seriouseats.com/carne-asada-food-lab-recipe-kenji
Kenji calls for the skirts to get chopped into 5-6" segments. 
Do this early in the morning and get the skirt steak marinating early in the day. They go into a ziploc bag with about half the marinade and 2 teaspoons of salt.
Next up is the frijoles, or beans for the rest of us. I use
Rancho Gordo Pinto Beans
. Start with some lard in a dutch oven over low heat, then sweat a half a white onion followed by 4-5 garlic cloves, smashed then minced. Wash the beans, drop them in then dump in two quarts of chicken stock. Season with salt, about 1-2 tbsp. Raise to high heat to bring to a boil. Boil for a few minutes, then drop the heat down to low, cover your DO. You want just a few bubbles forming.
About an hour or two before you want to eat, get the Egg ready shooting for about 500F as you put the skirts on. Take the skirt steaks out, pat dry. Today I had some extra time so I put them on a wire rack on a baking sheet and put them back in the fridge to dry out.
About an hour before game time, remove the lid on the DO to let the beans evaporate a bit excess stock.
Put the steaks on a ripping hot grill, flip every minute to an internal temp of at least 130. Some parts of the skirt are a bit thinner, put those towards the front where there is less heat. Put the bigger/thicker pieces in back. Its good to have a range of doneness so you can get some crunchy bits with huge flavor and some meat with some red left in the middle. I usually have 2-3 pieces left over that make for a hell of a breakfast the next day.
I dice the steaks into 1/2 in chunks for tacos.
Meat Candle!
Meat candle 2: Electric Boogaloo!
That really black top piece tasted soo good!
Reserve some of the marinade to use as a salsa for your tacos!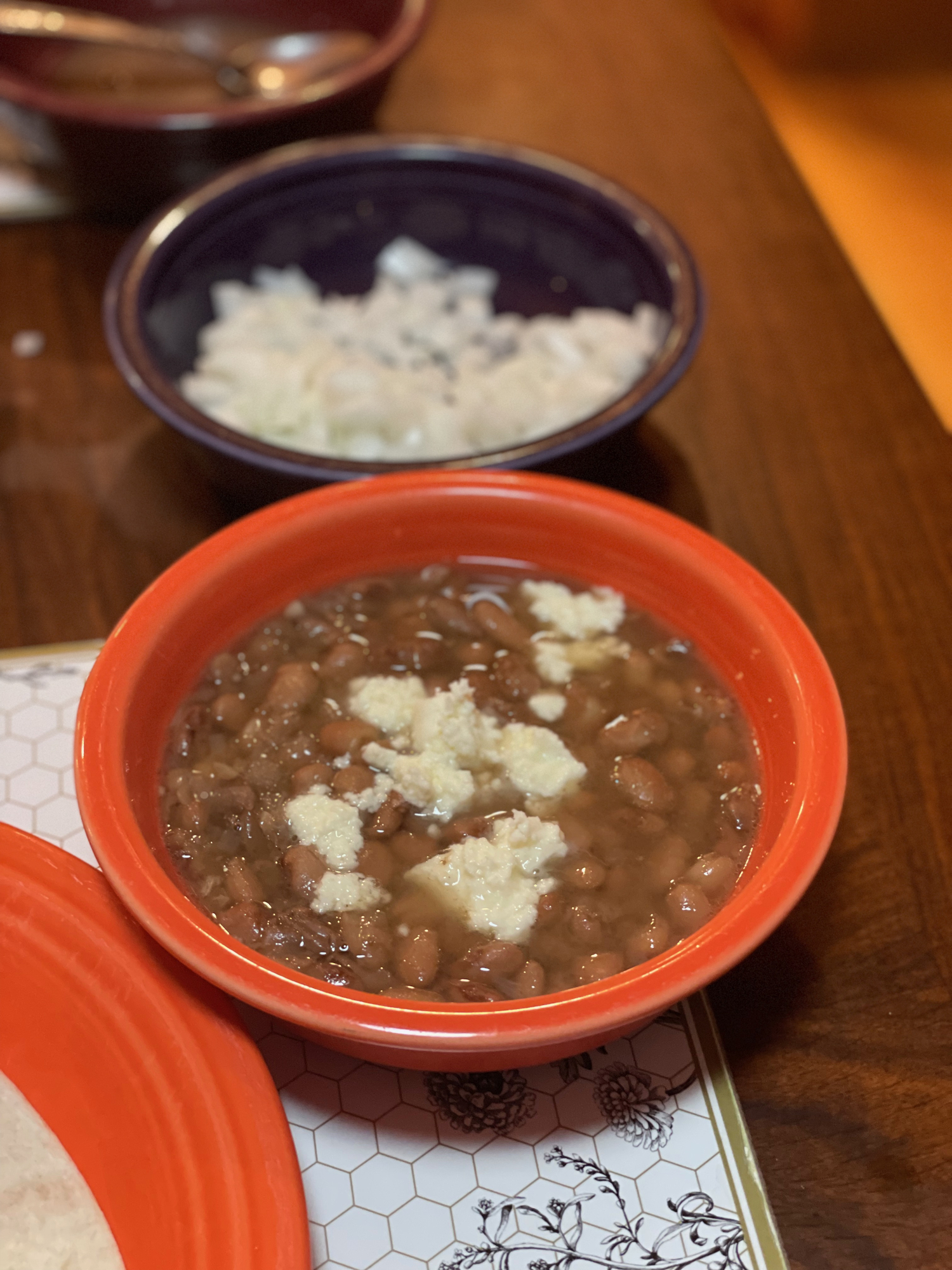 The beans were top notch today. Served with Queso Fresco.