I did a little research before posting and I saw that skirt is recommended and "outside" skirt if you can find it, but it is usually scooped up by all the restaurants.  So, barring that...
I usually get flank at Costco.  It comes with two large pieces and I filet them down the center to halve the thickness.  A latino chef at work told me that trick.  Reduces thickness. You can cook it hot and fast.
So, the problem is, the meat is still usually pretty tough.  Not all of it, but enough so that it can be distracting.  I know this is a working muscle and you have to really do some magic to it to get it tender.  When I order Carne Asada in a mexican restaurant, I'd say 3 out of 5 times it is awesome.  The restaurants that do it right, get it right every time.  AND, knowing that some of these small mexican restaurants are likely not buying more expensive outside skirt... they must be doing something else.
So, what is your trick to tenderize flank?
I was hoping for a natural marinade that would do the job, but heck, at this point I'd even just shake on some meat tenderizer which is what I suspect some of those restaurants do.
I saw someone in another post comment that cooking it SV first is what works for them, but I don't have one of those. Also, it is usually a quick weeknight cook.  I didn't want to mess with long prep time.  I have time for it to sit in a marinade for awhile, but didn't want to do a complicated marinade that is going to require intricate shopping and prep.  Bottled or Shaken is fine for these midweek taco cooks!
If I still have your attention
THIS
Serious Eats recipe was well reviewed. But there is a lot going on in that marinade. If I just wanted to focus on the tenderizing ingredients, would it be the OJ?  If so I can simplify the rest and just go with what I have on hand.
In the interest of including a picture, here is my Carne Asada / Flank cook from this week.  We were in a rush to eat so I didn't get an after picture, but trust me, it looked great.
This recipe called for a 30 minute marinade of lime, garlic, cilantro, jalapeño, cumin, EVOO and scallions. After you scrape most of it off and grill.  Good flavor, but didn't help with tenderness to be honest.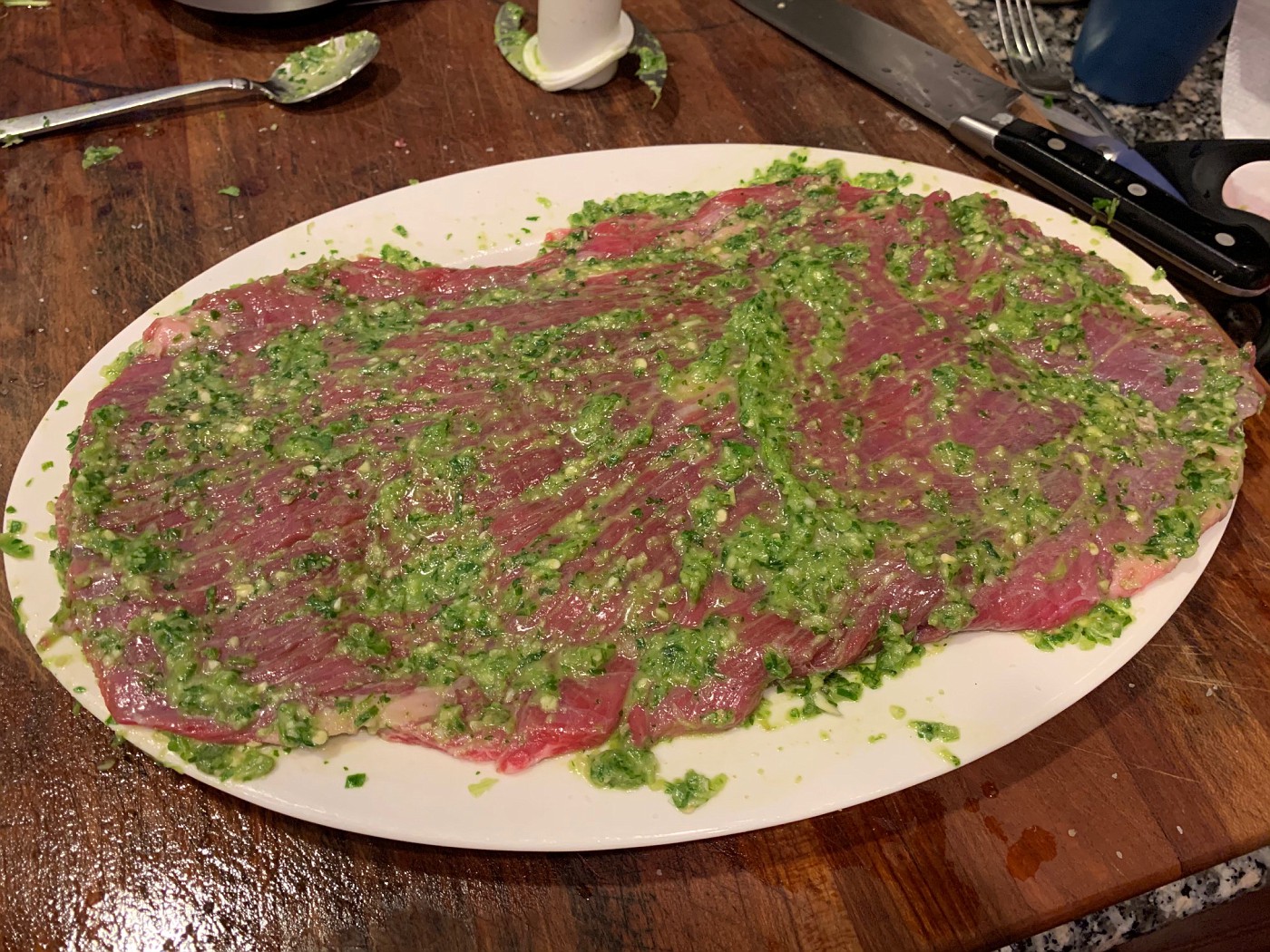 (that is actually two pieces of flank, on top of each other.)