When trying to come up with a dish to serve at our Kentucky Derby Party I remembered a Bobby Flay Throwdown where he went to Kentucky and challenged the Castro Brothers from the Brown Hotel and the dish was a Kentucky Hot Brown. Even thought the Castro Brothers won the throwdown I went with Bobby Flays recipe in the
Bar American cookbook
I had on the shelf.
Because of great members like
@henapple
I knew
Harps Grocery Stores
had Ozark Oak for half of what I normally pay. After a little road trip we got 5 bags for what we would usually pay for 2.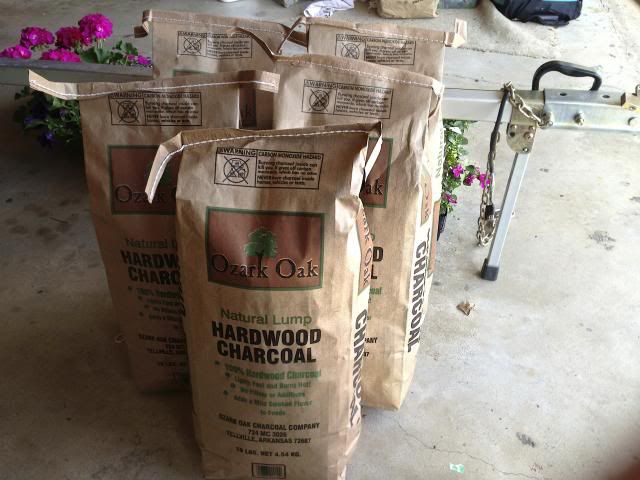 Now for the lighting of the egg ceremony!
A Kentucky Hot Brown is a open faced turkey sandwich with a
Mornay Sauce
on top of a thick slice of bread (think savory french toast) with tomato slices cheese and bacon on top! First up was the turkey breast and a spatchcock for some lunches next week.
Note: my sister is a big horse racing fan and gets all the credit for the table settings, I just cooked the food and played bartender.
Time to setup the mint julep bar and the rest of the table! We found a Woodford Reserve Kentucky Derby Edition bottle and I had a bottle of Blanton's for those who wanted to sip the bourbon.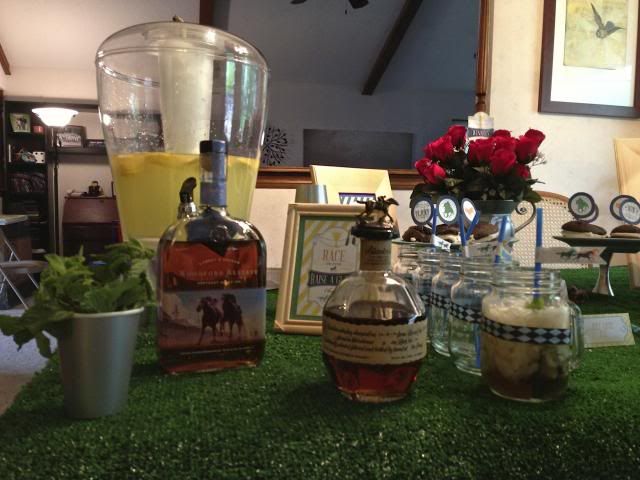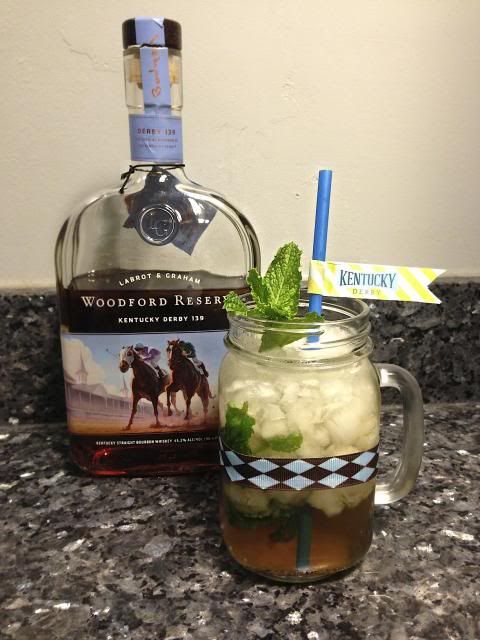 Time to check on the chicken and turkey. I love the CGW Swing Rack for cooks like this with my platesetter.
Here is a shot of the table with all the snacks, key lime pie, and the drinks.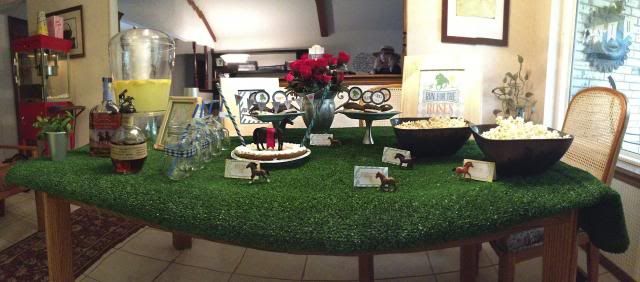 Then it was time to enjoy the race, now Orb winning wasn't a big surprise but when Golden Soul comes out of nowhere to show that ruined all of our chances at winning any money… But we did have a great party still in full gear!
The bread gets dipped in a egg / milk mixture and gets cooked on the griddle on the egg.
The wind was blowing like crazy and made it really cold to be outside. This was not a fun weekend to be next to the egg all afternoon. But we did get the patio heater working again and had it cranked up to help with the cold.
Here is the assembly line ready to make the sandwiches.
First the turkey.
then the Mornay Sauce and some extra shredded cheese (we used a white cheddar and parmesan)
Then the tomato slices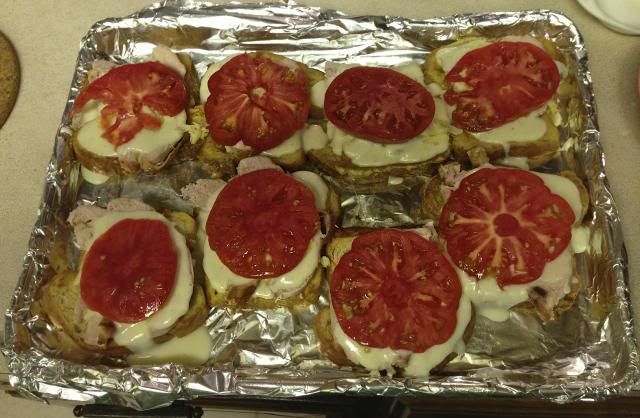 Then the precooked bacon
Under the broiler to get bubbly and golden brown.
Here it is plated: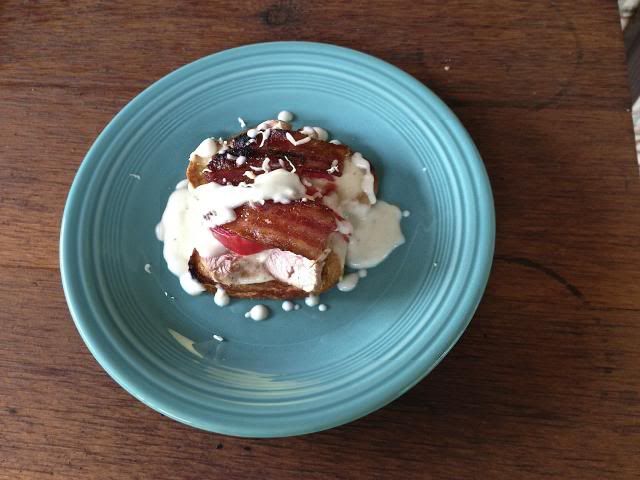 On to dessert, my sister made Dark Chocolate Sea Salt Caramel Whoopie Pies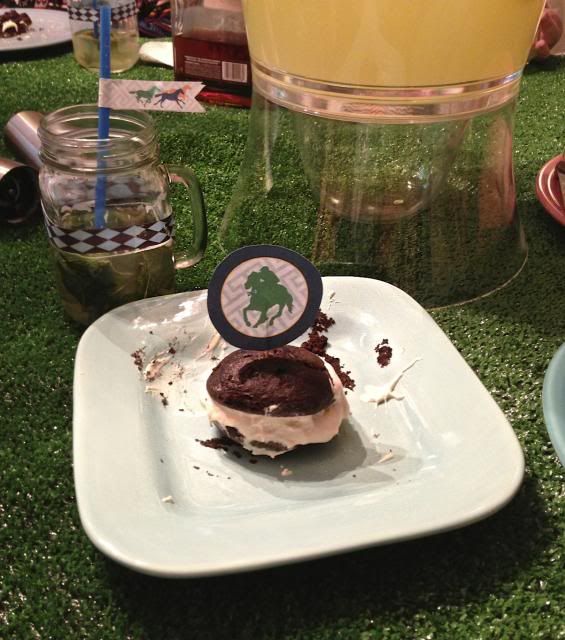 And I made some mint julep ice cream. I found one of
Emeril's recipes
and went for it. First combine simple syrup, 6 sprigs of mint, and 1 cup bourbon and let simmer for 10 mins.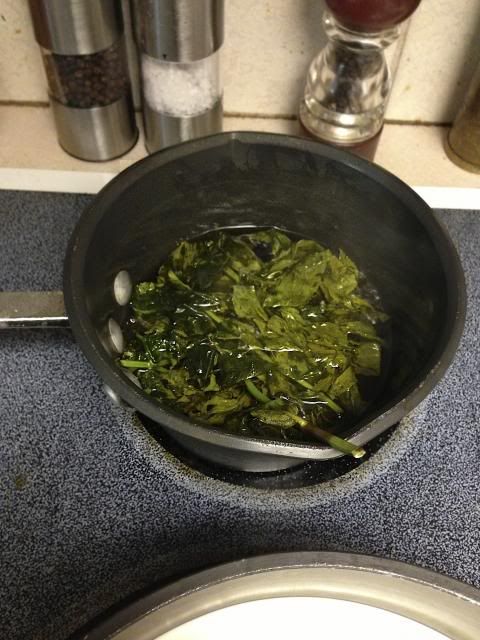 Then strain and whisk that into a typical egg yolk / cream custard and let cool completely. Then just add it to your ice-cream maker, I used my kitchenaid attachment and love it.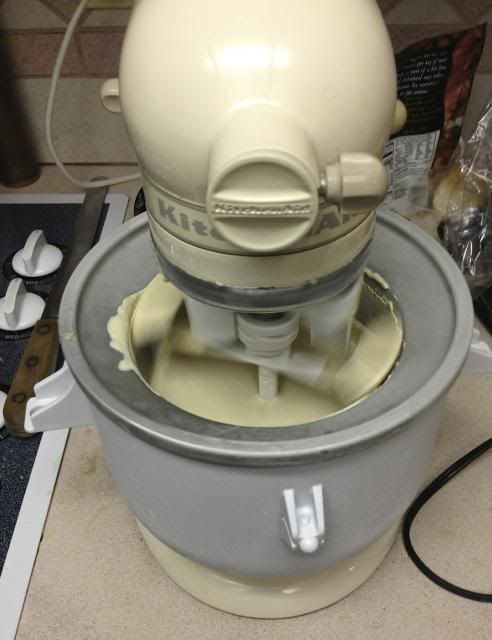 Serve with a couple sprigs of mint and enjoy!
Although nobody had the winning trifecta we still had a great afternoon with friends, family, and great food. It was a good day and we already have other people wanting to come next year! The Kentucky hot browns were really good, I don't know that I had ever eaten anything like them and I will be making them again! The ice-cream was a perfect ending to go with the Whoopie Pies.
Large & Small
BGE
, CGW Two-Tier Swing Rack for
BOTH EGGS
, Spider for the Wok, eggCARTen & and Cedar Pergola my
Eggs
call home in Edmond, OK.