It has been a few weeks since I've posted anything. Daylight savings time isn't helping me with pictures of the cooks. We have solar lights on the pergola which provide plenty of light to cook by but does not help with pictures.
Anyways I hope everyone had a good Thanksgiving and gave their eggs a good workout. (Ours sure did) A few days before Thanksgiving we got the
Ceramic Grill Store Spider
for our large egg and tested it out with the 30+ year old carbon steel wok. It was a simple Spicy Pork in Chinese noodles. We have used the wok on the egg plenty of times but just had it on the grate and being a round bottom wok the spider was a great buy! After making sure it was up to temp it was go time.
First the pork gets seared
Then the veggies and put the noodles which were already cooked on the stovetop inside go back in and toss the pork in and warm up the noodles.
Simple and delicious.
Then came Thanksgiving we had a 21lb turkey and decided to keep it simple since it was the first year to make a turkey for everyone on the egg. Simple salt n pepper rub and no smoke.
It cooked quite a bit faster than originally planned just under 2 1/2 hours, but with the digiQ started beeping we checked it in multiple spots with the thermapen it was FTC time.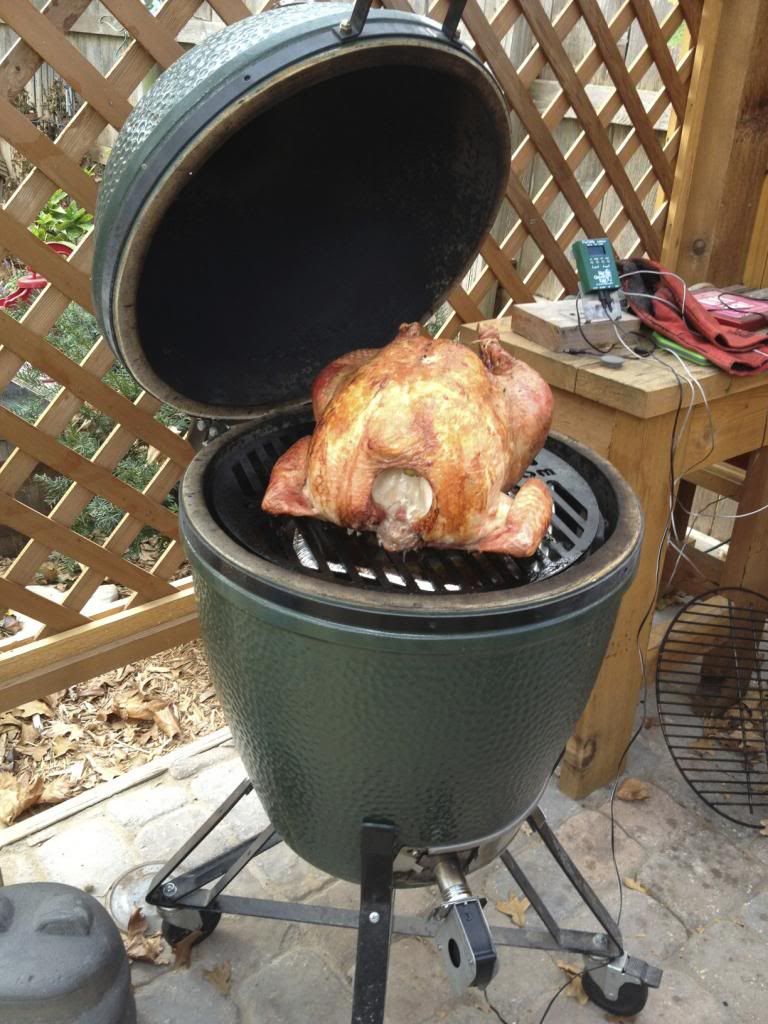 We used the eggs to keep everything warm as everyone started showing up. It was a really nice Oklahoma Afternoon.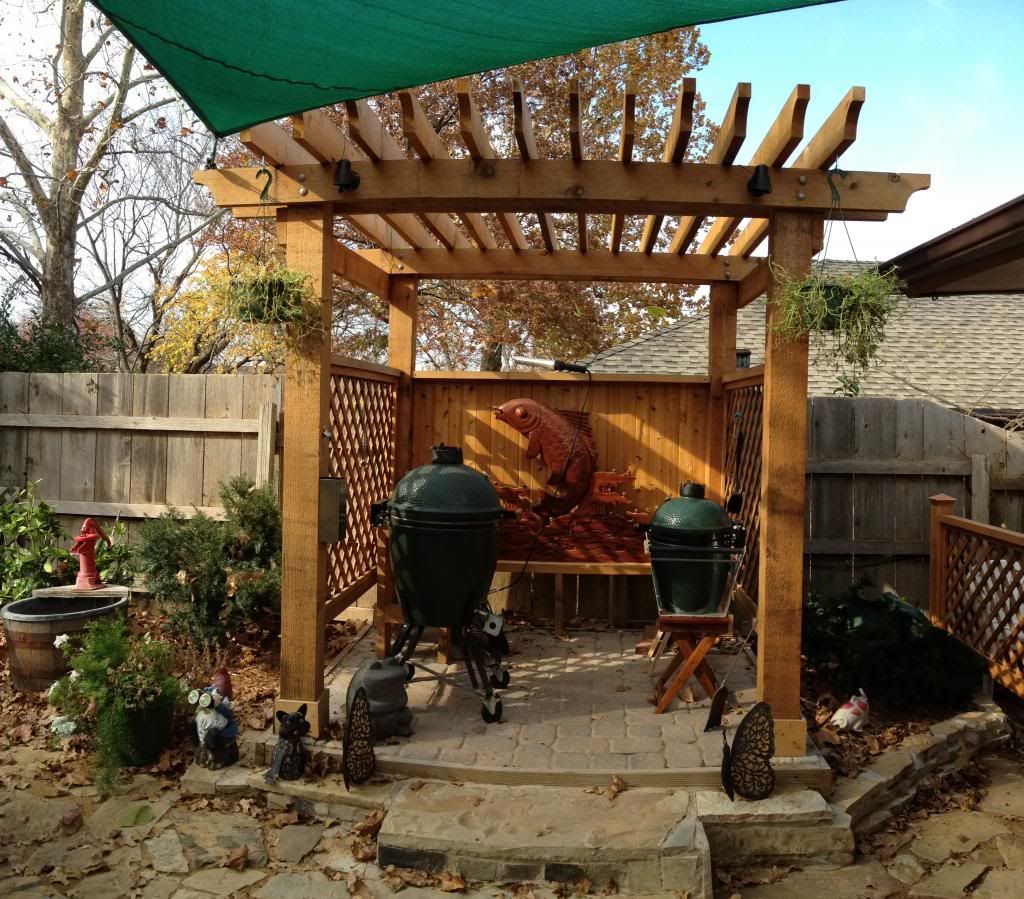 Here it is all carved up
So juicy, everyone said they would be ok with anyway we wanted to cook it from now on smoke, rub, as long as it was done on the egg!
One picture of the spread and the turkey inspired veggie tray.
It was a great day to be with family and give thanks to how blessed we are.
Saturday was the Bedlam Game between Oklahoma and Oklahoma State and while we were playing cards on thanksgiving we had the Food Network Magazine and they had a
What can be wrapped in Bacon article
. We decided to try that theory out for game day along with the infamous
@Cazzy
wings
. and a couple of dizzy pig rubs on some others. Pig Shots, Moinkballs, Stuffed Mini Bell Peppers, ABTs and anything else we could wrap in bacon was on the egg.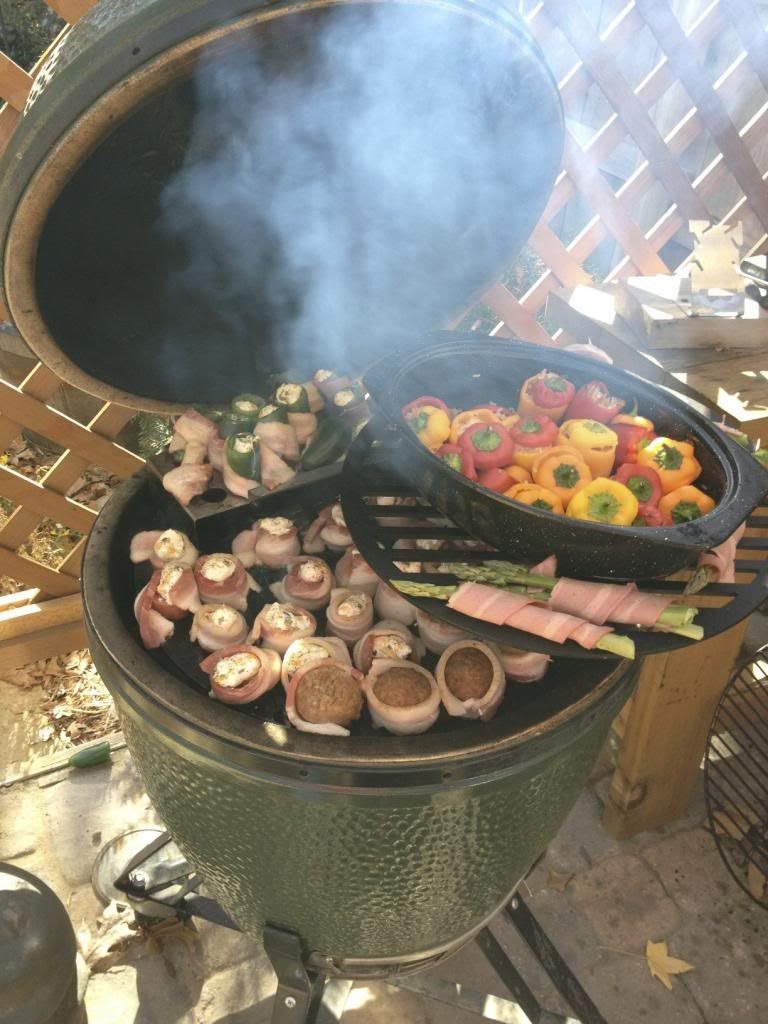 Some Broccoli and asparagus wrapped in turkey bacon on the small
Mushrooms stuffed with a jalapeño, cheese mixture
Cazzy's wings on the bottom and Dizzy Pig Swamp Venom and Jamaican Firewalk on the top rack.
It ended up being a great game with Oklahoma winning in overtime and everyone had more than enough to eat.
Large & Small
BGE
, CGW Two-Tier Swing Rack for
BOTH EGGS
, Spider for the Wok, eggCARTen & and Cedar Pergola my
Eggs
call home in Edmond, OK.