My Christmas cook was a fresh 16.6 pound organic ham. I believe this is the single largest piece of meat I've done on my Medium. (It took almost 4 days to defrost in the fridge.)
I sliced the fat the night before, painted it with oil, and gave it a healthy dusting of DP Dizzy Dust and Swamp Venom. Also, I stuck lots of garlic slices all over.
At 5 in the moring, I fired up the Egg. I had a good steady fire with the dome a bit above 300 by 6, and so started the ham, which had been out on the counter for the previous hour.
The dome dropped to 225, and stayed there after 1.5 hrs., I opened the bottom wider, and had the daisy "petals" all open. Never the less the temp didn't increase beyond 250.
By 10 a.m., more than half the lump was gone. With the vents as wide open as they were, I would have expected closer to 450 than the 250-ish I was getting.
I briefly removed the ham, and pan and grill, and dumped in more lump.
When I replaced the ham, I made sure the thinner end was under the dome therm. Despite a now roaring blaze that was keeping the liquid in the drip pan boiling, the dome still never reached hooter than 250. I can only guess that the huge mass of meat was keeping everything cool.
By 12.30, the Thermapen was reading at least a safe 153 in some places, and a somewhat overdone 170 in others. I removed the ham, and let it rest under a foil tent for half an hour.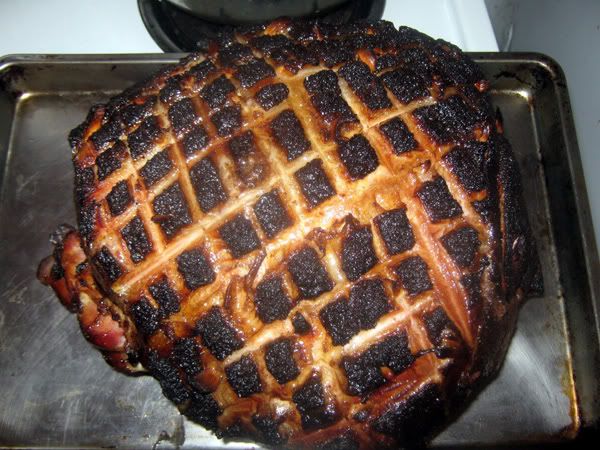 The broad end was a little over done, but everything else was fine. There was one place where the meat was still pretty red. I'm not sure if that is only because the flesh there happened to be unusually red or that it was under cooked. On the whole, this organic hog meat has been a brighter red than most commercial.
At any rate, it was a success. The outside of slices was crispy, and the flesh, overall, sweet and succulent.