Finally got around to doing something I have been going to do for some time now… I wanted a quick and easy way to remove the old gasket without using flame, power tools or sanding.
In the past gasket replacements I tried a lot of different solvents and it took hours and hours to accomplish the removal. Talking with BGE I was told not to sand or use any power tools or I would void the warranty. So here is what I tried and used.
Goo Gone was very slow and hard to use – tossed it out for this application.
Extreme Goo Gone was a little easier but still not very good – tossed it out for this application.
Aaaah yes – the good stuff. Oops! – Now that's just what the Doc ordered & the stuff to use.
2.5" stiff stubby putty knife.
Acetone (too hard to use to clean) but used it as a final clean before putting on the new gasket.
Hint… Don't buy acetone in paint section – very expensive. Get 100% acetone in the beauty section of walmart. Gals use it for removing fake fingernails. Very cheap.
Points A to B were the best part of the old gasket.
I worked up a part of the gasket, splitting the felt from the adhesive. Got a grip and simply pulled what I could of the gasket from the egg. You can see the pulled gasket upper mid left of picture. Points B to C below show the remaining 'furry' gasket & adhesive from the initial pull.
Points B to C - I found working within 3 to 6 inches at a time was best. I poured a liberal amount of Oops! and let it sit and do its job and get at that adhesive. I took the putty knife and with just a small amount of pressure scooped up the gasket. That first scrape was from point D to A.
Again working in short distances I again put Oops! on the rim, let it sit and then scraped, using a little more Oops! then a paper towel folded to clean. That worked up the rest of the adhesive & stain. The result being points C to D.
I felt the surface for any roughness or remaining particles. All clean. Only then did I apply a liberal amount of acetone to clean out anything remaining. Acetone evaporates quickly so again work in short stretches. I brushed off the rim with my hand and let it sit for a little while.
I put on the gasket material in short distances and never stretching whatsoever.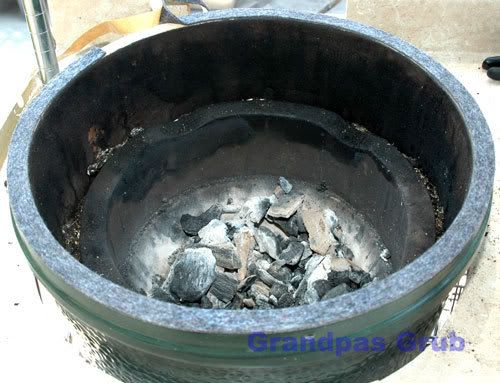 There was a little extra gasket material so I treated the ceramic dome to a little gasket for a tighter seal and so the cap won't happen to launch into space when opening the dome. I heard someone was launching caps when opening the eggs. Anyway, back to the task at hand.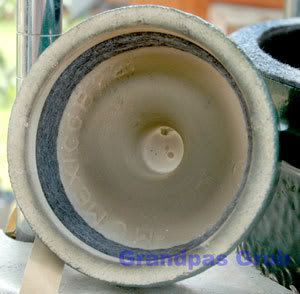 It was much easier to remove and replace the gasket with the dome off than it was when I tried it with the dome on previously.
Gasket replacement doesn't have to be a long and hard process. The process was simple and with the help of Oops! took less than 30 minutes – start to finish!
Now to align the dome so far for me is a real PITA.
Grandpas Grub.