Welcome to the EGGhead Forum - a great place to visit and packed with tips and EGGspert advice! You can also join the conversation and get more information and amazing kamado recipes by following Big Green Egg to Experience our World of Flavor™ at:
Want to see how the EGG is made?
Click to Watch
Turkey breast tonight...
Morning All:
Tonight we did a turkey breast...it is for dinner plus to have some turkey for Turkey Pot Pie in a few days (practice for Poolman Pat's mini-fest)...I brined the breast in the John Ash brine for 50+ hours...pulled from the brine last night to sit in the fridge overnight to dry the skin some...set up the Egg indirect at about 375...I put some butter mixed with Dizzy Pig Happy Nancy rub under & on the skin then added a little DP Mediterranean-ish...just on the Egg...
It took just over an hour to get the internal temps above 160, then pulled to rest a few minutes before cutting...
My plate with half of a baked sweet potato with butter & cinnamon (also a small salad)...made for a delicious dinner...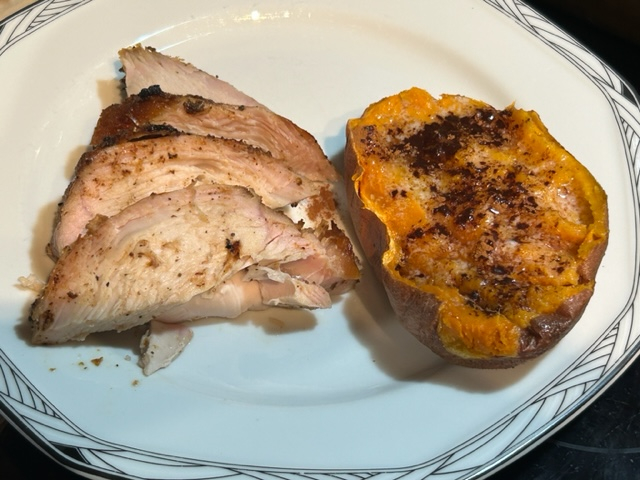 We pretty much finished off one half of the breast...the other half will become the pot pie this weekend (Kathy makes some FANTASTIC pie crust)...will post about it later.
Have a GREAT day!
   Jay
Brandon, FL
Comments