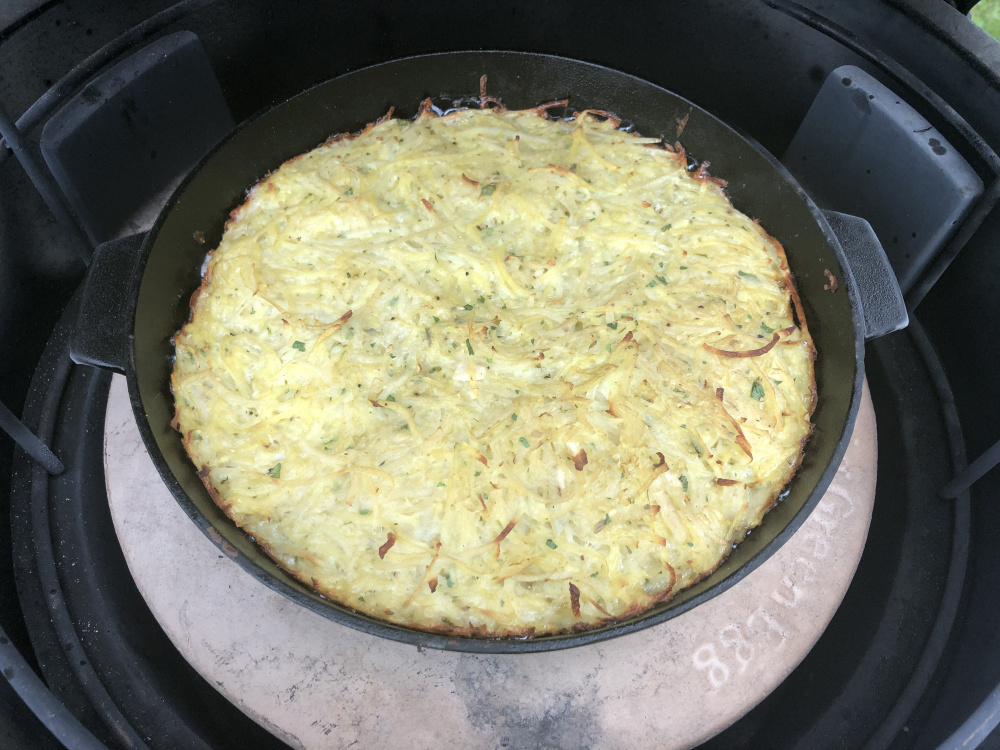 I got a great BGE cast iron pan for Christmas and was looking for a way to use it on my BGE.

So, I was looking for a side to go with some steaks and came up with the idea of baking a potato latke in my new cast iron.  I had previously seasoned the cast iron pan, so, it was ready to go.

I shredded about 8 medium potatoes with my Cuisinart Food Processor, placed them in a mesh bag that I use in making wine, squeezing as much liquid as possible from the potatoes.  They were then placed in a large bowl, then added three eggs, about 2/3 cup of flour, a medium diced onion, 2 diced cloves of garlic, salt, pepper and some chopped parsley.  Canola oil was then placed into the cast iron pan, just to cover the bottom lightly, and then the potato mixture was placed on top, filling the pan about 2/3 of it's height.  (Future recipes I will go about 1/2 way up)

The BGE was fired up to 400 F, the plate setter was in place and the pan was placed on four 1" ceramic posts to get some heat flow under the pan.

It cooked for about 25 minutes and then with fireplace gloves a large platter was placed on top, inverted the pan, allowing the potatoes to be flipped.  Went another 15 minutes and removed it from the heat, keeping it covered while the steaks were cooked direct.

The were a hit, some ate them plain, some added ketchup, others added sour cream.  They were tasty and there were no left overs.

The pan was no stick and it slid out easily. Definitely a do again!