A Fail, but I learned some things.
When I made Birria Tacos I had three beef shortribs left, froze them for a later date (I missed Burrito Day yesterday).  Thawed, sprinkled with Montreal Steak Seasoning, grilled on the small to 125º, rested, and sliced thin: 
Made up a sauce with a glop of sour cream, two smaller glops of sriracha and mayo, and some minced cilantro.  Grated half a potato and soaked for hashbrowns.  Two eggs with green onion and mexican cheese, soft-scrambled.  My avocado was still rock-hard so I diced a small tomato.   
Although I bought the largest tortillas I could find, they weren't big enough.  I wanted to smear the outside with butter and return to the Egg for some crisping, but that wasn't gonna happen.  Then saw the tomatoes still on the cutting board, gah.  Then the burrito unrolled itself, and I realized this was gonna be as pretty as she gets: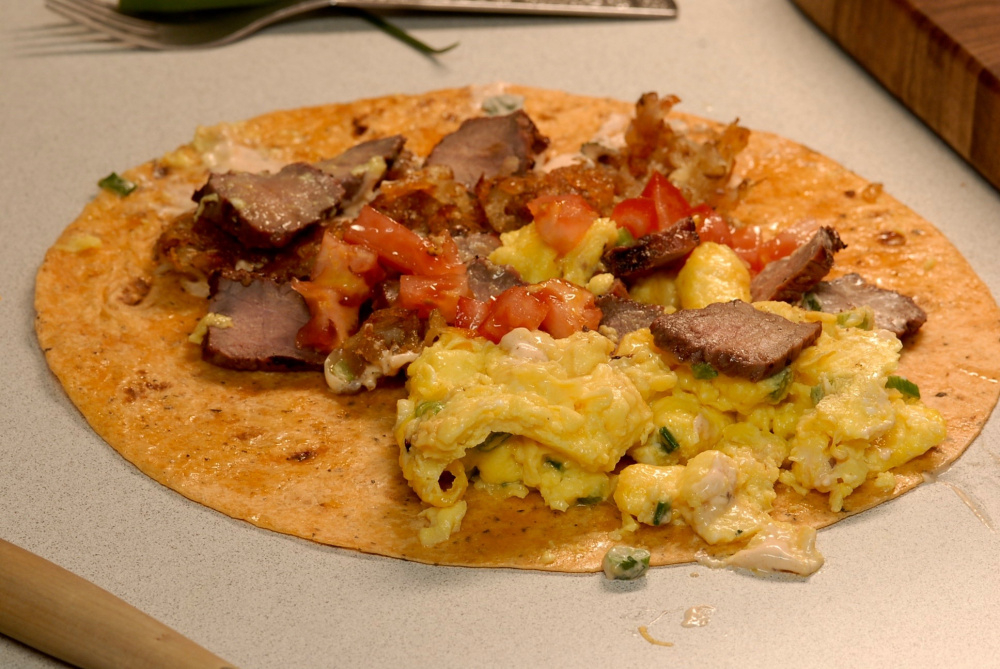 I re-rolled, and knew it'd be a fork breakfast.  Then a knife-and-spoon breakfast, the thin rib slices were really tough.  It tasted good, but parts were cold by the time I finished it.   
I have two shortribs left, will be trying the following tomorrow:
1.  Chop the ribs in the food processor, and add to the beaten eggs.  Hopefully they'll be warmed just enough by the time the eggs set.
2.  Split the proteins between two tortillas; I still want to try crisping them up.
3.  Option: swing by McDonald's for a couple hashbrown patties to use (I still can't make hashbrowns worth diddly) 
This is kinda complicated for a breakfast, lotsa dirty dishes, and three cooking devices, too much for someone who doesn't drink coffee.  It'll be easier tomorrow, and a griddle (which I don't have room for) would really help.  Live and learn.  
____________________________________________
It's okay; I'm on a daily 500 mg dose of Phukitol.     
Ogden, Utard.