Welcome to the EGGhead Forum - a great place to visit and packed with tips and EGGspert advice! You can also join the conversation and get more information and amazing kamado recipes by following Big Green Egg to Experience our World of Flavor™ at:
Want to see how the EGG is made?
Click to Watch
New Favorite P. Loin Recipe
Greetings -
Hope you & yours are safe & well. This recipe was part of an insert in a wine shipment from Goldeneye Winery in Anderson Valley.  Recipe First, Pictures Second
2 lbs Pork loin, trimmed
2 TBSP white truffle oil
1/4 cup raspberry vinegar (or substitute)
2 TBSP soy sauce
2 garlic cloves, minced
Combine these together and pour over pork loin & cover, length of time up to you, they say 30 min room temp. or in in fridge up to 4 hrs.
Sauce:
4 TBSP unsalted butter
12 sliced shiitake mushrooms (or other wild mushrooms)
1 garlic clove minced
1/2 of a shallot, minced
1/4 cup seasoned rice wine vinegar
1/4 cup veal stock (I used beef broth low sodium)
1/4 cup heavy cream (I used 1/2 & 1/2)
4 oz Point reyes blue cheese or other creamy cheese
S & P
Melt butter in large pan until foam subsides. Add the shitake mushrooms, garlic, & shallots - saute for 2 min. Add rice wine vinegar, reduce until almost dry, then add stock/broth, heavy cream, & blue cheese. Reduce to a sauce like consistency. Season with S & P and keep warm.
I choose 400° raised direct on the Egg.
Starting the sauce
Vinegar had a pungent scent for sure
Adding other ingredients to sauce
I tried not to let it boil, just simmer to break up the blue cheese.
Went with a side of roasted yukon potatoes, started in the over, finished on the Egg.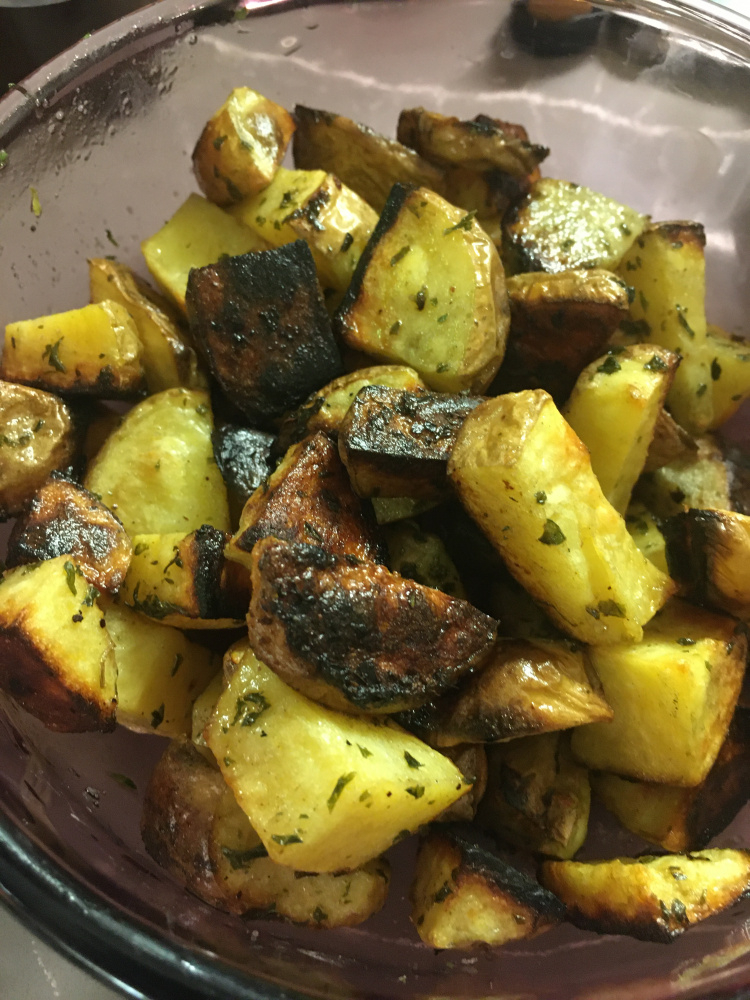 Pulled the P. Loin off at about 146° and let it rest a little while the sauce reheated.
Plated with sauce
Probably could have reduced the sauce a bit more but it was AWESOME! And yes, we did have a Goldeneye Pinot Noir with it - also awesome. Definitely going to make this again in the colder months, a great comfort meal.
Thanks for looking, stay safe & healthy.
Cheers,
Chris
St. Louis, MO
Unit 1: LBGE, cedar table Unit 2:Akorn

Comments