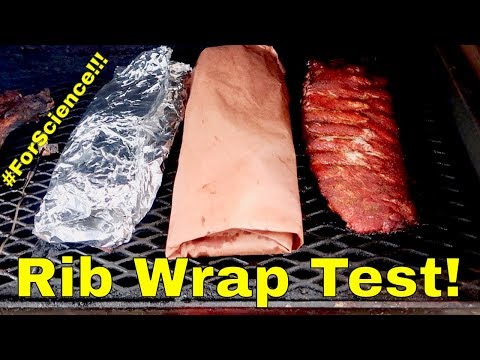 This is kind've a long video for what you learn (and I'll be spoiling the ending, below) but it had some interesting results.  Three 'que enthusiasts (one a competitor) cooked three racks of ribs, prepped the same way but two were wrapped halfway thru, then all three sauced and left bare the last 1/2 hour.   
SPOILERS:  The rack left nekkid was the tenderest of all three, kinda surprising (all three agreed on this).  All three also agreed that the rack wrapped in paper was the worst. (???)  Best overall was a tossup between the first two, although they agreed the nekkid was smokier (duh); guess it depends on how much smoke you like.  The guy who did the cooking also said (I 
think) "Well, we used oak, sorry, pine,
and didn't let the bark burn off first".   I hope I was just mis-hearing that.   
I've never wrapped my ribs, but think will try this this weekend, one rack nekkid and one wrapped in foil, and see what I think (I don't have any butcher paper so that was an easy decision).  There's also the possibility (and I know this from cooking briskets) that sometimes you just get a poor-tasting critter, so that could've been it, also.  Might be something to argue about over the weekend.  
EDIT:  Oh yeah, the nekkid rack was closest to the firebox the first half of the cook, that may have had some impact on its tenderness (just cooked more).  
____________________________________________
"When stupidity is considered patriotism, it is unsafe to be intelligent."
  - Isaac Asimov