Wait, wat??  Hey, I didn't name it; Chef John did.  
Has poached, shredded chicken breast, andoille sausage, and bacon.  I deviated from the recipe just a bit; used thighs instead of breasts, and grilled/smoked rather than poached, and while the grill was lit, why not blacken the bell peppers a bit too?  I also didn't use quite as much bacon, as I ran out.   
Peppers were done before the cheekun, which was timed great as I was also cooking the roux/Trinity mixture: 
Everybody in the pool!  I had to swap in my largest DO, my largest skillet didn't look like it'd hold everything (already had the fond formed/mixed in though, so that was okay).   
Ladled onto rice and sprinkled with thin scallions, for the Money Shot: 
This was great, will definitely be making it again.  Thanks for looking!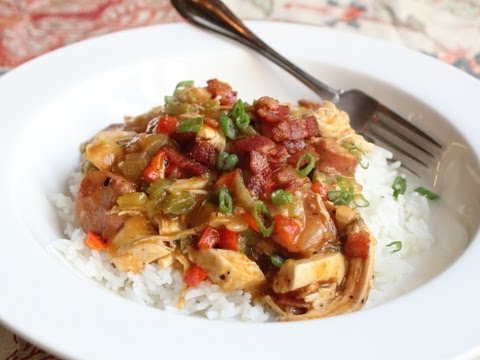 ____________________________________________
Introvert Engineers - Social Distancing before it was cool.  
Ogden, Utard.