Another Chef John recipe; another keeper!  
Marinade:
1 to 2 Tblspns freshly cracked black pepper
Large bunch of cilantro, chopped fine, w/stems (or equal parts basil, parsley, mint)
3 Tblspns oyster sauce
2 Tblspns soy sauce
2 Tblspns fish sauce
2 Tblspns veg oil 
Dipping Sauce:
2/3 cup rice vinegar*
Juice from one lime
4 cloves garlic minced
1 Tblspn Sambal Oelèk or other chili sauce
1 Tblspn fish sauce
1/4 cup chopped cilantro
2 to 3 Tblspns honey 
Mix up the marinade and pour over 2.5 lbs boneless, skinless cheekun breasts, 4-12 hours (I went overnight): 
Grill over a hot fire (I went raised direct, cherry smoke) for five minutes.  Turn and go another five minutes (here I put my baby bok choy on, with the sliced side of the bulb facing the coals but the green leaves "hiding" on top of the cheekun).  Everything cooks fast, I only went a couple minutes more.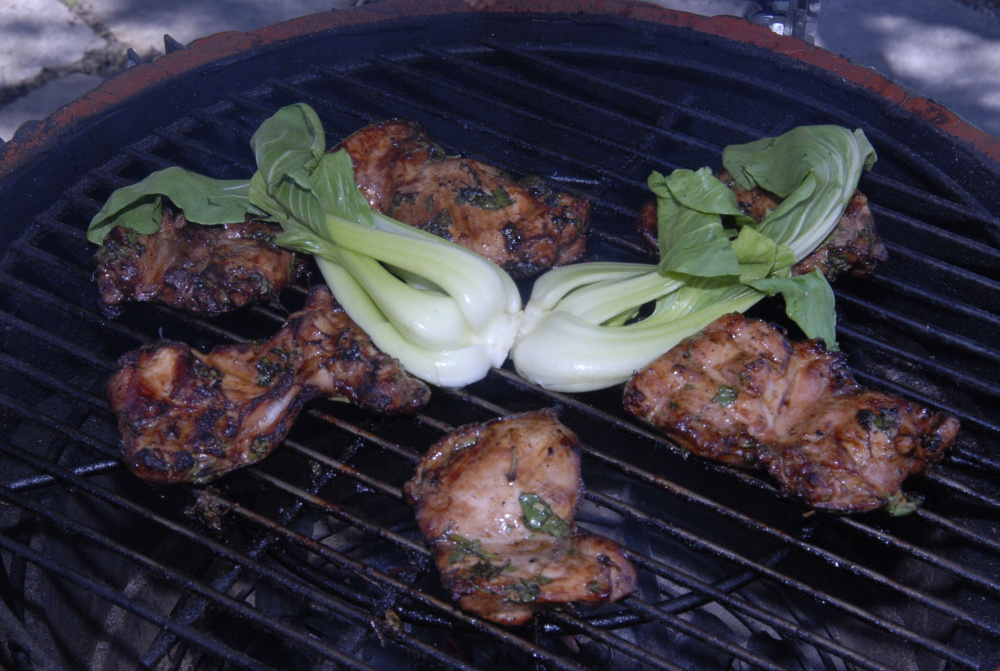 Plated, with white rice and sprinkled with a couple spring onions (not in the recipe, but I had them). 
Cheekun was a beautiful bronze color, and delicious.  The dipping sauce was a bit much for me, next time I'll go with 1/3 cup rice vinegar and 1/3 cup water (you definitely want a good amount of white rice with this).  
Will definitely be making this again!  
____________________________________________
Introvert Engineers - Social Distancing before it was cool.  
Ogden, Utard.