Hey all,
I'm starting to get into the swing of things here with the EGG (first time XL owner). It took me sometime to get a routine down (how to best light it, when to light it, how to clean it easiest... still a work a progress on that front lol), but I'm getting more proficient with everything.
I made meatloaf for the first time and combined a bunch of forum recipes as well as added my own spin. Served with a side of ranch mashed potatoes and asparagus. Recipes:
Meatloaf:
1.5lbs 80/20 Ground Beef
1.25lbs Ground Pork
1 Diced Onion
1 Diced Green Bell Pepper
3 Minced Garlic Cloves
Handful of Panko Breadcrumbs
1 Egg
Spoonful of Sour Cream
2 Handfuls of Shredded Cheddar Cheese
Several Healthy Shakes of Worcesterssirewetefsfsgisfrhgisrshire
Spoonful of Better Than Bouillon Beef
Several Shakes of Texas Pete
MSG (Accent Seasoning)
Some Cumin Powder
Dizzy Pig Crossroads
Salt
Pepper
Meatloaf Glaze:
Some Dark Brown Sugar
Some Apple Cider Vinegar
Sir Kensington's Ketchup
Mashed Potatoes:
3 Red Potatoes - brushed clean
Some Ranch Dressing
Too Much Kerry Gold Salted Butter
Salt 
Pepper
Asparagus:
Two jams (bunches?) of Asparagus
Dizzy Pig Pineapple Head
Dizzy Pig Fajitaish
Olive Oil
Directions:
Light your BGE with Pecan Chunks on indirect heat, get it up to 325-345. I also used the eggspander to put the glaze and the asparagus on top.
Saute Onion, Green Pepper, and Garlic in a pan on medium-high heat with Cumin powder, salt and pepper. After about 5-7min, hit it with a couple shakes of worcestershire to deglaze the pan a bit, and then immediately add the Better Than Bouillon Beef Base. Mix it all together and then add some water so you get a little beef stock going on in the pan. Allow it to simmer for about 3min and then dump it all into a mixing bowl. 
Put your ground beef and ground pork into the mixing bowl, add a couple more shakes of worcestershire, some Texas Pete, the Sour Cream, the shredded cheese, MSG, a nice amount of Dizzy Pig Crossroads, Salt, Pepper, the Egg, and the Panko Bread Crumbs. Don't do like I did and put your hands into the mixing bowl right away, you'll burn the sh*t outta them due to the hot onion, garlic and pepper mixture. Mix it all together with a wooden spoon until it looks well incorporated.
Grab a half sheet pan and put one of those cookie wire racks in it. Dump the meatloaf mixture out of the mixing bowl directly onto the wire rack. Form it into a log, cover with a dusting of Dizzy Pig Crossroads. Put the sheet pan with meatloaf on the egg.
45min later put the potatoes in cold water and bring it up to a boil. Boil the potatoes for around 25min. Also at the 45min mark, put your asparagus into the cast iron (I used the top from one of those 5qt Lodge cast iron dutch ovens), add the olive oil, DP Pineapple Head and DP Fajitaish. Mix and then add to top of eggspander. Mix every 15min with tongs.
At the one hour mark, mix the Ketchup, Dark Brown Sugar and Apple Cider Vinegar in one of those mini Lodge cast iron melting pots (the 15 ounce one). Put your first coating on the meatloaf, leave the cast iron melting pot on top of the eggspander next to the asparagus. Every 10min, glaze the tops and sides of the meatloaf until internal temp is around 160. I pulled mine at 158 bc I was tried of waiting. Let it rest for 12min prior to slicing.
Meanwhile, after the potatoes are fork tender, pour out the boiling water and leave the potatoes in the pot (who has time to use a collander and clean another thing?). Mash with a fork in the pot. Add 3/4ths of a Kerry Gold salted butter log. Mash more. Add some ranch dressing to your liking. Mix again. Add salt and pepper to taste. Cover to hold until ready to serve.
Lastly, once I pulled the meatloaf out, I also pulled the placesetter out and let the asapargus finish on direct heat around 450 for 7-8min.
I didn't get a shot of the mashed potatoes and asparagus, which were super delicious, but here's some pics of the meatloaf:
Prior to going on the egg:
One hour in:
Finished loaf:
Smoke Ring Success: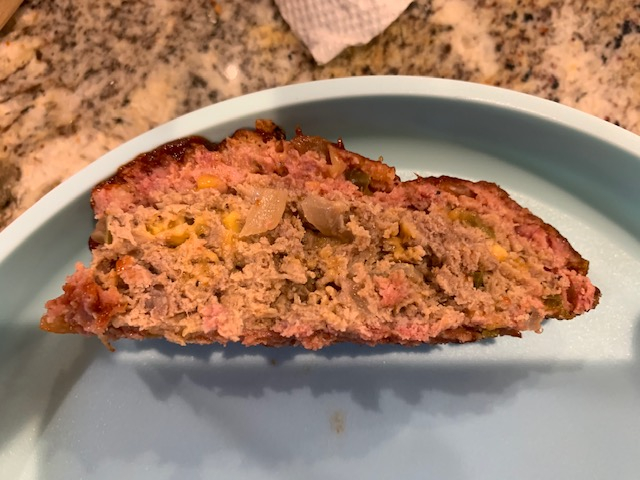 My wife doesn't particularly like Meatloaf, and says it was the best meatloaf she's ever had. And the kids loved it as well. Definitely putting this in the rotation.