I have been in the market for two things casually... a 2nd BGE (or KJ) and an egg table.
Recently a used item popped up for $1500 which included a very well maintained large BGE and an attractive granite topped egg table. It also came with a lot of accessories that I didn't need (pizza stones, looflighter, digital temp control, and various other tools).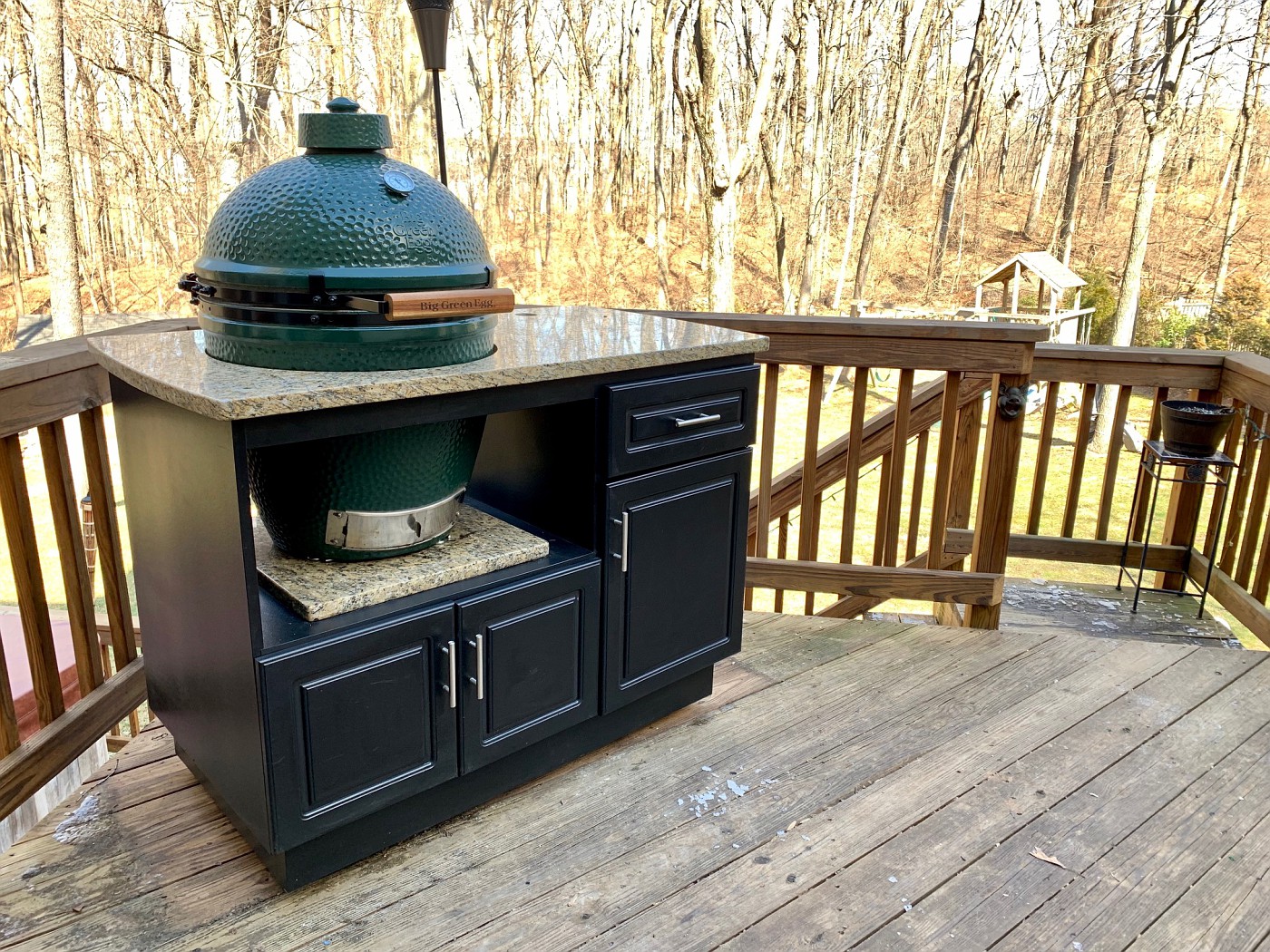 Think this was a good deal? It was more than I wanted to spend, but I suppose if I bought a new KJ with some extras it would have cost me that, and I couldn't have touched the table for that price alone. I have checked out some cheaper tables but none as nice as this one.
I wanted a 2nd egg so I can do long cooks away from the house, and also to have an egg down in the yard when entertaining. For most of my cooks, though, I'll use this new/used one that is on my deck.
QUESTION - the egg station is made out of marine grade PVC with a granite top and a square of granite under the egg. When we were reassembling the unit I noticed a significant crack that sits under the granite square that the egg sits on. The seller said he had only used the egg about 10 times. The crack looked like heat damage to me but could have been material flexing over the shelf support. (image below)

I was not worried about the strength of the shelf since it has another support directly under the egg (between the two front doors), but I was concerned about the heat that radiated through the granite to the PVC. So, when we reassembled the setup I decided an air gap would be prudent. I could not find any suitable washers but I had 4 stainless steel S hooks which I put under the egg (you can see two of them sticking out the front). Do you think these will be suitable or should I replace them with something else? Seems pretty strong, there are 4 of them, and I suspect any air gap will prevent further heating of the PVC shelf that is under the granite.
Thank you for any opinions, advice or assistance. I'm certainly excited to finally have a nice looking station for the egg. I was getting tired of the fold-up wooden shelves on my nest.
It is tough to tell in the picture, but the size of this crack is just shy of the diameter of the egg base. It runs front to back kind of along the top of a support that sits under this. So it could have been the material flexing while heated also I guess. After I took this picture I filled the crack with that Permetex high temp Ultra Copper Gasket Maker that we use to apply the rutland gaskets. The inner circle that is shown appears to be PVC that was impacted by heat. (maybe it melted the surface slightly?)