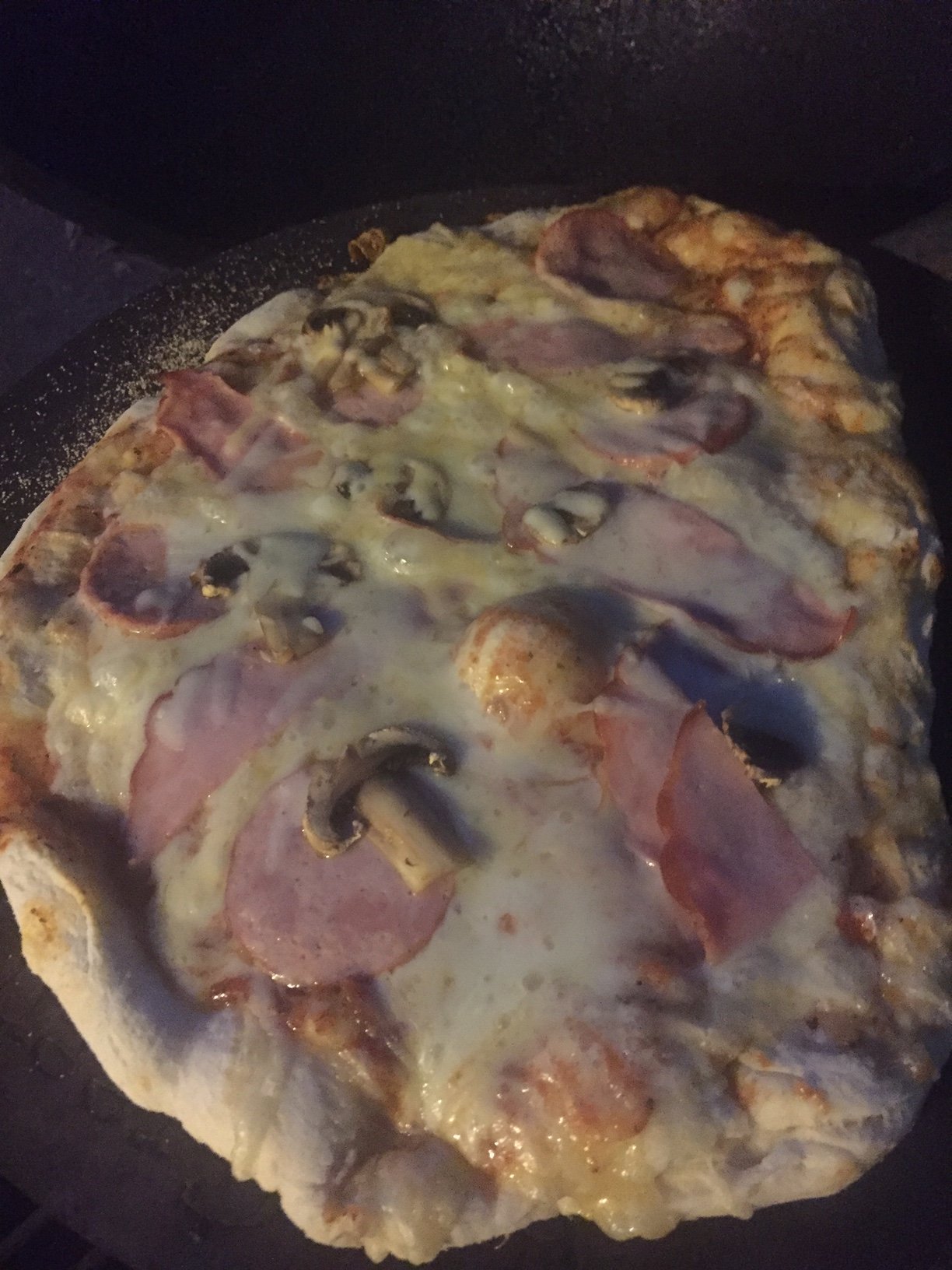 The rut thread got me thinking I needed to do something on the BGE, it had been too long and with my wife out of town tonight visiting friends I decided it was time for pizza and movie night with the boys.  My 14 yr old is into "retro" horror movies so tonight's feature is the Kevin Bacon classic, Tremors. 
The crust is a recipe off the internet and the sauce on all of them is my homemade pasta sauce which I admit, got a bit spicy because I put in a few too many chili's when I made it but it was good.  I thought I had pepperoni and I as wrong so tonight the part of pepperoni is being played by kielbasa. The cheese is 80/20 mozzarella and gouda.  It's what I had.
Got the egg settled at 550, after accidentally letting it get way too hot and wrap the thermometer all the way around and back to 200.  Too many things to do and I just lost track.  I didn't take a shot of my set up but it's my grill lifter to bring the grill to the now crispy felt line, plate setter, a few 1/2 inch nuts scattered for spacers and then the pizza stone. 
Sorry for the pictures likely being all over the place.  I wish it would put a picture where the curser is instead of randomly dropping them in the wrong place in the wrong order. 
First was kielbasa, ham, red pepper and cheese for my 10 yr old, next two were both kielbasa and ham, of course no need for veggies for the 12 and 14 year old, 16 yr old wanted kielbasa, ham and mushrooms.  He was mad because there was no pineapple but so be it.  In order to avoid fights, I had them roll a dice to determine who gets their pizza in what order.  It ended up 10, 16, 14, 12 and of course 46 last.  I had pepper, kielbasa, ham, mushroom and fresh basil, had to add a little old cheddar because I'd used up the white cheese. 
Biggest challenge was managing topping them all, running back and forth to the BGE and in particular getting them off the cookie sheet I was using as a make shift peel. I think a real peel is needed.  I also usually use parchment paper for the first couple minutes but we were out of that too.  I didn't plan well...
Pizza were great and the crust turned out nice. I tried to get a shot of the crust, will see if it actually got attached here.  I had to take pictures on the egg, no time when they came off as I was running for the next one.  It is nicer to have the Mrs home to work on topping and serving while I focus on egging.  Next time.
Mt Elgin Ontario - just a Large.