Finally getting around to posting about my Egg table build. Too hot to do anything else!
So I started out thinking I would be purchasing a Large Egg but then changed my mind, and the table plans for an XL.
I used Cypress for most of the construction. The boards were 5/4 rough all sides so the first thing to do was clean them up. Here's a few of the boards and how they looked at the start of the process:
Ran them through the planer:
Without dust collection this tool can make a mess in a hurry!
As noted above, I originally was going to purchase a large and so I started the glue up of my table top. Here's one half:
And the other getting prepped:
I wound up cutting these 2 slabs up for other parts after I decided to go with the XL and a solid surface top. This all happened in the Fall of 2014. Since my wife and I run our own business, I had to put off the table build until the following Spring. I had the entire winter to reflect on the table and the Egg and decided I also wanted a better plan rather than just winging it. I also want to give a big shout-out to
@BearQ
. It was your table plan I saw here that I really liked so this is my XL version of your table. Thanks BearQ!
I took some time learning sketch up well enough to serve me with some decent plans. Some of the plans for XL tables on the web are not proportionally correct which was throwing me off. Once I had these plans in front of me, I was much better off.
I got back to work in the spring making all the pieces and dry fitting them together: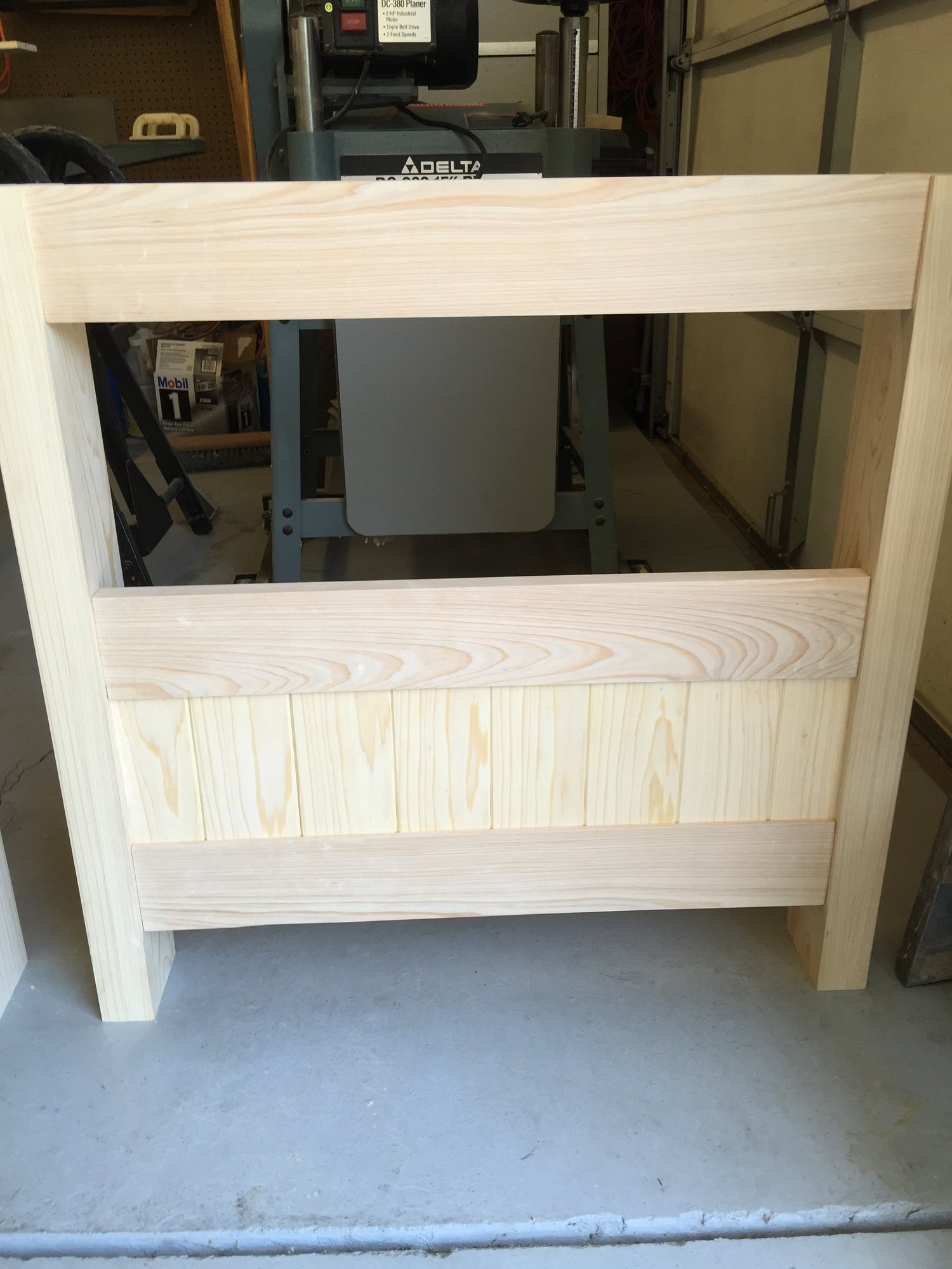 No mechanical fasteners at this point. M&T joinery:
The panels were fun to build. First ripped the 5/4 stock in half:
Planed it and then cut the T&G's on the table saw: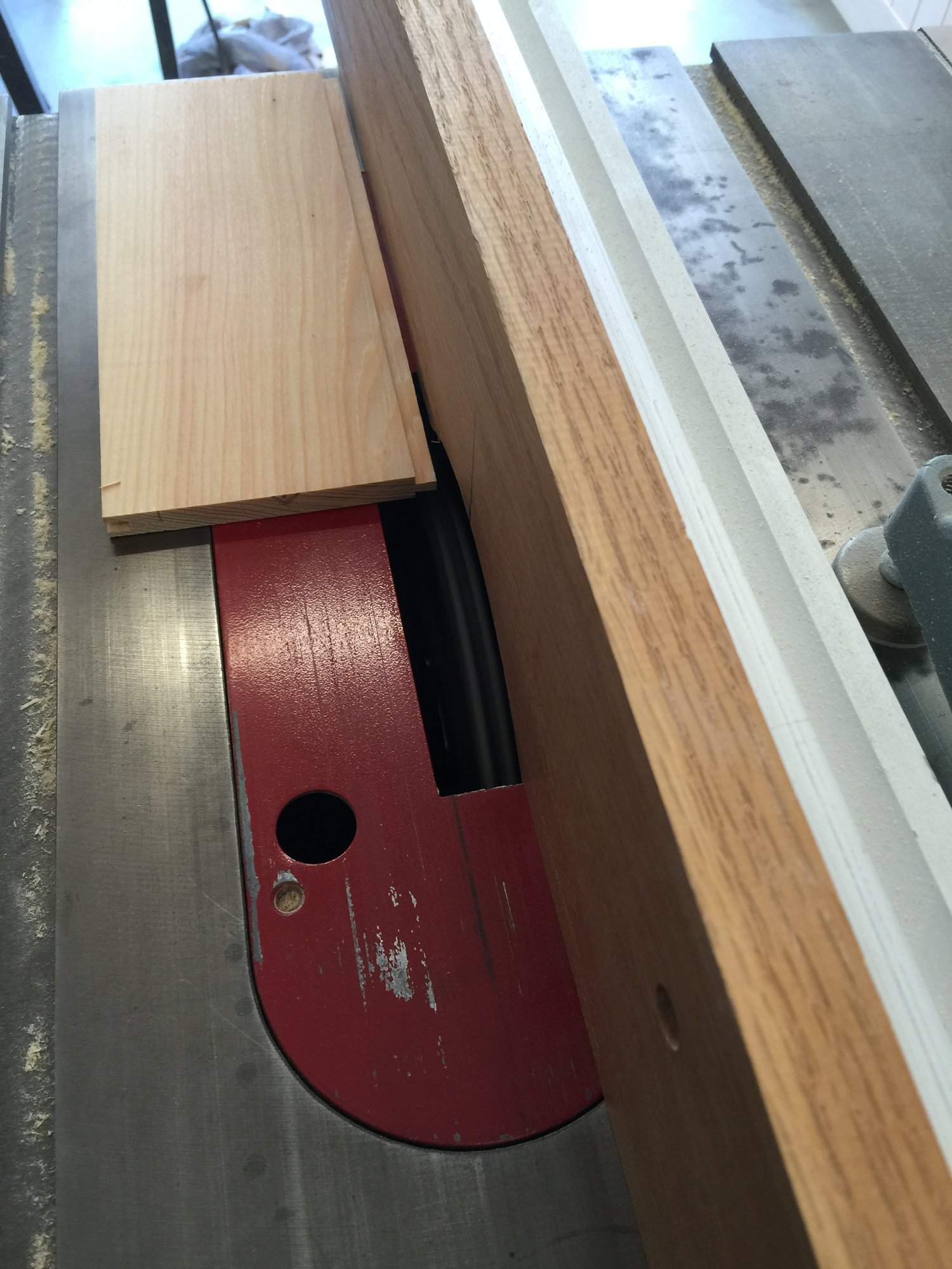 I wanted to enhance the side panels so they would have some character and not be totally flat. It's also more forgiving! I ran them through the table saw again to get this finished product: Of course NO glue was used during the assembly of these. They just fit into dado's cut into their corresponding frame pieces.
Also put together a couple drawers:
Fitted them onto some sweet Blum HD full extension soft closing slides:
Next, the drawer front and doors. I used biscuits to join the frames together:
Doors are hung on Blum euro soft closing hinges.
So remember last October, when it decided to monsoon every day? Yep, that's when I had scheduled to apply the finish; varnish, of course. I really started to question my thought process on the finish, which I had agonized over and researched ad-nauseum. Finally you've just got to pull the trigger! I used Epifanes marine varnish and applied 6 coats, all thinned according to their instructions. I also used an HVLP sprayer for the first 5 coats but then applied the last, full strength coat with a foam brush. It came out fantastic!
Here it is with some sweet SS casters mounted:
There are plenty of granite fabricators in the area so I found one that was reasonable, picked out the stone, and he came by to measure. I also made a template out of masonite for the lower shelf. Being made out of mostly cypress, the table is relatively light. Once the granite was installed, it got VERY heavy!
Here it is still in the workshop after the granite, before the Egg:
With all the rain we had, my yard was super soft. I knew those casters would just sink right in but when my dealer came out to install it, he and his helper help me move it around back before the egg was put in. It was heavy now, but about to get SUPER heavy!
I also built this table to the size of the BGE XL table with the hopes of the cover fitting. I didn't buy a cover ahead of time and take measurements. That was the old anal me. well, I was pleasantly surprised:
Wait for it.....
TADA!
Overall I am extremely happy with this work space and the functionality of the cabinet. I can fit my Woo and AR and stone, etc in the side cabinet and gloves, lighters, etc. in the drawer. The side table is also enough space to place different rigs if changing out during a cook. I still need to add a tool holder and a couple bottle openers, including one I picked up from
@Thatgrimguy
during Butt Blast.
Epilogue: After being out in the NC humidity for a few months, the door and drawer parts expanded and blew some of the corners out in the frames. I assembled this with plenty of room for movement in the panels but attribute the issue to the varnish acting as a binder, holding everything tightly together. No worries, if I can build it, I can fix it, and that is in process right now. Is the table perfect? No, but it's pretty dang nice and besides, I enjoyed building it. I literally machined every single edge of every single board. Maybe this proves I can still muster up some patience if need be!