I have posted this cook before,
HERE
. It is the method that Eggcelsior cooked last year.
So maybe we should call it "Eggcelsior's Mojo Pork!" (it's awesome stuff)
Anyway, I'm posting it again for two reasons-
There are new folks on the forum and it's an easy summer party cook that impresses everyone.
I took better pictures this time.
So, if you have seen it before, my apologies. I'm sure some folks are looking for a different pork cook and this will be a good reminder.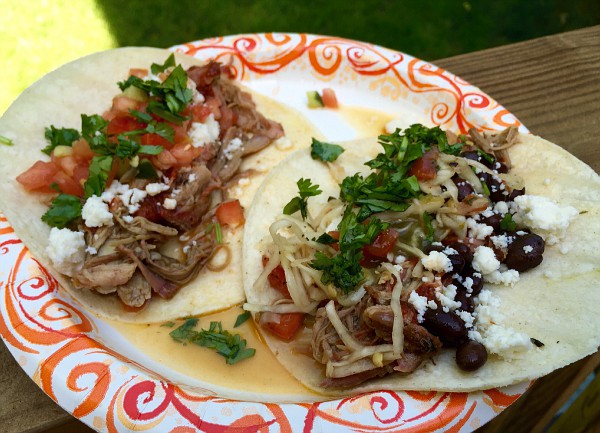 The are a few unique things about this cook for me that have made it a keeper.
First of all, since it is only smoking 90 minutes it limits the amount of time you have to really pay attention to the grill. That makes it easy.
Second, for your guests they get to see the benefits of an egg cook by tasting a tender smoky meat, but they also get something unique with the taco serving. Tacos seem to be very "in" now and Mojo is even better.
The meat has a tender juicy smokey flavor, but there is also a unique citrus flavor brought on by the mojo. Not overpowering. It also isn't too spicy and I find that when you add your own hot sauce upon serving, the vinegar really kicks it up by bolding up the flavor and delivering spice. I love it! BUT, for those who don't like heat you can keep it as-is. Everybody is happy.
Okay, here it goes.
The recipe for rub and the mojo is in the link I posted up top, so I won't repeat that. But basically for the rub, in a food processor you mix up honey, garlic cloves, and all your favorite spices from the cabinet, leaning heavily towards any that are latinish. I also add olive oil to get more liquid, maybe a little apple cider vinegar.
I mixed up the rub and hit the meat with it before I got the grill ready. I'm sure it could have sat overnight, but this was a one afternoon cook for me.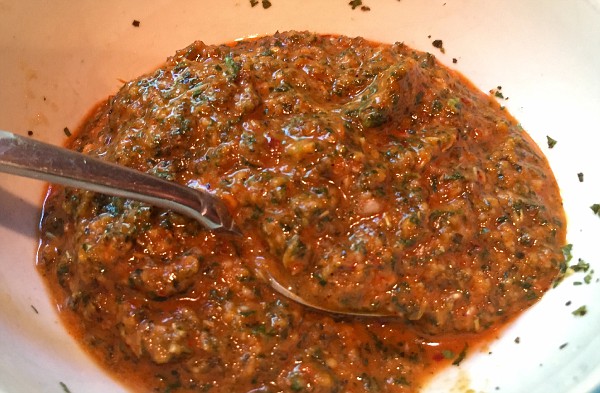 This is a Costco double pack of pork shoulders. Weighed in at just under 11 lbs. total.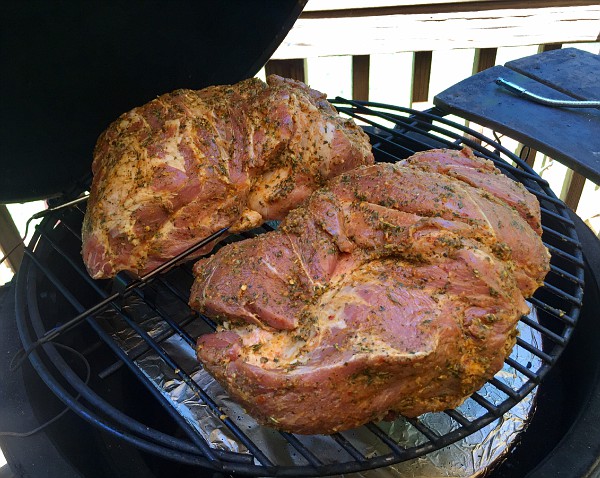 Let it go for 90 minutes or so at 350ish, until the internal temp was at 135 degrees. I cooked it on RO and threw in several cherry chunks. This is my 3rd time making it now (and my 6 and 7th shoulder of this method) and it is so reliable you don't need temp probes for anything but the grill.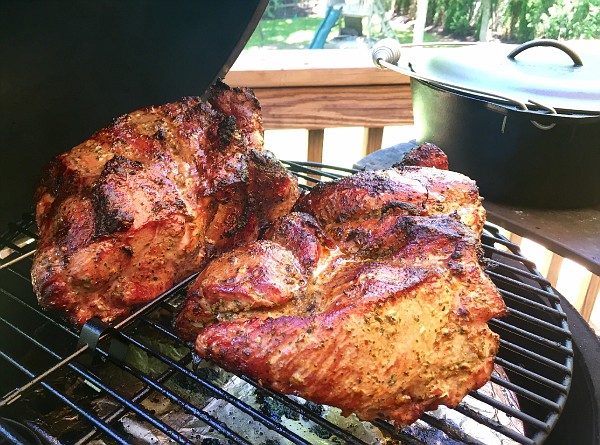 While that cook was happening I mixed up the mojo and cut up the peppers and onions. The pot was ready and waiting for the meat. For mojo (again, recipe in link above) you are basically mixing up a few cups of citrus juice, with garlic, S&P, oregano, and putting that over the peppers and onions.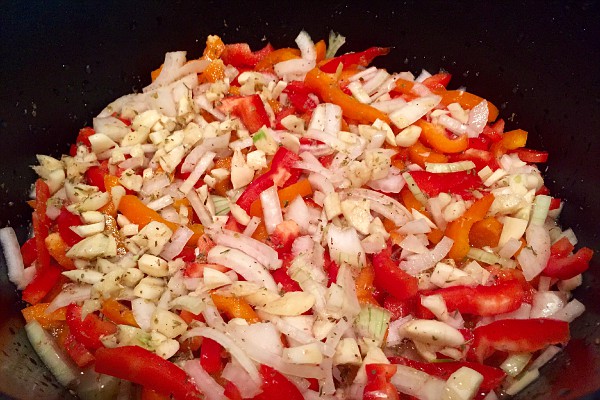 You can see when I put the meat in the dutch oven you can barely see the liquid level down there, but it's probably 3 cups of mojo or so. The meat was a tight squeeze, but this Lodge dutch oven fit about 11 lbs of shoulder. I actually cooked it with a brick on top of the pot because the shoulder was juuuuust barely pushing up the top.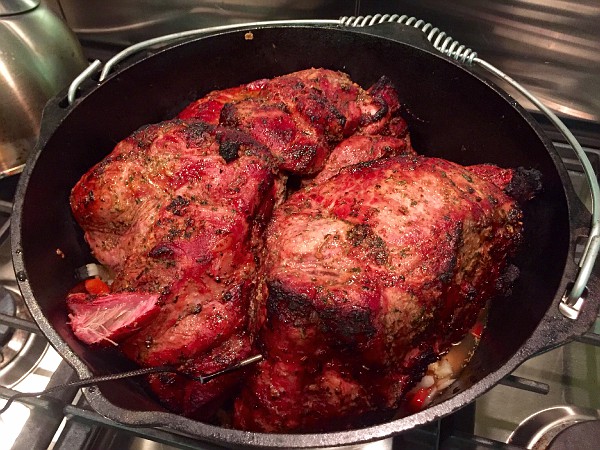 Let it cook for 2 hours, covered. Still at 350. Again, you don't have to use a thermometer. It'll hit 200 in two hours...maybe a little early, but it's covered and it's come our great every time I've made it. You can do this stage in the oven. One time I did 4 shoulders at a time and finished it in a big slow cooking roaster. This time I kept it pure, though.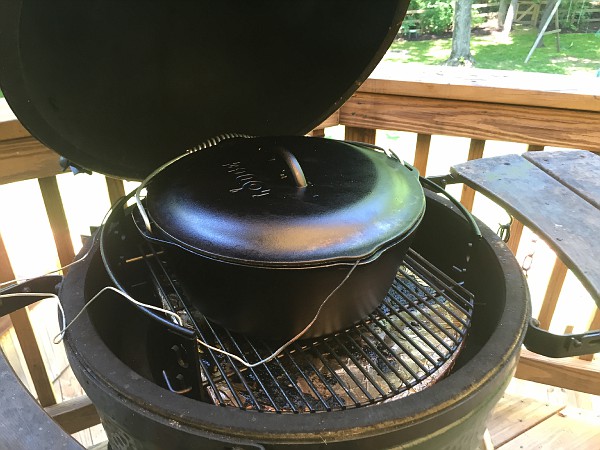 When you take it off you'll note how much the liquid level has raised. This is a good point so you don't put too much liquid in on the front end and overflow your pot.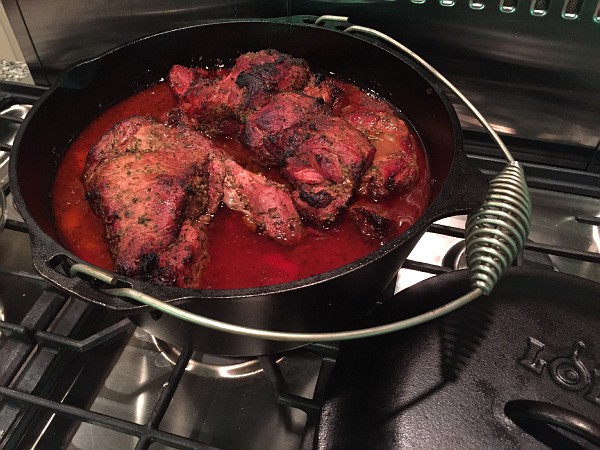 I let it rest for 30 minutes or so. Before and after I take the meat out I ladle off most of the fat from the surface. I'm not sure how much to leave in it, but I figure there is enough residual on the meat or in the stock. If you don't want to do anything, you can take it off after a night in the fridge when it all congeals on the top.
Anyway, I pull the meat... (eating a good bit in the process)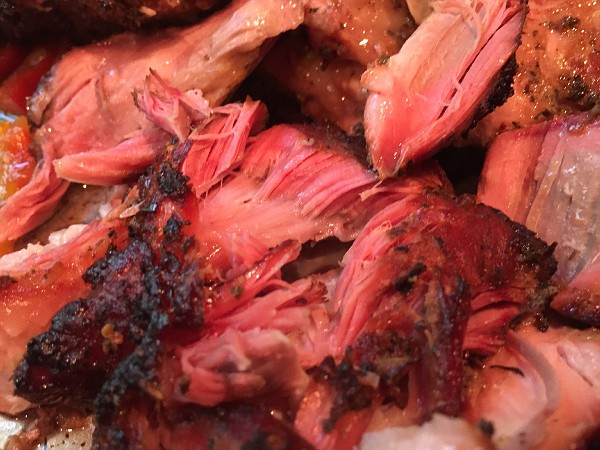 And put it back in the pot.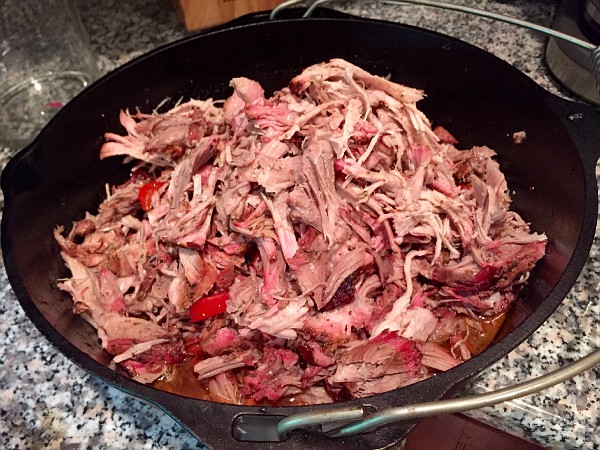 Then I threw the dutch oven in the fridge and it sat over night. That's another beautiful point of the recipe- this thing is not only better the next day, but it's better for the cook because you did all the hard work the day before the party! The morning of the party I put it in a LOW temp oven to slowly bring it up to a serving temp of 150-160 degrees. I didn't boil it or cook it, just brought it up to temp. Then I put it on a warming plate on top of my stove and just kept it at serving temp. Again, very low...the pot didn't simmer or anything.
Here is is all mixed up with the yummy Mojo and pork juices -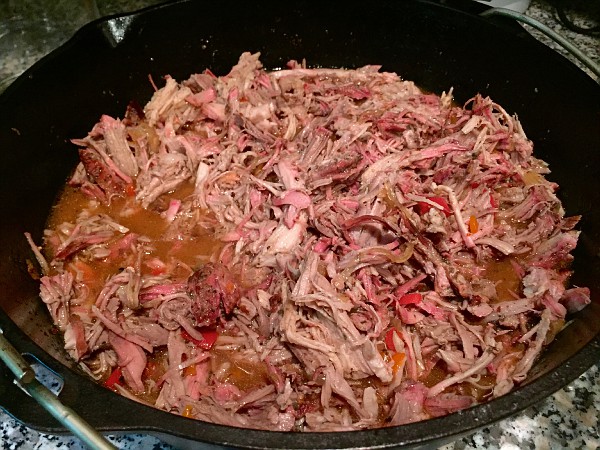 Great cook! I would like to make two pots next time, though. One for the masses, and maybe a smaller pot that is kicked up with some habanero and other good hot spices in the mojo! HOT Smoked Pork Mojo.
For serving, I let people build their own tacos. I had out...
corn and flour tortillas
hot sauces
4 kinds of salsa (green, pico, mango, southern slaw)
fresh cilantro
queso blanco (crumbled white Mexican cheese)
shredded cheese (for the gringos)
corn
black beans
limes
They ate it all.
Once again, HUGE props to Eggcelsior for inspiring this great cook. His original post is
HERE
.