Well, I received an XL as a present from my father (Jeepster47), so a big thank you goes out to him.
Truth is he wasn't being nice so much as he was embarrassed he had a family member cooking on Webers
I have a WSM and a 22.5" OTG I love. He got got an egg in September and was convinced I needed to step up my game.
I have to say I have been very impressed. My first cook was a short burn in followed by two chickens at 350. The chickens were cheap regular fair, but they came out as good as the organic chickens on my Weber.
My next cook was a set of St. Louis Style ribs that I rubbed the night before. I started later than I wanted so I went 325 for 2 hrs, wrapped for 1 hr, then unwrapped and sauced every 30 minutes with KC masterpiece (cheating I know, but dang that is a tasty sauce). I also used a mix of hickory and cherry with Nature Glow lump. They were some of the best ribs I have ever made. They had a better smoke ring than I can get on my WSM. I was sold on the BGE after that cook. Especially like the 24" grate so I didn't have to trim or roll my ribs. (Sorry for the blurry pic, but from lurking it seems this board requires proof of cooks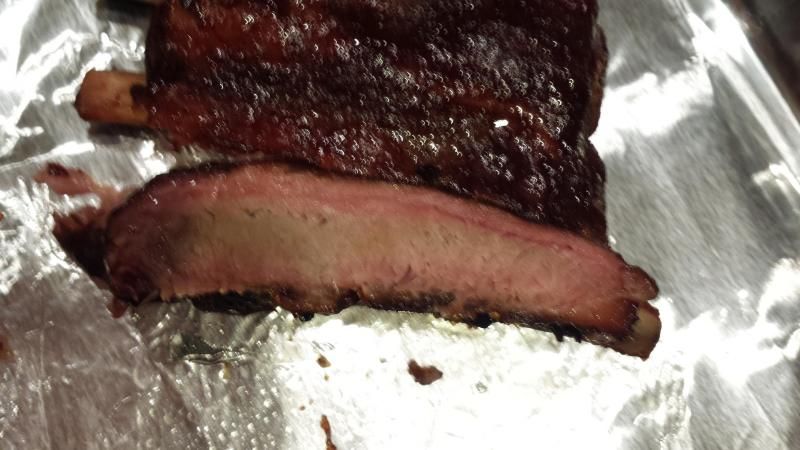 My next cook was a 9lb pork shoulder with Oak Ridge Secret Weapon. I did it at 350 with cherry. Used the Texas crutch at the 4hr mark because the bark was just like I like. Checked it at 195, but still probed tough, hit 205 and it probed like butter. Let it rest in a cooler for an hour and It pulled beautiful didn't crumble so eve at 205 it wasn't over done. I was satisfied. Holy cow, was it good. I had a bunch of neighbors over and they devoured it. I also warmed up an 8lb smoked ham right next to the shoulder for the last 3hrs of the cook. I had no grate space left! Glad I went XL. No proof on this cook :(
I followed this cook up by some cedar plank salmon. Simple cook, with a baste made from some homemade mayonnaise and mustard, would have liked to add dill, but didn't remember I ran out. The salmon came out great. Another win.
My last cook was a 4.5lb pork loin. I used a homemade rosemary, garlic, and pepper paste. I butterflied the loin, cut in some pockets and spread the paste in the pockets. I then tied it back together and used the rest of the paste over the outside. I let it marinade over night. Cooked it at 350 today with some cherry. It was excellent. Perfect addition to some homemade corn bread and black eyed peas I made for New Years Day.
Sorry for the long first post, but I had some catching up to do. The short version of the post is, I am the proud owner of an XL and very impressed with the quality of the BGE. It has been easy to control and honestly helped my Q'ing a lot.
If it is worth doing, it is worth overdoing.

XL, Medium, Minimax, Mini, Blackstone, WSM