... was the BOMB. Did up the chili cheese fattie like I've seen before on here but can't seem to find tonight. Anyway, for those who faint at the sight of a firearm, you might want to hit the back button before you get to the "money shot".
1lb Pork sausage

1lb bacon

Chili to taste (I put too much and it's a mess)

Cheese to taste (about 8 oz works well)

Chopped onion (optional)

The kids like Hormel chili so we used that, but I'm going to make one for me later this weekend either without chili or with Mrs. Parallel's chili.
Place the 1lb of sausage into a 1 gallon Ziploc bag and roll it flat and even with a rolling pin. Be sure to get the air pockets out as you roll.
Prepare a bacon weave on parchment paper...
Cut open the Ziploc bag and add the chopped onion, chili (being sure to keep it away from the edges so it can seal) and cheese...
Start at one end of the Ziploc bag and use it to roll the filled sausage like a sushi roll. Then, place the sausage roll on the bacon weave and roll it as well. Seal the ends using a butter knife and smoke at 350° indirect until 165° internal temp.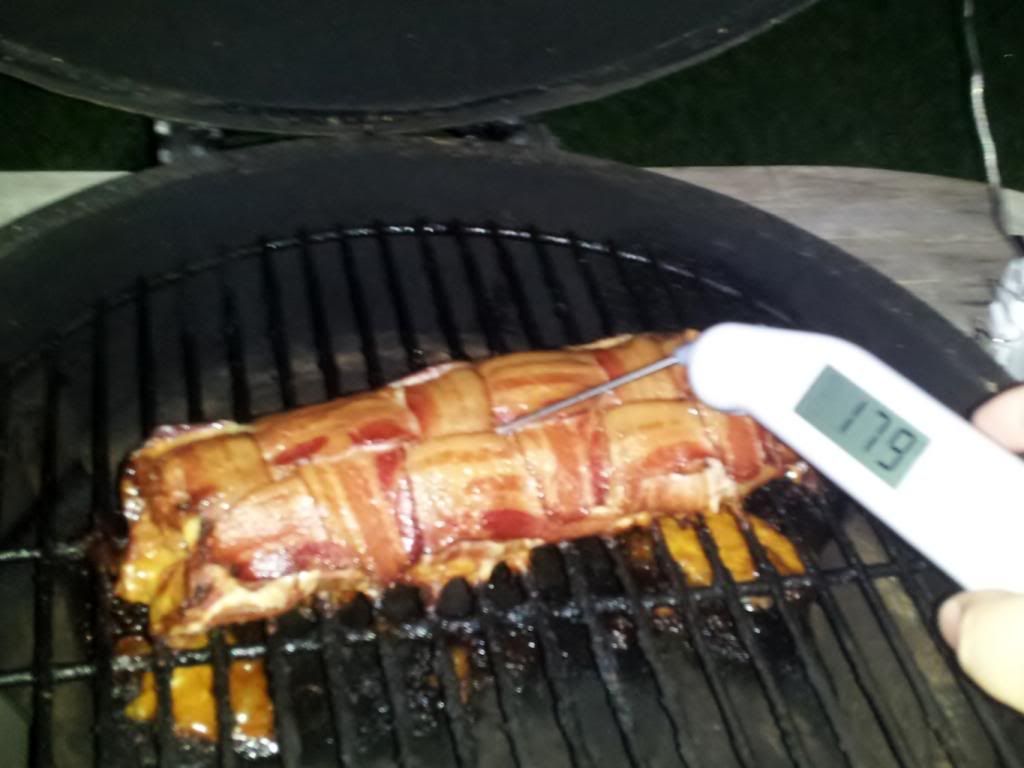 I checked at the one hour mark and it was about 160° internal temp (as taken with my Thermapen). I checked again ten minutes later and I overdid it a bit but it didn't matter except that some of the filling leaked out.
Onto a sheet pan for a ten minute rest (it could have went for fifteen as the filling came out more than I would have liked after cutting).
Money Shot! Protected from the hungry masses by H&K.