So - im a BBQer far far away from Texas (Denmark), but i still love the idea of the old ways of doing BBQ.
The result = endless trials with brisket, and this i my best to this date!
The meat is a Flat - the only cut i can get in Denmark - but i found US meat! Its around 4-5 pounds.
It was rubbed with - taaaaaaa daaaaaa - salt and pepper 50/50 ;-)
And the placed in the Egg in this beautiful snowy landscape. The temp was 230 F dome (not outside :-) With cherry and apple chips for smoke. Was unable to find oak :-( (What should be the "texas" smoke for brisket).
I pulled the meat at 154 F (after around 5 hours)
.... to wrap the brisket in paper.
And back to the egg!
I pulled the meat at 192 F (but i think it could have taken a bit more), that was around 3-4 hours after wrapping.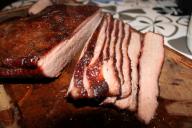 And damn - that was guuuuuud!
It was served with Mac'n'cheese, Sweet fries and slaw :-)