Been way too long since I fired up the Egg. 9 days!! I know, I know. I was out of town, but I did use my old offset and I did cook over live fire during that time. With the weather changing and the evenings getting cooler, last night was the perfect time to sit on the patio with a cold beverage, fire her up and throw some meat on. Earlier in the week, I spotted some Cornish Game Hens sitting in the freezer and took them out to thaw. Decided to keep them relatively simple and spatchcocked them, let them air dry in the fridge for 2 hours (that's all the time I had), applied some Grill Mates Montreal Chicken Grinder from McCormick. They went on to the Egg at 350, using the grate extender from BGE (I really need to toss this and get an Adjustable Rig) and used apple wood for smoke.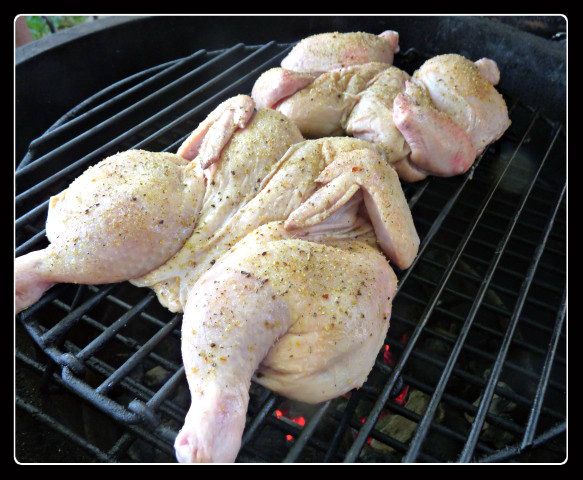 Checked on them after about 30 minutes. My Egg was running a bit hotter in the rear, so I gave it a 180 degree spin

After about 50 minutes they were done and ready to be pulled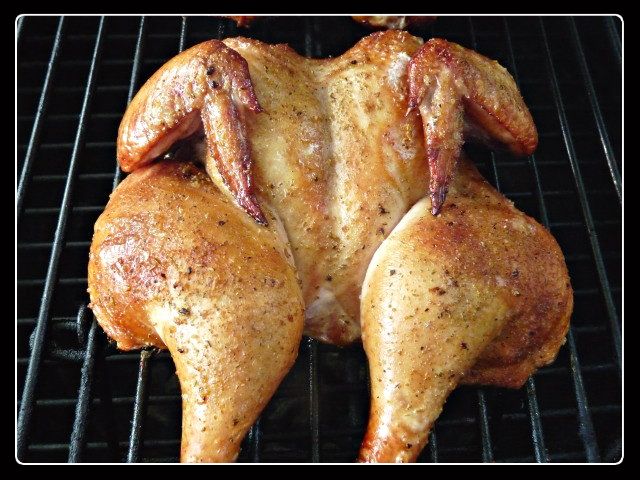 Served them up with some broccoli and some spaghetti that was tossed with pesto that my brother and his gf had made.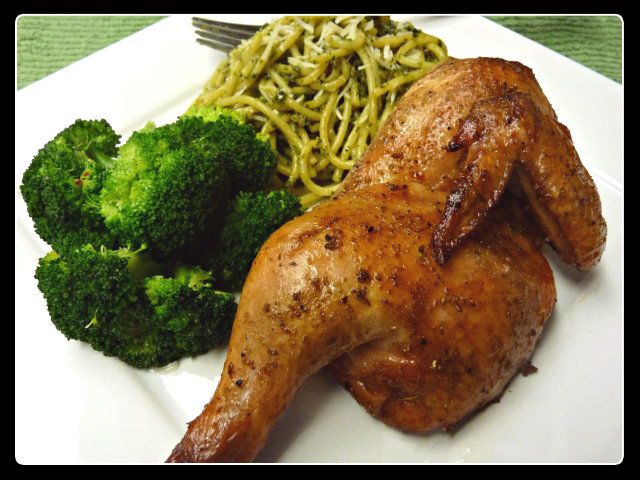 Pretty darn tasty meal. The CGHs, IMHO, had a slightly stronger, richer flavor than normal sized chickens and were more tender and juicy. The spice I choose and the apple wood paired with it perfectly, not being too strong and overshadowing the hens, but allowing the flavor of the hens to really shine through. I don't think there is any polite way to eat these, and since it was just Mrs. G and myself, I picked it up, ripped off the leg and went to town, juice dripping down my chin and hands. Messy, but oh so worth it. And there is something to be said about not fighting over the favorite parts of the chicken. We both got a leg, a thigh, a breast and a wing. Not to mention there is a whole nother one we can either eat for leftovers of figure out something to do with. Maybe pizza?
I think next time, I'm gonna leave the CGHs whole and stuff them with some kind of wild rice, mushroom and sausage filling....
Rowlett, Texas
Griffin's Grub or you can find me on Facebook
The Supreme Potentate, Sovereign Commander and Sultan of Wings