This past weekend was the annual guys dove hunting trip down at my In-Laws ranch. Weather was not very ideal, rainy and overcast, foggy in the morning. Just not very much flying at all. I took a half day Thursday because it takes me about 5.5 hours to get down there (outside of Goliad, Texas). Got in just in time to unload, grab a gun and a four wheeler and make it out to the field. I thought I'd go ahead and show my huge haul for Thursday night.
I know....pretty impressive....not really. But considering I only shot 4 times, and one was a long shot.....
The rest of the evening was pretty relaxing. I got to enjoy the ranch all by myself. Heated up some bbq that I picked up at Blacks BBQ in Lockhart knowing I wouldn't be cooking. It didn't fare well in the car. The brisket was a bit dry (it came from the end) and the jap cheese sausage was nothing to write home about. Sat out on the porch, watched the stars, listened to nature and sipped on some bourbon.
Friday was a relaxing day. Got up early to hunt, but it was foggy. Never did fire a shot. Came back to the ranch house and saw these guys. 6 turkeys in all.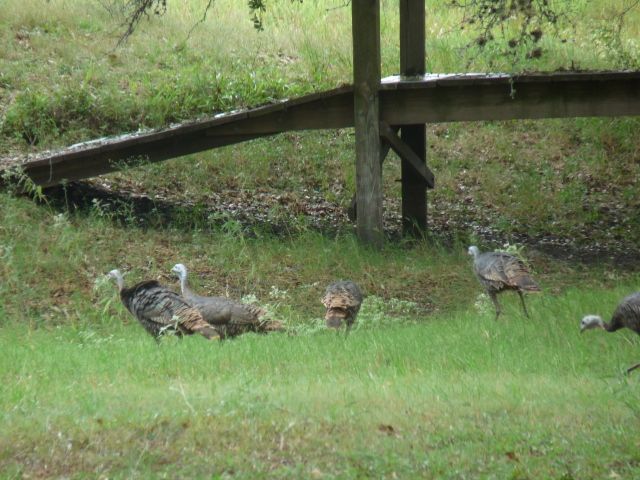 Joked around with my father in law about shooting one for Thanksgiving, 'cept he doesn't know how to clean one and neither do I. Think we'll have to figure that one out. I didn't shoot anything Friday night, my brother in law managed to nab 1. Pretty bad. Poker and drinking into the wee hours of the morning.
Saturday, I cooked up a mess of ABTs and some ribs for the Baylor game.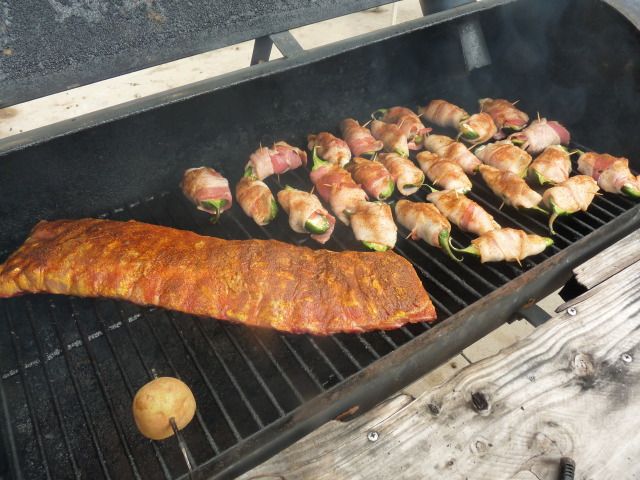 ABTs disappeared before I could get a shot of them and this was all I managed to get of the ribs.

These might have been some of the best ones I've done in awhile.
Hunted again Saturday night, but there just weren't any dove. Out of 11 people, I think only 2 were shot. Afterwards, there was a big steak cook. I took my dove and wrapped a piece of bacon around them along with a sliver of jalapeno and some cheese. Somehow, no pictures of dinner were taken at all. I gotta say, this was my 2nd time dove hunting, first time I ever shot one (actually two) and food tastes so much better when you shot it, cleaned it, prepped it and cooked it all by yourself. It was like bites of heaven in my mouth. I just wished the ranch was closer. :( Hopefully I can get back down there again in October. And maybe next time, I'll be able to take an Egg with me.
Rowlett, Texas
Griffin's Grub or you can find me on Facebook
The Supreme Potentate, Sovereign Commander and Sultan of Wings