A friend of mine is having a health challenge and alot of neighbors and friends got on the list to bring dinners every other night for her family of four.
Last night was my night to bring dinner so
I asked one of the children what other people had been bringing, if they had any requests, or cravings. He said everyone had been bringing chicken. When I asked specifically what his mom would want, he just said "Meat".
So meat it was.
For the kids, I made a Mexican style lasagna, which is taco meat sauce layered with flour tortillas, spread with some sour cream and cheese - make 3 layers, top with salsa and chopped green chili's and more cheese.
This was baked in the oven as I wasn't sure the kids would like the smokey taste from the egg.
For the adults, I did a Bistec Encebollado, a dish from Puerto Rico - Steak and onions.
I used beef tenderloin because I wanted it to be very tender, and also a special treat for the mom and dad.
Here is the tenderloin sliced 1/2 inch thick and rubbed with the homemade adobo, some fresh garlic, sliced sweet onions, and EVOO. Allow to marinate.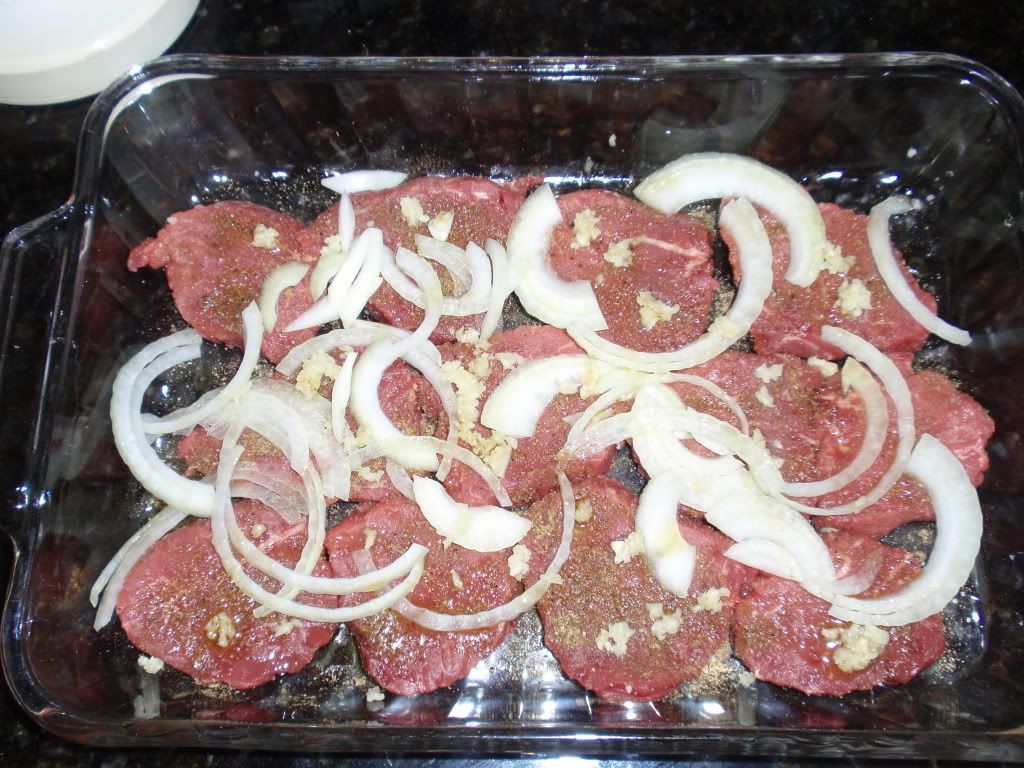 The adobo recipe:
Mix together-
1 tsp. each cumin powder, oregano powder, garlic powder, onion powder and salt
1/2 tsp. black pepper
The dish is supposed to be cooked in a pan indoors, but I just had to egg it.
2 minutes a side for the meat, the onions and garlic in the CI pan.
The dish is finished with some vinegar and beef stock, but I chose to make a Chimichurri instead, and it still has the vinegar component which complements the meat very well.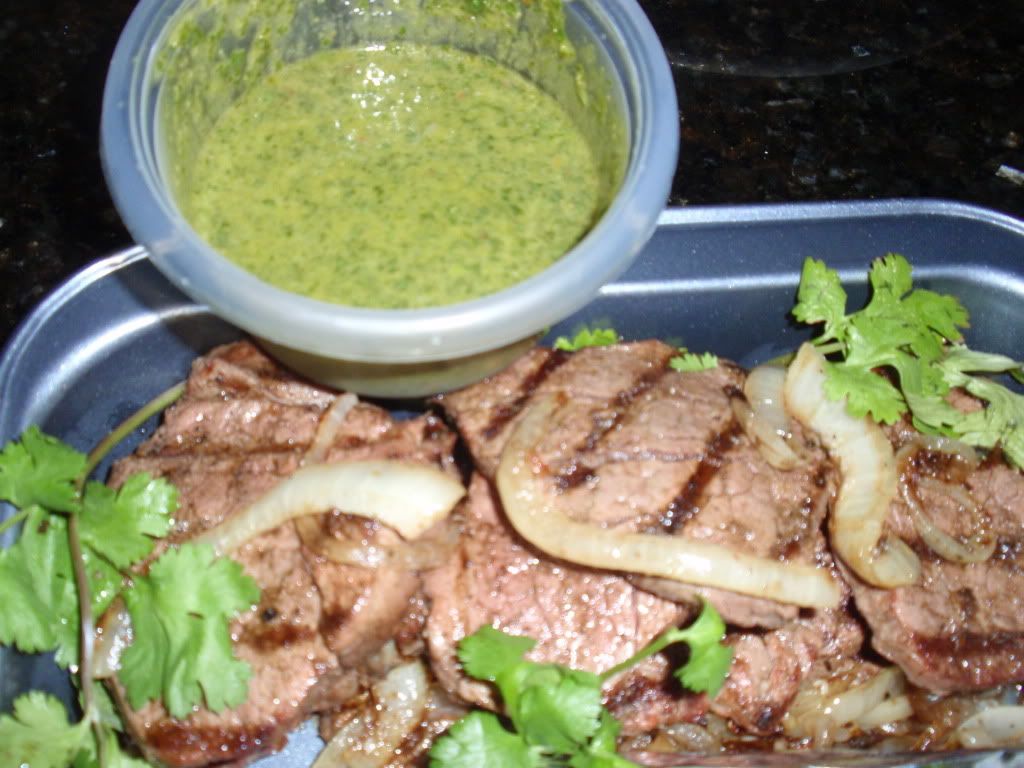 Chimichurri~
1 cup packed fresh italian parsley
1/2 cup olive oil
1/3 cup red wine vinegar
1/4 cup packed cilantro
2 garlic cloves
3/4 tsp. crushed red pepper
2 tsp. cumin
1/2 tsp. salt
Mix in food processor
Served with grilled asparagus with shaved parmesan and roasted potatoes along with the chimichurri: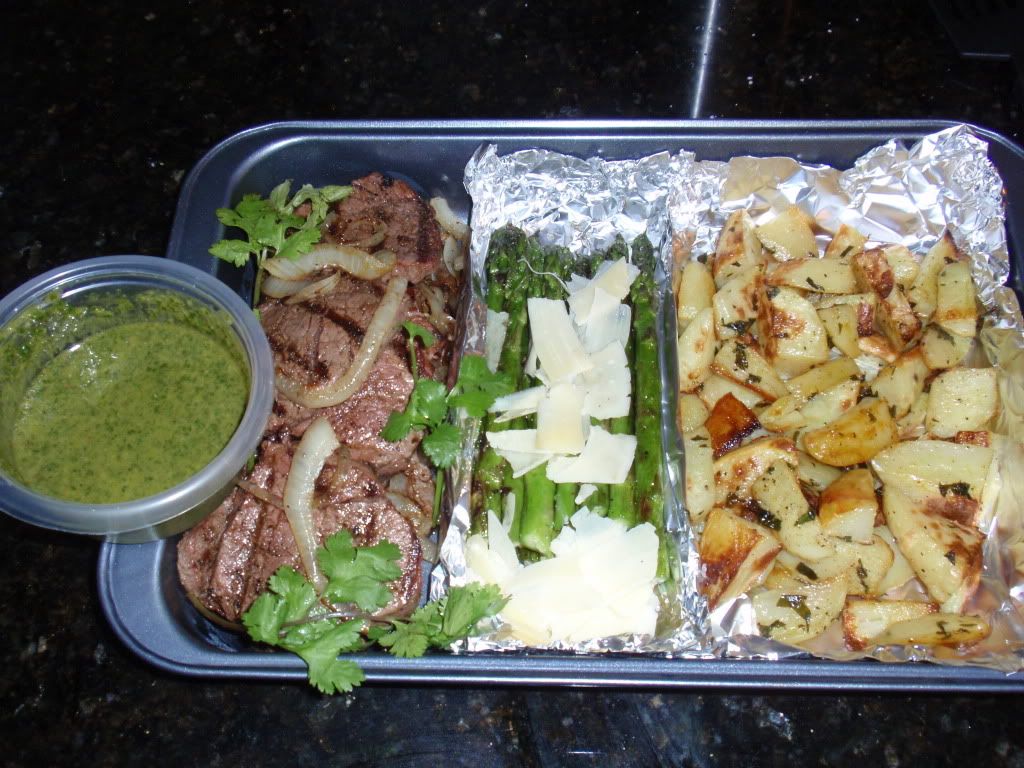 All packed up and ready to hit the road:
I made some cookies to bring for dessert. These are called Cowgirl cookies. Basically a chocolate chip cookie with oats and coconut. If you add nuts, they become Cowboy cookies.
I prefer them with no nuts, so these were Cowgirls.
I left the egg burning with the vents slightly open while I was gone, cause I wanted to egg more when I get home.
The disinterested teenager doesn't normally like steak, but like a good mom, I coaxed him into tasting it (bribed is more like it). Just one small piece for goodness sake!
I served him this plate and just shut my mouth:
He scraped off the sauce and took a bite. Then a teeny smile crept on his face, and he said, kinda offhandedly, "You can make this again!". The compliment of all compliments!!!
So after that, my day was complete!
Happily egging on my original large BGE since 1996... now the owner of 6 eggs. Call me crazy, everyone else does!

3 Large, 2 Smalls, 1 well-used Mini