I have heard that smoking a brisket is a journey, so I wanted to share my adventure with you as I prepare a whole packer brisket Texas Style on my XL Big Green Egg for the Sunday Night Football game between the Baltimore Ravens and New England Patriots on 9/23/2012. Below is a chronology of my journey.
Saturday, September 22, 2012:
10:00 AM – Went to the local Amish market to purchase a fresh whole packer brisket from the butcher. I bought this 10.5 lbs brisket @ $4.69/lb.
7:00 PM – Trim and season the brisket. I trimmed all excess fat, leaving a thin layer of fat for natural protection and moisture.
For seasoning, I've had great results with this Szeged Steak Rub Seasoning on rib-eyes so I decided to try it. I like it because this is a coarser grade seasoning with great ingredients.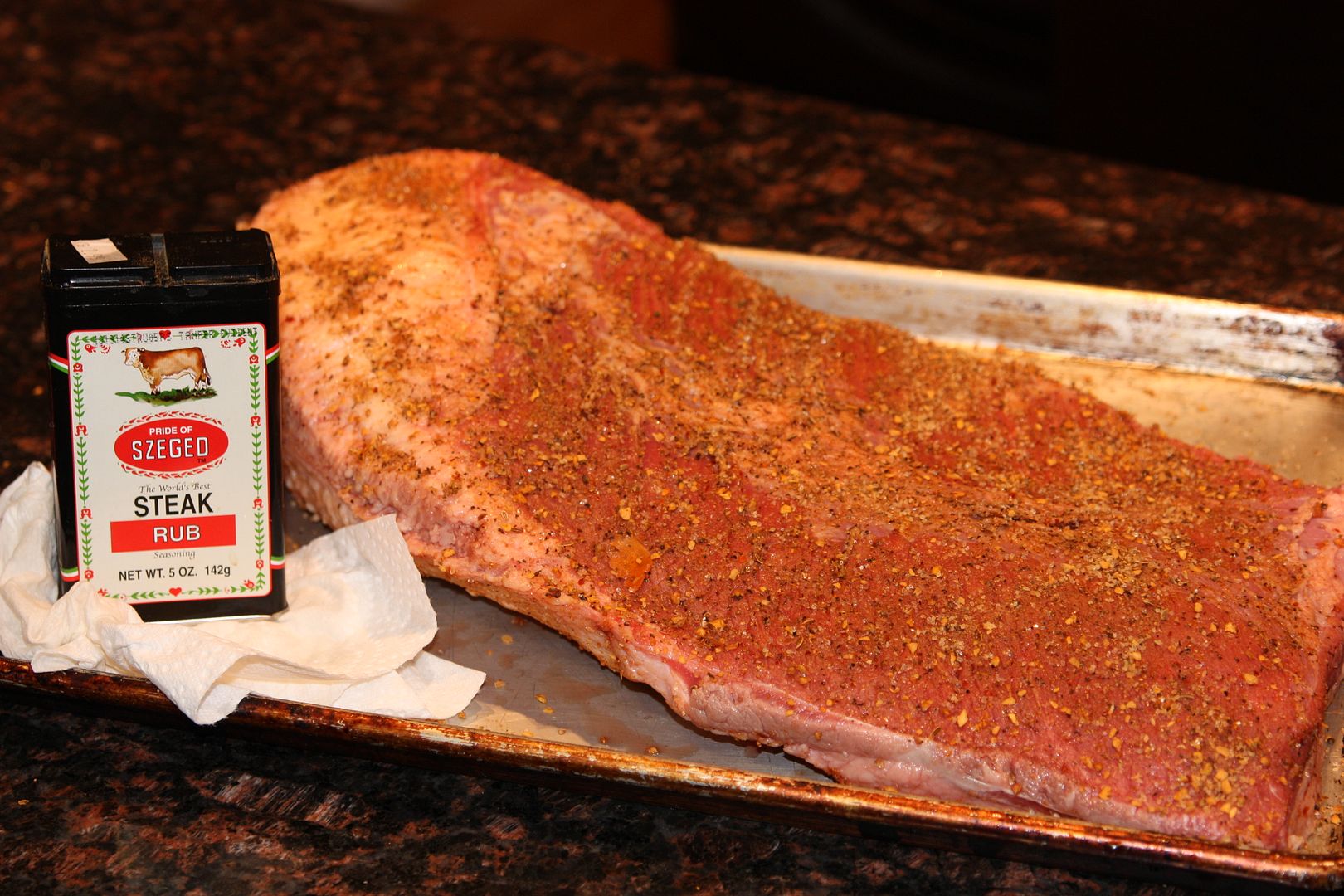 Once seasoned, I've wrapped the brisket in plastic and placed in the fridge.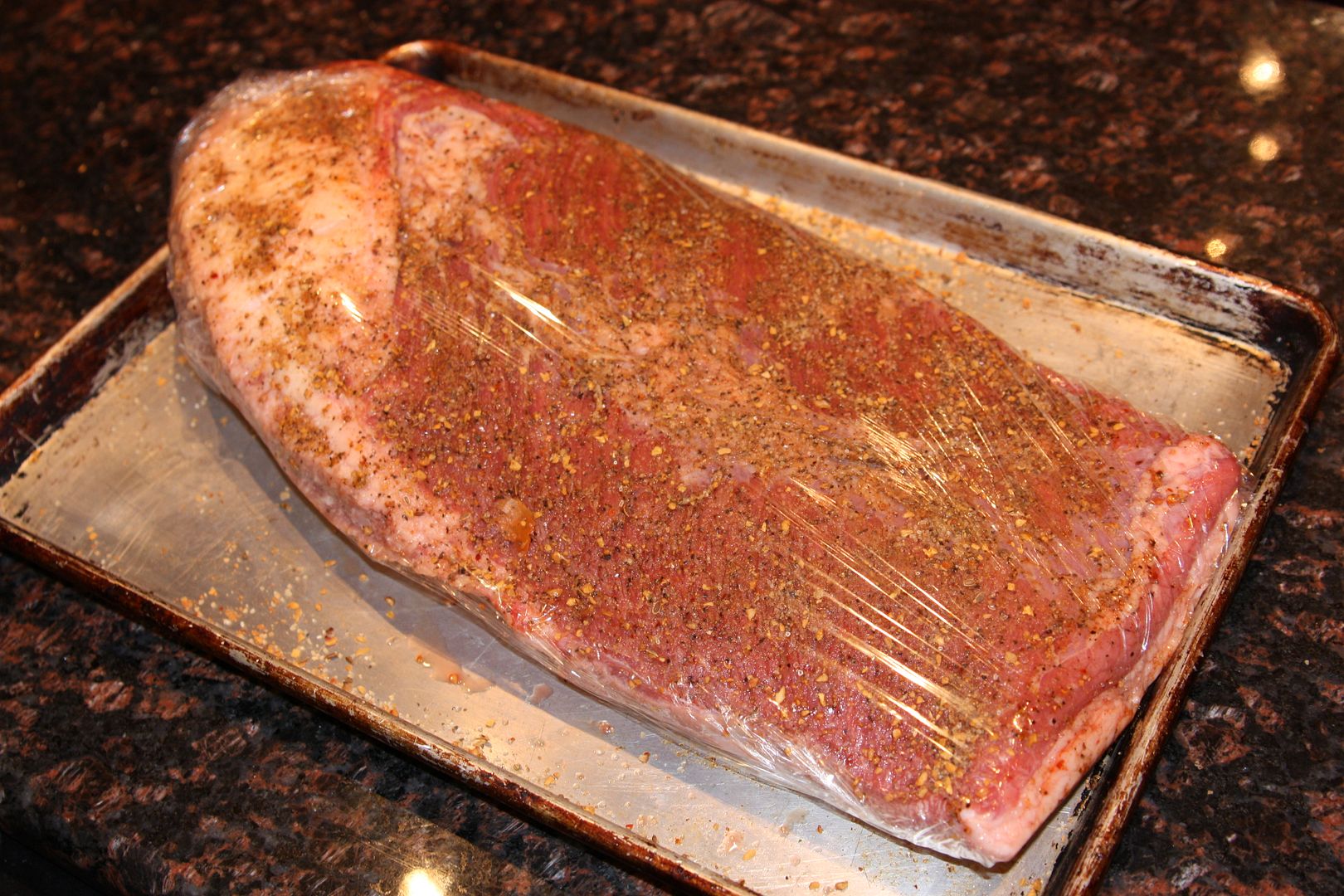 8:00 PM – Soak chips and prepare Big Green Egg for the long cook. I placed about a cereal bowl full of Mesquite wood chips in water to soak for a few hours.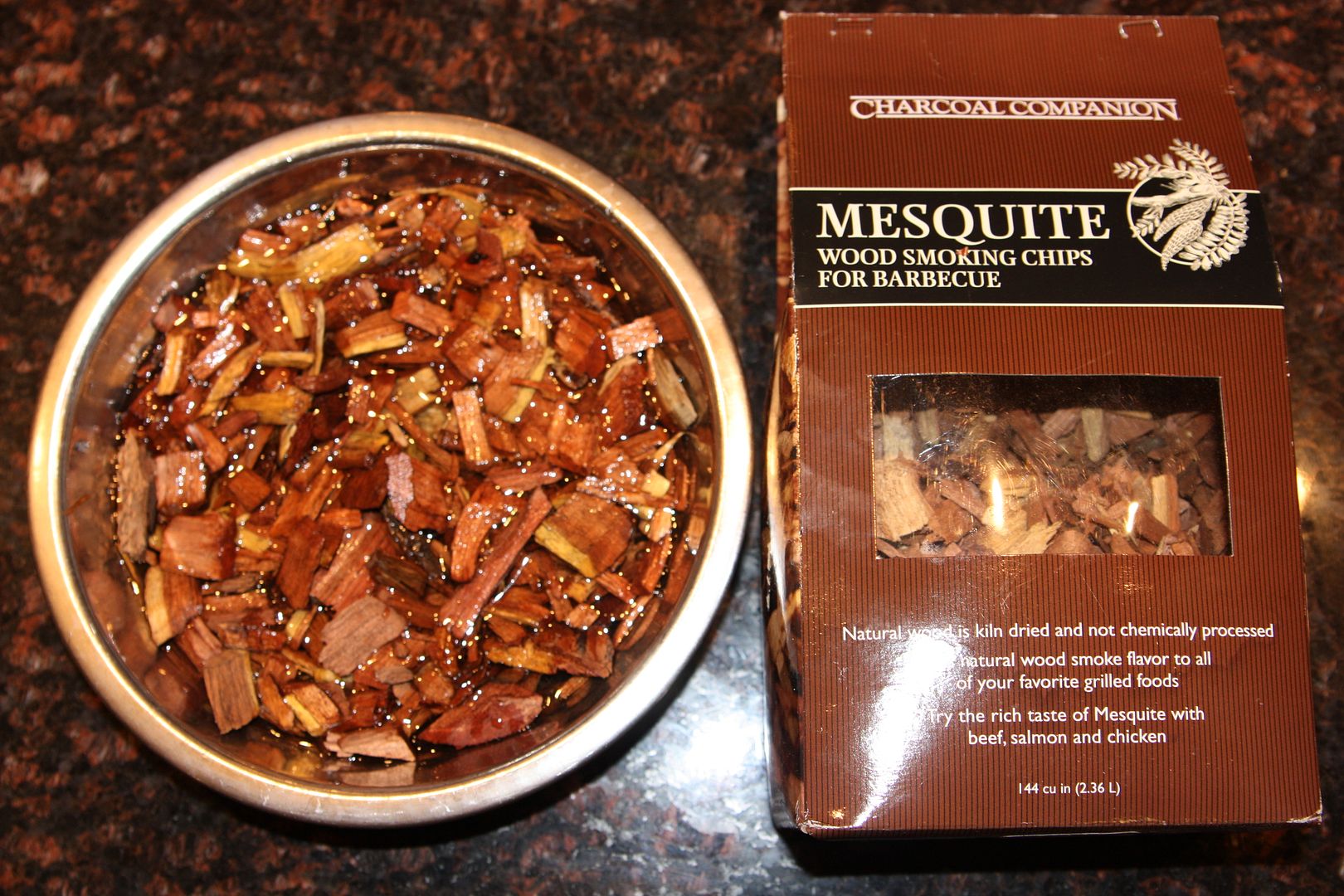 Next, I cleaned out all previous coal and ash.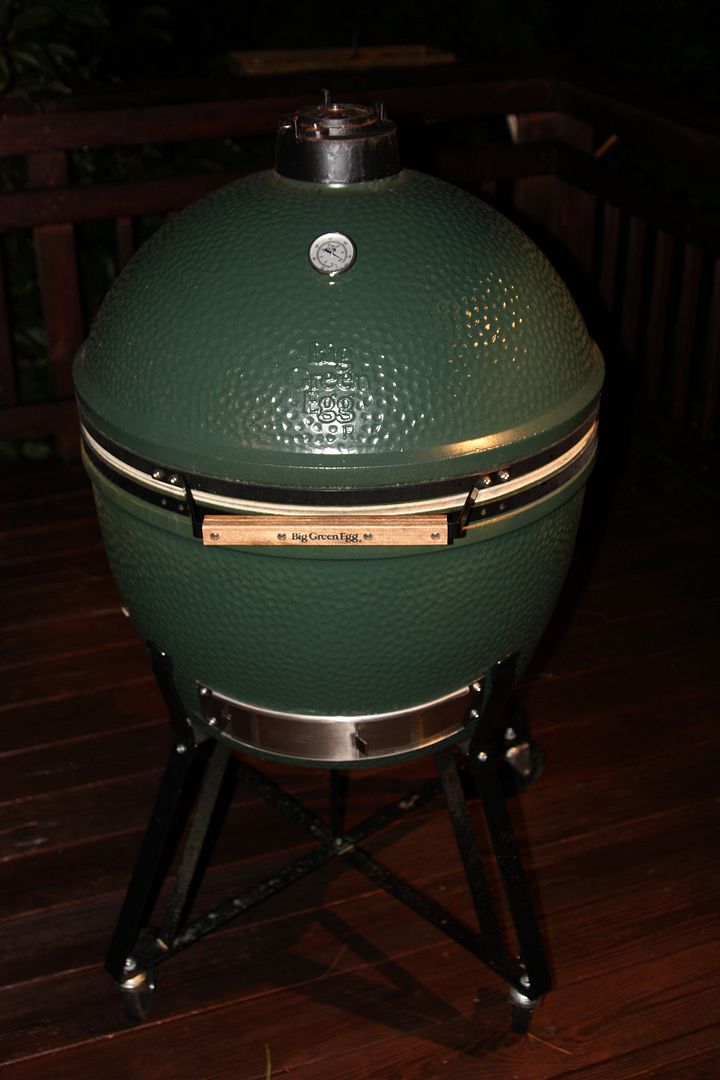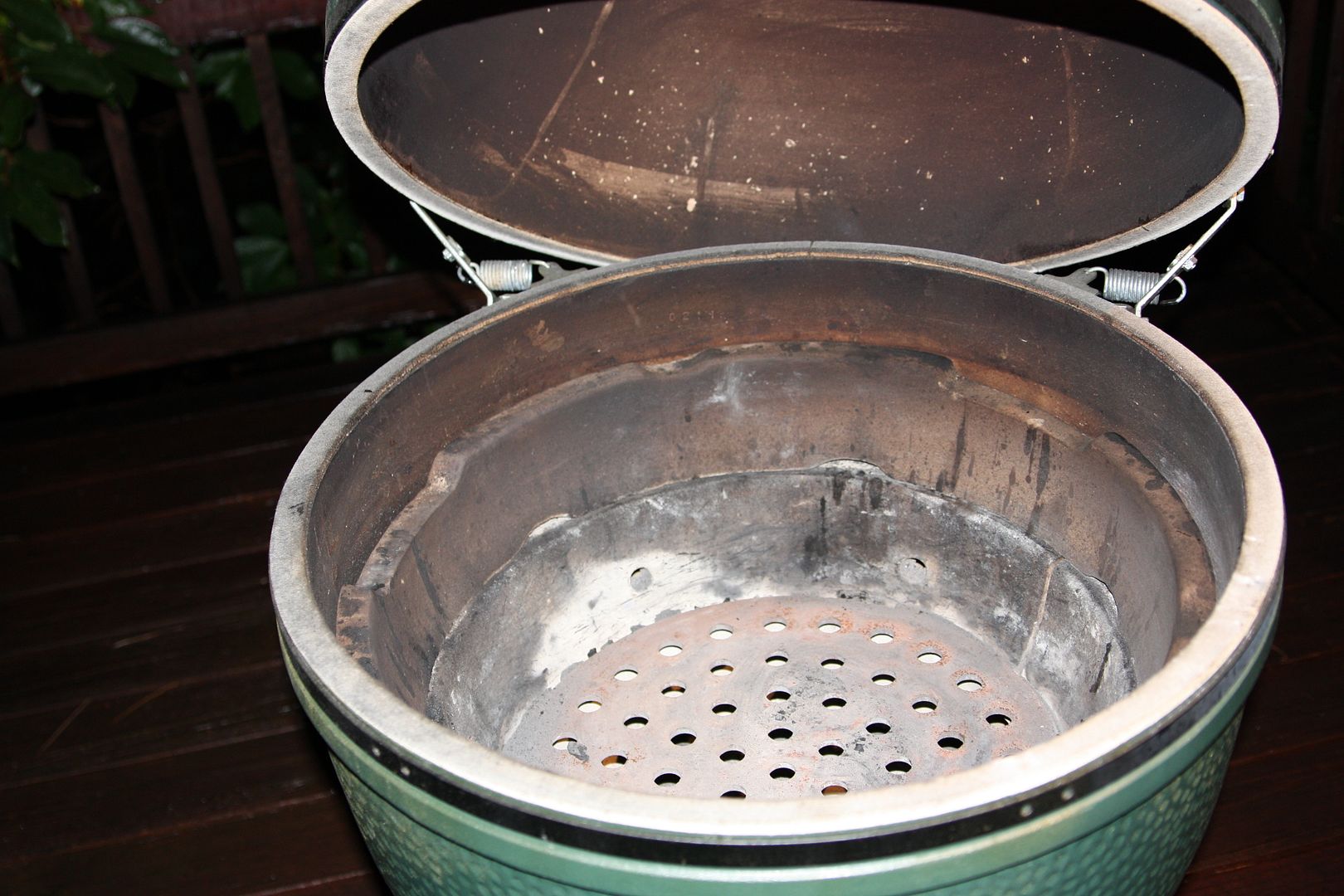 11:00 PM – Fire up the egg. I use Cowboy brand natural hardwood lump coal for my cooks. I buy 20 lbs bags, and have filled about 10 lbs worth of coal for this smoke. I love the egg's feature to kill the burn and reuse to coals later!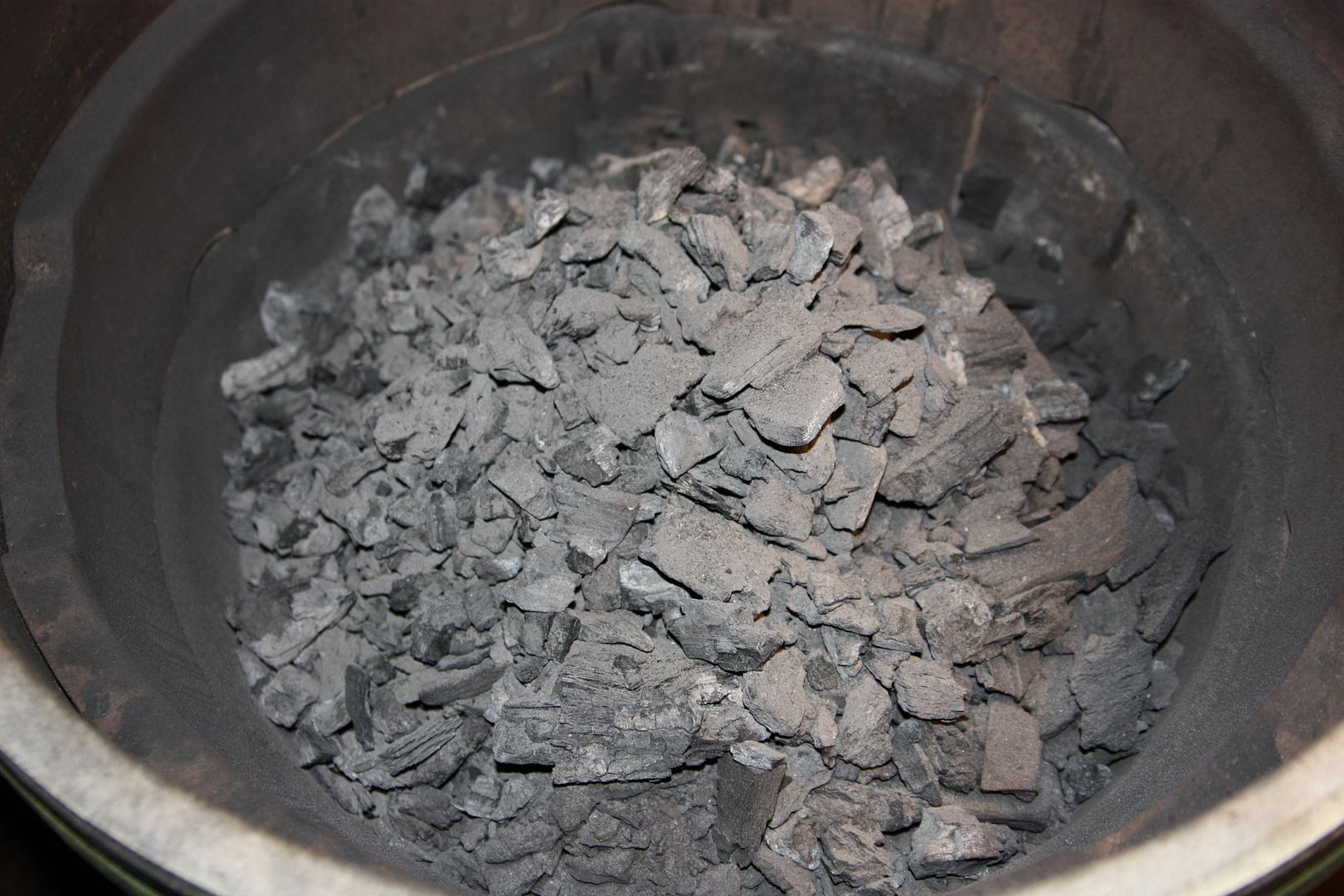 11:30 PM - Once the coals were smoldering evenly, I prepared the egg for indirect cooking. I have the BGE plate setter and have set it up with the legs up. Then, I filled a large cookie sheet with warm tap water and placed it on top of the plate setter. This setup serves 3 purposes: drip pan, humidity control, and additional heat sink. Now it's time to place the brisket into the egg.
12:00 Midnight – The dome temperature has stabilized at 230 (°F). Time for sweet dreams about football, succulent brisket and craft brews.
Sunday, September 23, 2012 – Game day!
10:30 AM – The brisket has been smoking uninterrupted for 11 hours at 230-220 (°F). Morning dome temp show precisely 220 (°F).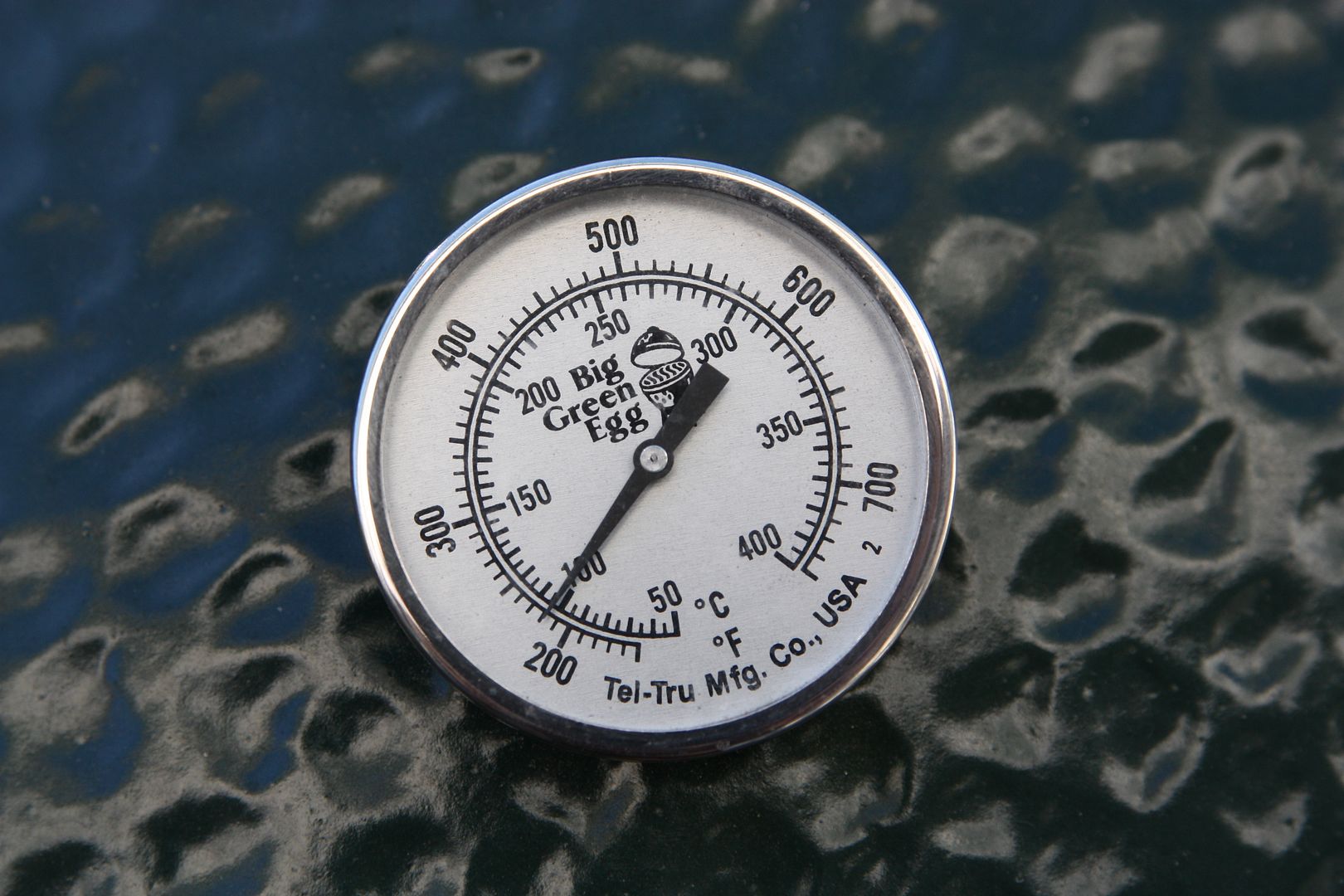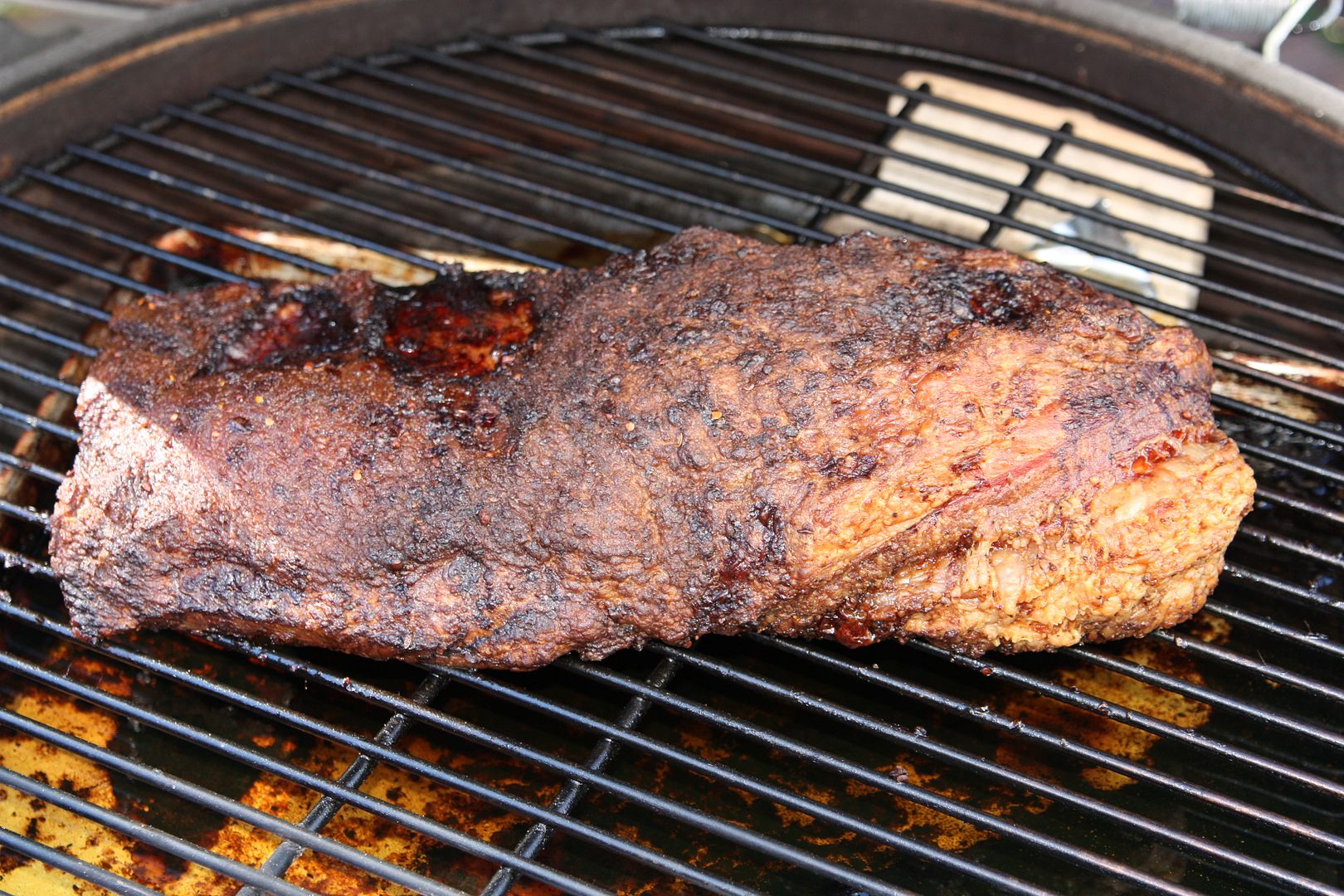 I overestimated the duration of the cook. I was expecting a 10.5 lbs brisket to smoke for at least 14 hours at 225 (°F). However, when I took the brisket's temp at 10:30 AM, it was at 200 (°F), so it had to come off the egg now, way sooner than I anticipated.
Next, I wrapped the brisket in foil with about a cupful of apple juice and wrapped tightly in a towel. However, instead of the usual cooler, I placed the wrapped brisket in to the microwave to rest at room temperature for a few hours and soak in the juice. Warning do not start the microwave J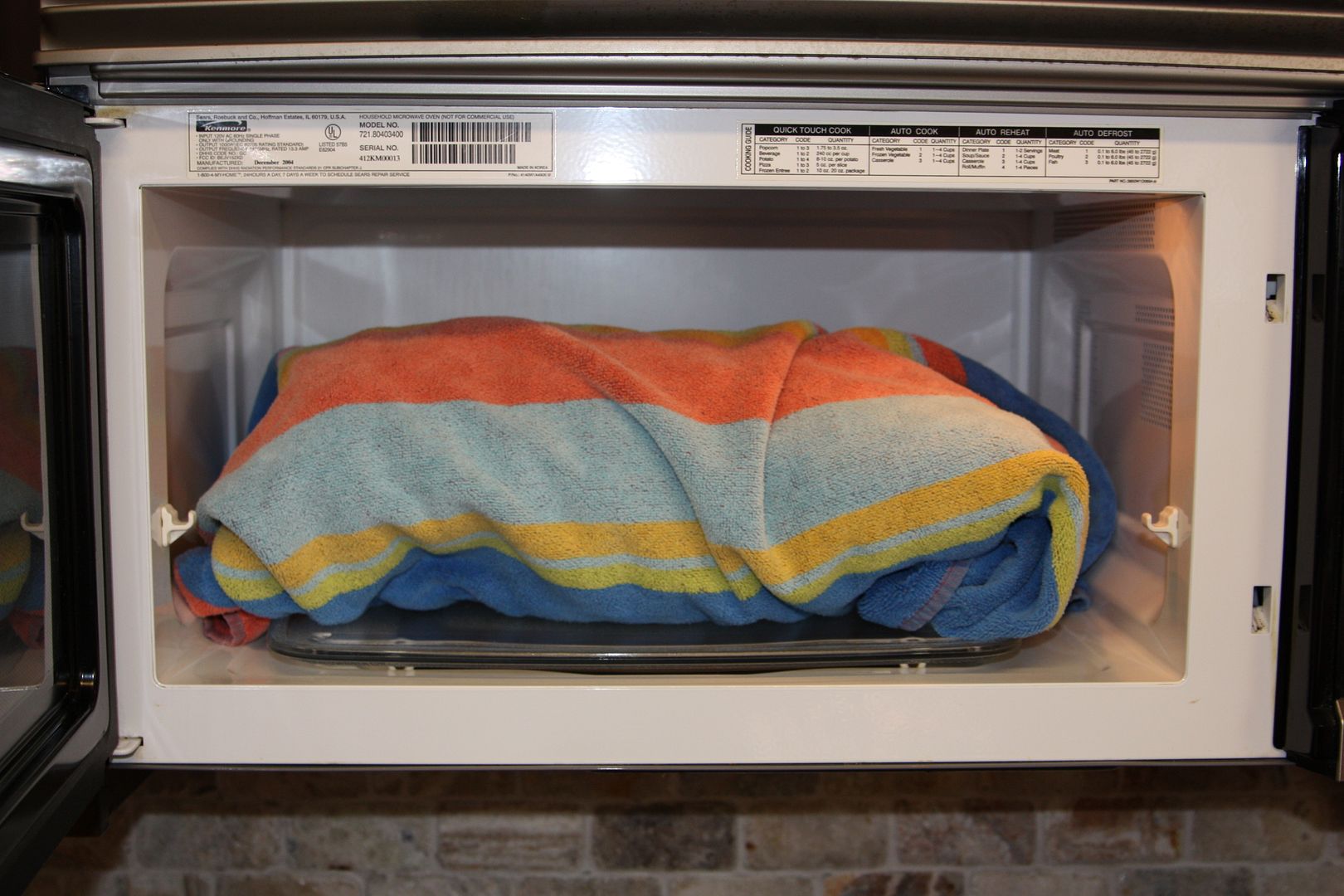 1:00 PM – Even though it's not game time yet, I wasn't going to let a fantastic brisket go to waste. So I decided to slice about a third of the brisket for lunch with my family, cutting against the grain of course.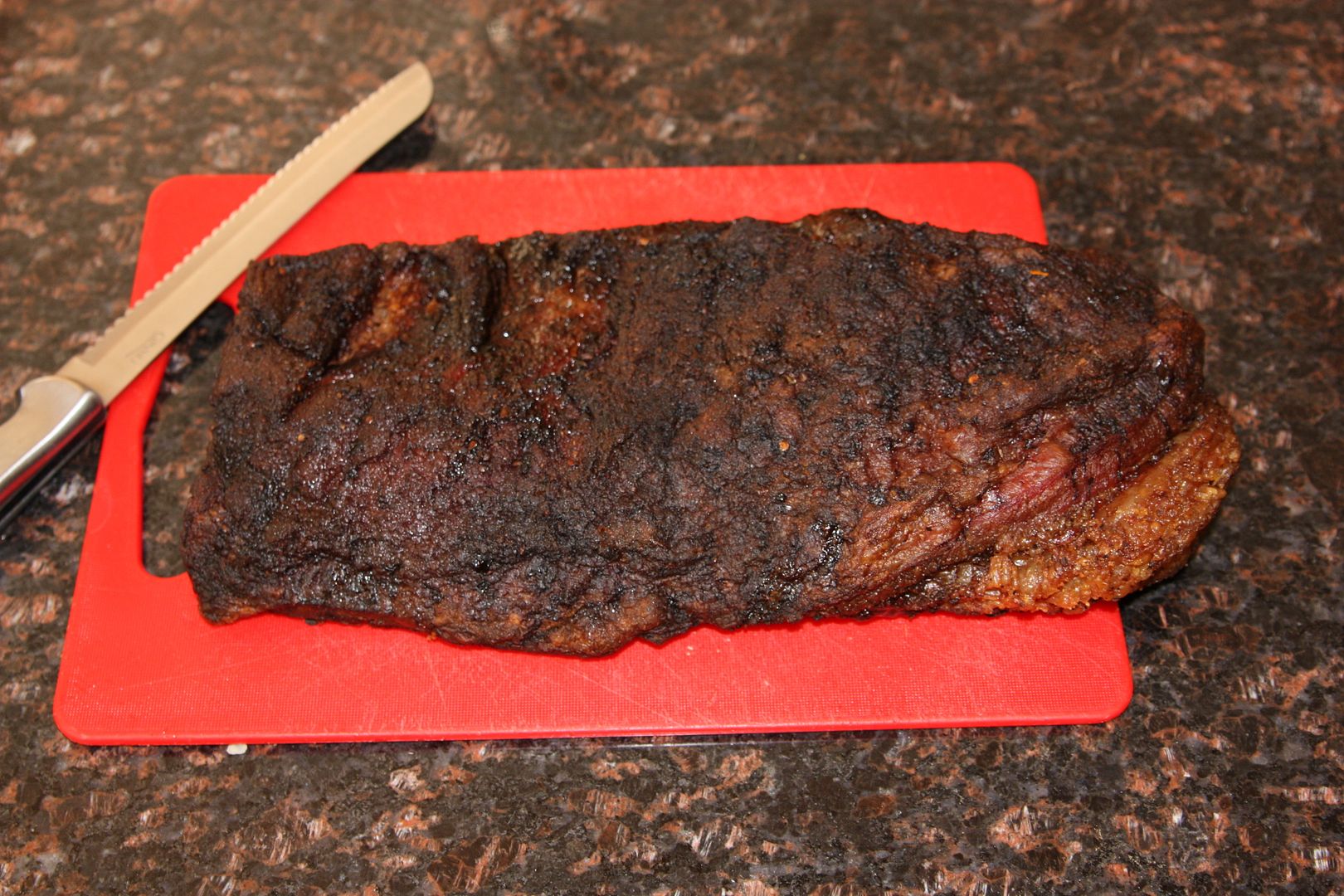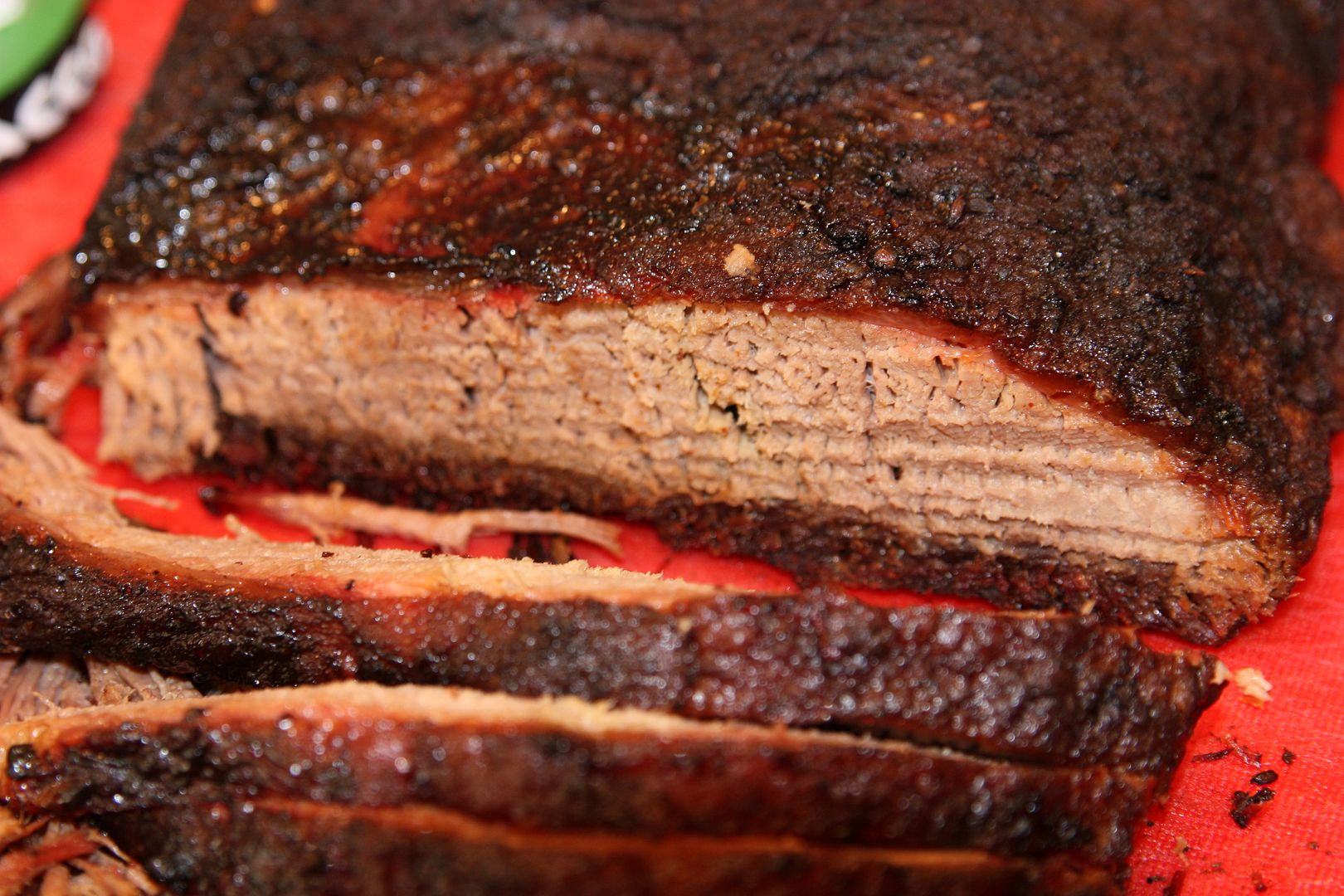 Against all common sense, I added another half cup of apple juice and wrapped the remaining two thirds of the brisket with foil and towel and placed it back in the Microwave.
5:00 PM – I unwrapped the brisket from the towel and placed it in the fridge.
8:00 PM – I removed the foil from the brisket, sliced it and put it in the microwave for 3 minutes in a covered ceramic dish. I know that this is taboo, but the brisket was even more tender and juicier than when we ate it for lunch, 7 hours ago.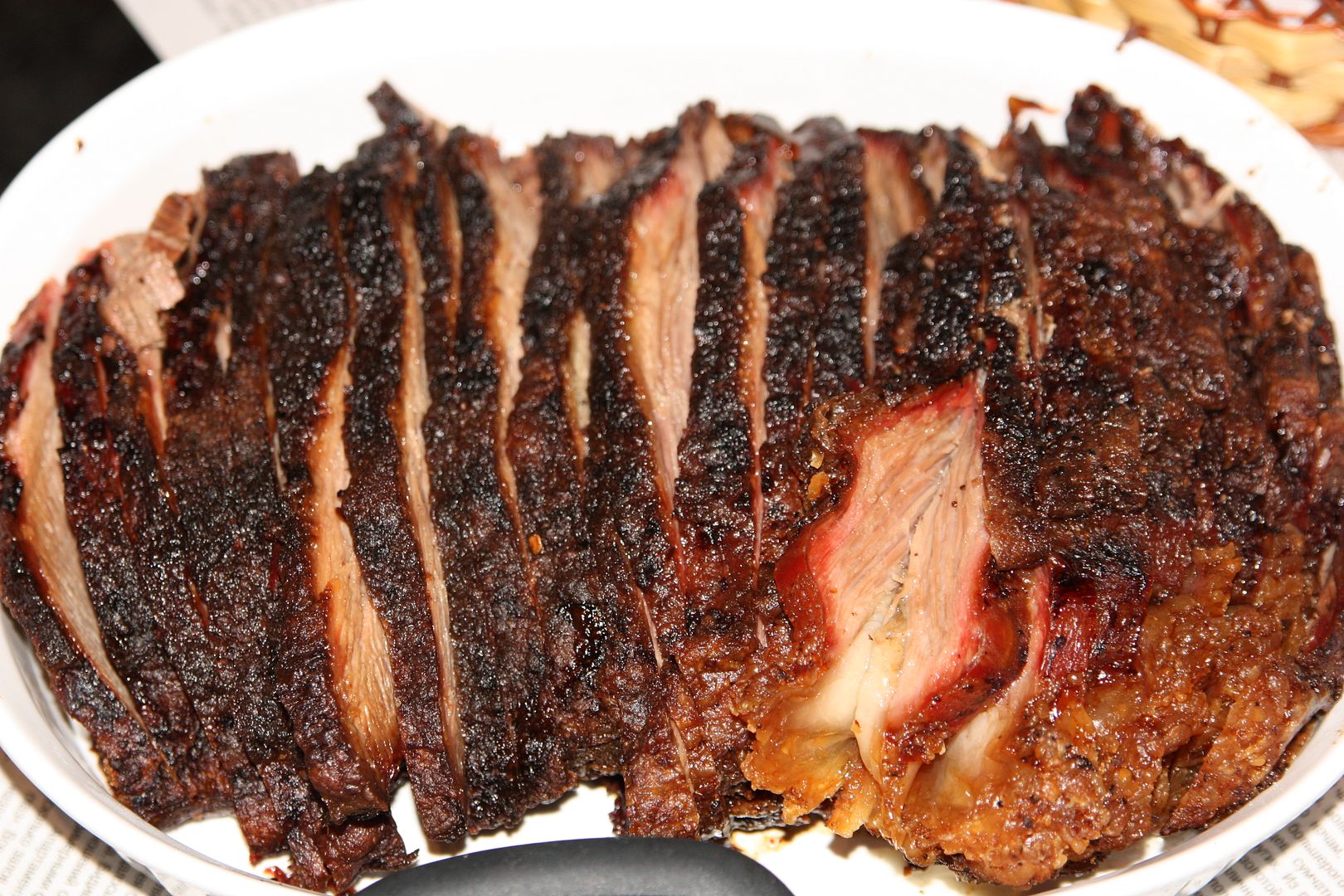 8:30 PM – Game time. Serve juicy brisket with rice pilaf and craft brews to hungry Ravens fans. This was a hit!
12:00 Midnight – Ravens defeat the Patriots 31 to 30 in a nail biter.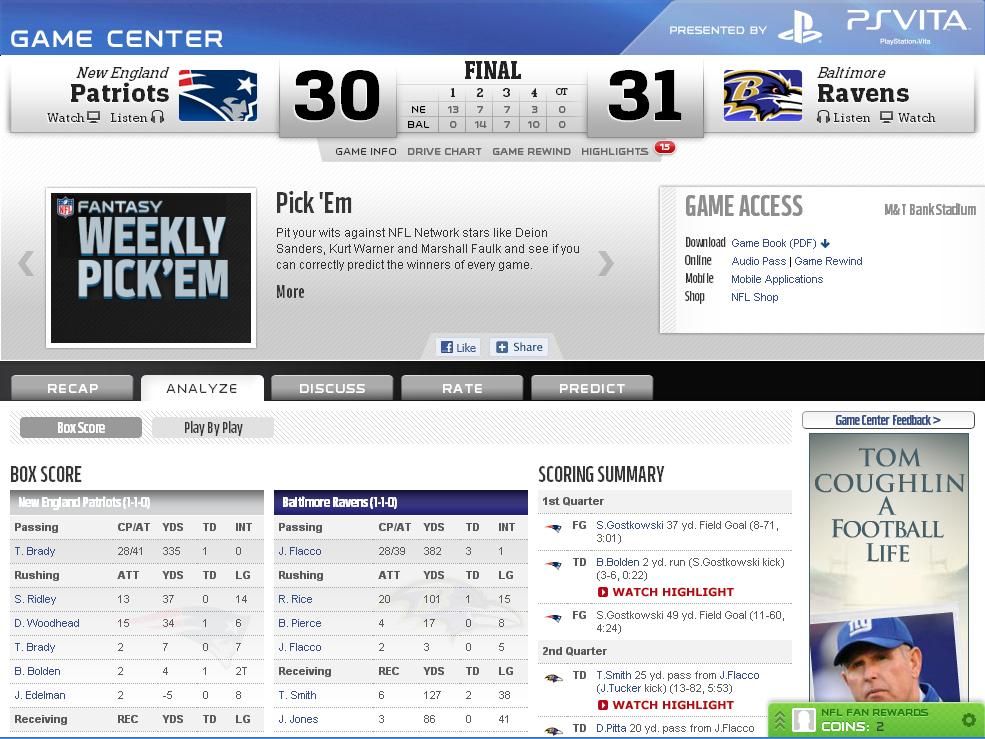 Go Ravens! Go Big Green Egg!