I received my egg a year ago as a gift from someone who thought I would get more use out of it than he did. He was absolutely correct. I have grilled and smoked to my heart's content. Favorite meal? Pulled pork! It isn't so much the taste, although I love it, it is the process.
I put a couple of shoulders in the fridge yesterday afternoon with mustard and a local dry rub and wrapped in food service wrap. I had a late appointment with a lady from Tennessee and I told her what I was fixin' to do. She knew BBQ.
I got home and started the egg. I caught the temp on the way up, always a plus. I let it settle for a bit and napped about a half hour. At 11:15 I retrieved the meat, freshened up the rub and set it on to the grid. I noticed the temp coming up so I damped her down just a bit and went to bed. No checking! There is some satisfaction that I am smoking nekkid, no electronics.
I don't have anything against them and will probably own one this year but for now there is a purity of skill that I enjoy.
I slept like a baby through till 6AM. I checked the egg and it was a cozy 260° and the meat was 178°. Here just before 8AM it is at 195° and I am looking for 200°.
With fondness and some nostalgia I reminisced about those nervous early cooks. Checkin' and fiddlin' and worryin' and wondering if the fire would hold. Checking the forum every 15 minutes as if that alone would give me success.
There was the smell of smoke in the mornin' this morning. I scared a cat that had slept next to the warm egg on the bottom shelf.
What a difference a year makes. Lunch is almost ready. The best part is having a family I can share this with who understands-- who knows BBQ. Thanks for listening.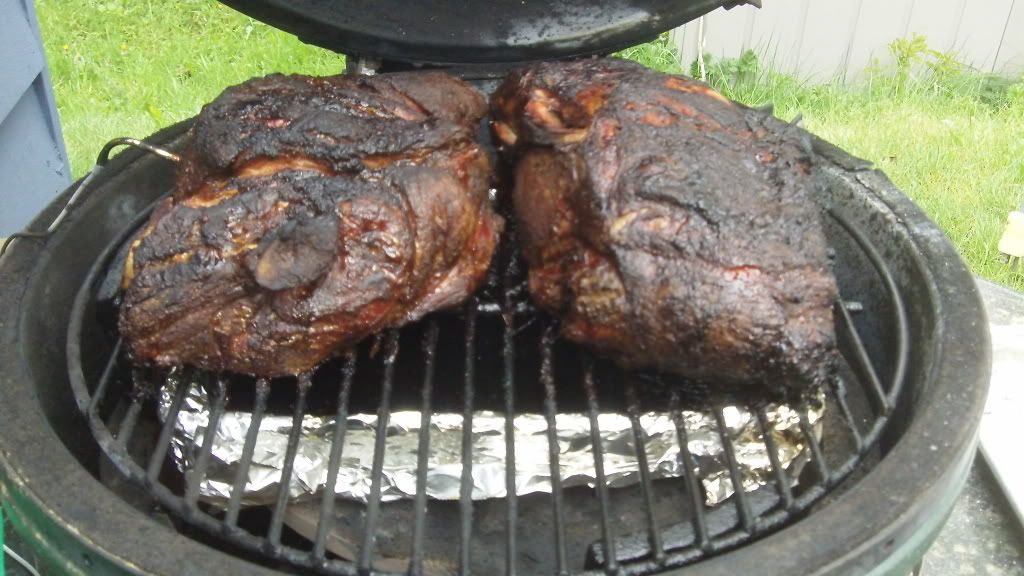 Yes, I know the rules. No picture, no BBQ.