Welcome to the EGGhead Forum - a great place to visit and packed with tips and EGGspert advice! You can also join the conversation and get more information and amazing kamado recipes by following Big Green Egg at:
Facebook  |  Twitter  |  Instagram  |  Pinterest  |  Youtube  |  Vimeo
Share your photos by tagging us and using the hashtag #EGGhead4Life.
In Atlanta? Come visit Big Green Egg headquarters, including our retail showroom, the History of the EGG Museum and 
Culinary Center
!  3786 DeKalb Technology Parkway, Atlanta, GA 30340.
Ping...Judy Chicken!! The Egg Dish you asked for!
Judy...here's what Ann sent to one of the folks we served at my Cousin's B&B over in Indiana last fall!
Elaine,
It was so nice to chat with you this evening. As promised I am including the baked egg recipe that I made. I usually make this recipe in a small casserole dish for my hubby with 2 eggs. I just expanded the recipe for a larger dish and more eggs to serve a brunch crowd. Just double or triple the amounts for the quantity you wish to serve and watch the eggs cooking as you may need extra time.

In a small casserole dish add 1-2 tsp. butter and enough cream to cover the bottom of the dish (approx. 1/8-1/4 cup). I usually go a bit heavy on the cream. Put in a 350 degree oven until the cream is bubbly and the butter has melted. While this is in the oven, crack 2 eggs into a cup so you can add them to the cream mixture without breaking the yolks. Combine 1/4 tsp. of thyme, rosemary and fresh chopped garlic (I add more), and 1 TB parsley. If you like tarragon, add some to the mix. Remove the bubbling cream mixture from oven and pour the eggs over the cream. Top with herb mixture and salt and pepper to taste. Add 2 TB of shredded Parmesan cheese to cover the egg mixture. Bake in 350 degree oven for approx. 10 minutes until the whites are set. The eggs will continue to cook when you remove them from the oven. Serve with your favorite buttered toast. If you like spinach, this is a great recipe to add a few tablespoons of spinach that has been sauteed w/garlic. Just add it to the cream mixture before you put the eggs on top.
I hope you enjoy making these for John as much as I did for you. This is one of Evans' favorite breakfast dishes.

Ann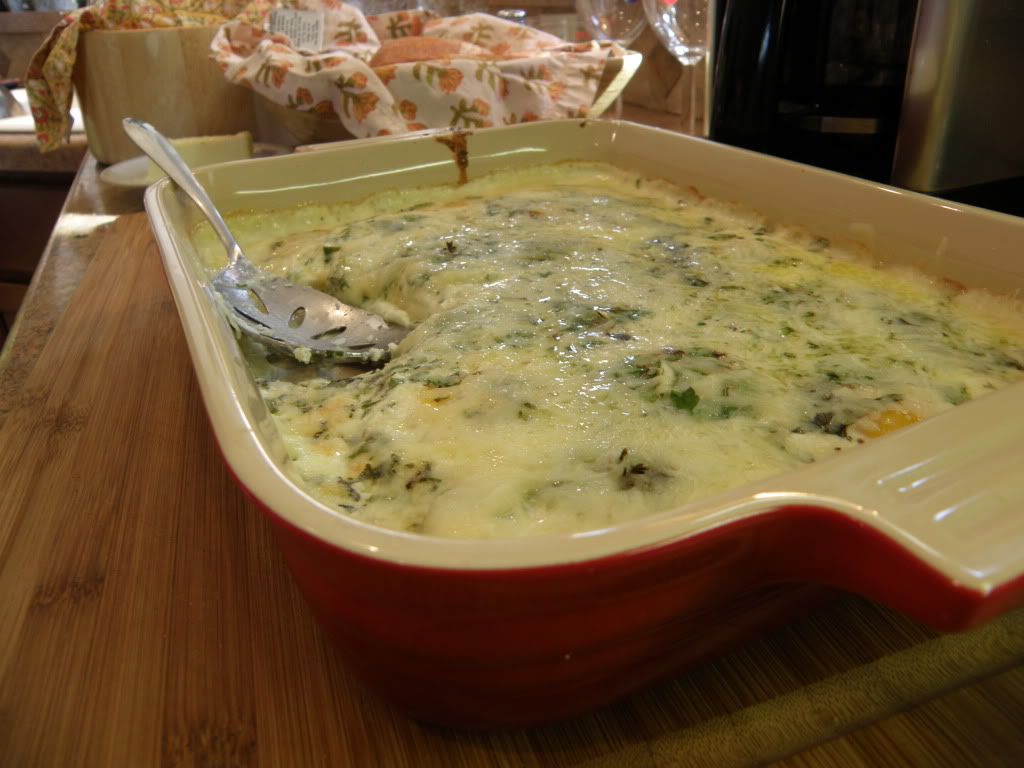 I spent most of my money on good bourbon, and bad women...the rest, I just wasted!!