So... it's been a while since I've had the time or the inclination to visit many of the various forums that I frequent due to what turned out to be a VERY blue Christmas indeed. I took the family to Disney World for the week of Christmas this year and things were going well when I got a call from my Mom who said that my sister had been trying to get in touch with me for the last few minutes. I was in the Rainforest Cafe at Animal Kingdom and it was quite loud so all I got after that was; Sister... Dad... vehicle... unconscious. I left the table and headed for the door while dialing my sisters cell number, when she answered she was hysterical. She had made plans with my Dad to meet him at his long time (35 + years) girlfriend's home to exchange gifts and all of the normal Christmas things families do. She found him where he collapsed in her driveway half in and half out of his car (passenger side) after seeing his girlfriend safely inside (she was diagnosed with MS 20 years ago) and returning to his car to retrieve packages. My 18 year old Nephew had been performing CPR on him until the ambulance arrived and the paramedics were working on him when I contacted my Sister.
I did my best to calm her down while my wife began looking for the next flight to Pittsburgh or Buffalo. As they left in the ambulance I asked her to keep me informed... not 20 minutes later I was informed that my Dad had passed away at 67 years old.
There was no need to rush to PA as there was certainly NOTHING that I could do, so we did the best we could to insulate the kids from the news until our time at Disney was complete and then we drove to NWPA. We buried my Dad on New Years Eve and I began the new year starting the process of settling his estate as his appointed executor. I was astounded to discover a couple of things that Dad didn't share with me; first being that in 1977 he earned $10,100+ and spent over $3,900 that same year on a lawyer fighting for custody of my Sister and I. Second... the most my ol' man earned was the year he retired (2006) and that was only a bit over $44,000. EVEN with his meager earnings my Dad managed to put away about a quarter of a million dollars in two IRAs not to mention two separate deeded (paid for) properties one that has a house and large detached garage. He only finished the 8th grade before his Dad died and he had to go to work... but he had more financial sense than the lion's share of Wall Street. I wish he would have taken my advise and used that money to live his life, but he lived the way he seen fit and in doing so insured that my sister has a chance at a real future if she doesn't just blow that money. He had his flaws and some were deep... but his idea of fatherhood was providing for the safety and material needs of his children and there is no doubt that he did that beyond his means.
My Dad bought this 1980 Yamaha XS850SG on June 30, 1980 and it was loved more than life itself (I once believed more than us kids) until he began having problems with his back in the mid 90's. At that point the bike sat in the corner of his garage and collected dust. It hasn't been started in at least a decade perhaps more like 15 years. Unfortunately I have inherited this bike much sooner than I should have but now that I have I intend to honor my Dad by bringing her back to life. I trailered the bike from Northwest PA to my home near New Orleans where I intend to restore it and keep it as a memory of my Dad. It's really a shame that he let her go considering that she only has 5,350.3 miles on her after all of these years. Anyway, here she is before I figured out how to tie her down without access to the handlebars.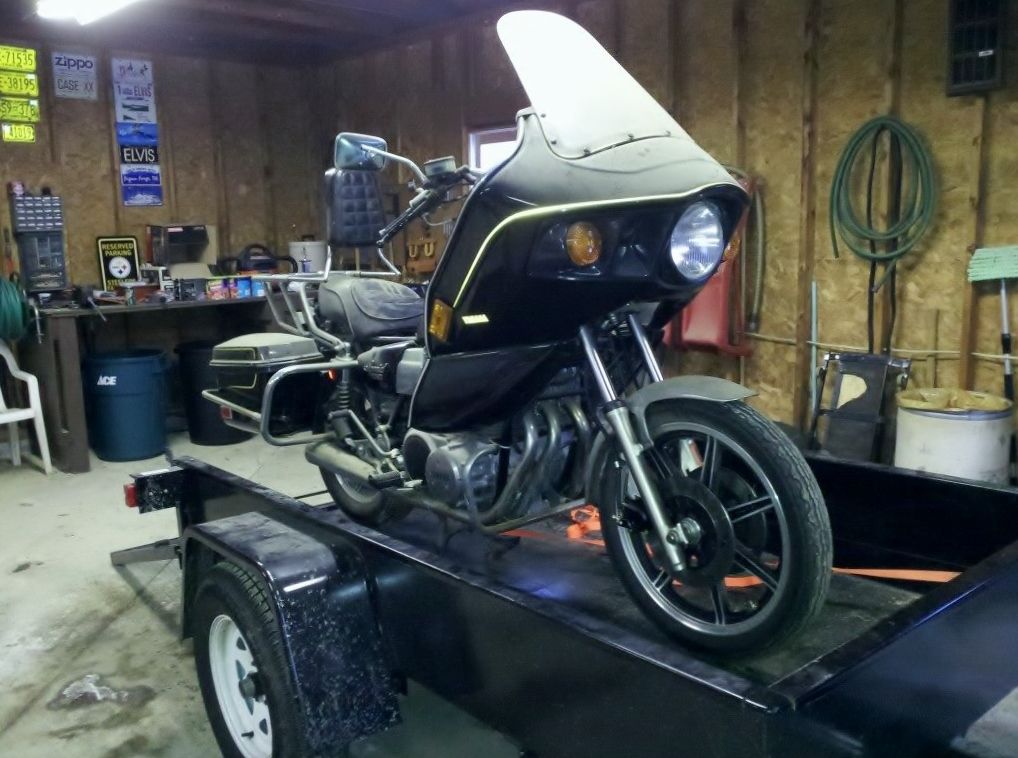 Oh... and the drama didn't stop there. The night of January 4th Dad's girlfriend went outside to smoke, fell down and couldn't get up again (MS is a ****). As she was living alone she spent an estimated 10 hours outside lying on her porch. Her family found her the next morning and got her to the hospital where she was treated and transported to Hammett Hospital in Erie PA because, not only did she have frostbite, but her muscles had began shutting down and therefore were not absorbing protein. Her blood protein count was over 9,000 (I understand it should have been under 300) which ran a high risk of shutting down her kidneys. She is doing better and still undergoing intense physical therapy to regain what little use of her muscles she had before. She's just damned lucky that didn't happen a couple of nights before or after as the temperatures were below zero on those nights.
Christmas will NEVER be the same.
So... anyway... it's been about a month now and I realized that I needed to get on with my life so I've spent the weekend submersed in motorcycle therapy. It really dose help to be out in the garage working on my Dad's bike.
It took me a while to figure out what I needed to buy to get the bike off the ground to work on her... then I discovered the
J & S Jacks Big Wheel Motorcycle Lift
. This thing is the bomb... and it took less than 48 hours from completion of order until it was on my doorstep.
Anyway, some folks pointed me to the Yamaha Triples forum and they've been invaluable in my quest to figure out what I need to do to get this old bike back in like new condition. So... here's what I've been up to...
She cleaned up pretty well with just a bucket wash.
I've made quite a bit of progress over the weekend tearing her down. I'm looking to tear her down clean her up and put her back together in sections so I don't end up with a pile of parts that I have no idea how to put back together. I have a few boxes of parts and all of the boxes and the Windjammer to clean up so that should keep me busy for a while. While I'm cleaning I'm also inspecting and making a list of the things that will need to be replated with chrome or replaced beyond the typical wear items.