This was my first pork chopped cooked on the Egg and my wife's first pork chop that she liked.
This past weekend I picked up a couple "porterhouse" pork chops from Central Market. Just an aside but what genius decided to use beef cut names for pork? Anyway, I love pork chops but my wife hates them. When I questioned her about her hatred of pork chops - I mean, who can hate pork chops?!?!?! - she said that they are flavorless with the texture of gritty shoe-leather. Ah-Ha! So she was served dried-out pork chops as a child and doesn't really know how good they can be. I finally convinced her to give the good old chop another try and I assured her with me cooking it on the Egg it would be different this time.
So this morning before leaving for work I put the chop (a 1+ pounder that we would be splitting) in brine in the fridge. I got home, started the Egg, and pulled the chop from the brine after a nice 9 hour soak. Here's the chop after being rinsed and sprinkled with Dizzy Pig: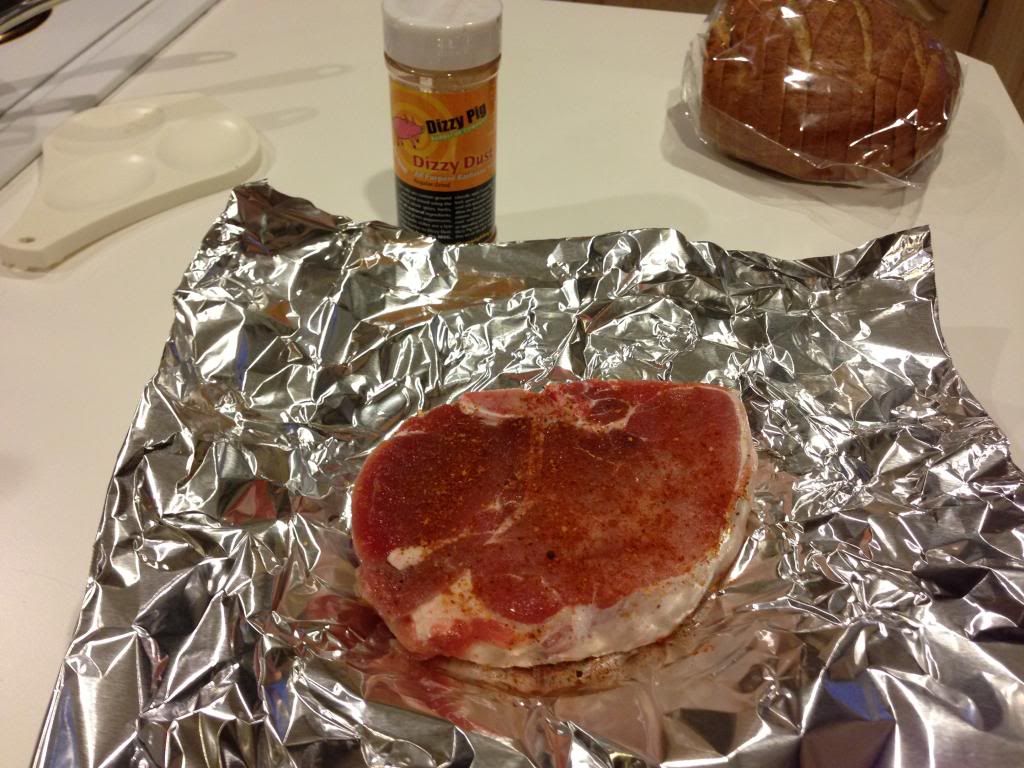 Next up - start the beer reduction glaze. And yes, just like you don't cook with wine you wouldn't drink, you don't cook with bad beer either - that's Franconia Dunkel (local microbrewery in McKinney, TX). For a reduction like this you do not want to use a beer with a lot of hops because the bitterness will get so concentrated it will make the food you apply it to inedible. 1 bottle of beer and about a teaspoon of honey:
After achieving nuclear temp on the egg I throw the chop on for a good sear. 90 seconds a side: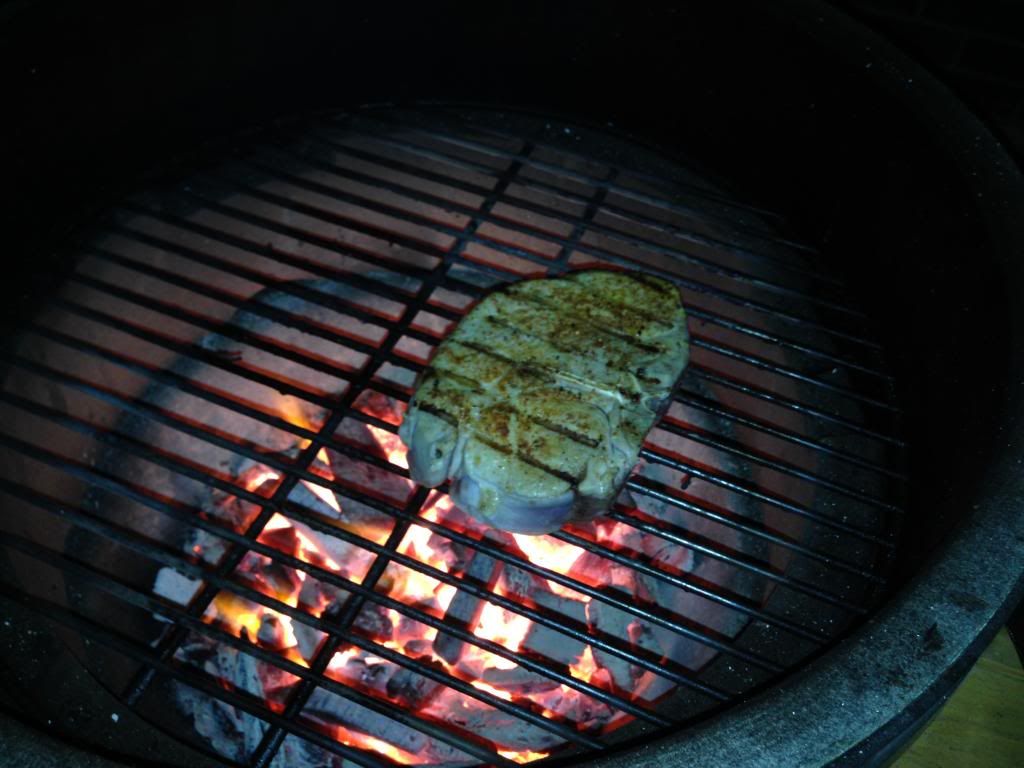 I pulled the chop, covered, and dropped the temp of the egg. Then it was back inside to finish the beer reduction glaze. Here's what's left - the Tigger bottle-opener is there for scale. I'd say it's about 2-3 oz:
After I got the Egg's temp down to 400 degrees I put in some apple wood chunks and it was back on the grill with the chop. 6 minutes a side (give or take) then I applied the glaze to side 1, flipped, and applied the glaze to the other side:
Pulled the chop and did a final temp check - it went up a little less than I expected during the last 2 minutes but hey, it'll coast up at least another 5 degrees right?
And besides, even if it's just shy of the FDA's recommended 145 there's a reason it's called a "recommendation" and not a "law". :P
Finally it was dinner time. I cut the chop away from the bone, gave my wife a good bone (because she really likes it) , and plated half of the chop with broccoli and risotto. Yum! And the chop really wasn't this pink in person. I think my iPhone did a less than stellar job on this pic with color temperature and saturation. I mean, the chop was pink, but it wasn't raw like this picture would indicate.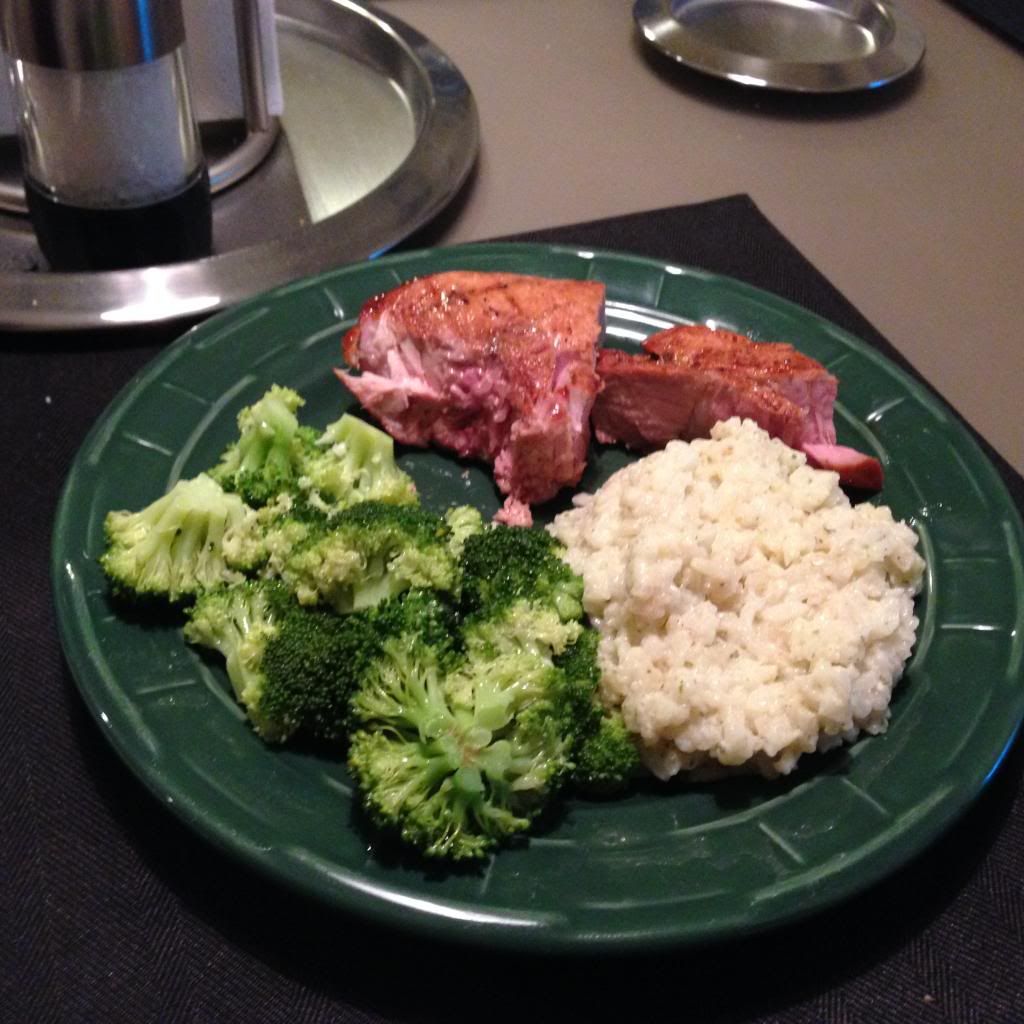 So after making a pretty darn good chop did I change my wife's opinion on pork chops? Will we be eating more of them? Should I start thawing the other chop I got this weekend? You betcha! It's amazing what a little time, a little knowledge and a Big Green Egg can do to reverse years of chop abuse!