We had quite a busy weekend this past weekend.
Friday night we weren't planning anything. I was going to cook up some porco temperado parmesao (parmesan pork tenderloins) and hang out with Mrs. G. My brother and his GF stopped by to borrow my lawnmower, satyed for a drink and ended up staying for dinner. They had some groceries in the car, so we just made a meal out of it. Started with some linguica for an appetizer.
After that was done, I put on my brother's boneless skinless chicken breasts (not sure how he seasoned them) and the pork.
The ladies did their magic in the kitchen and we ended up with some sweet potato hash, sauteed mushrooms, orange scones (gluten free using almond flour) and some pao de queijio (Brazilian bread with parmesan cheese using tapioca starch, these were store bought)
Saturday, we had some friends come in from out of town. After picking them up from Love Field, we took them down to Maple and Motor (a burger joint that was featured on DDD). Totally worth blowing my diet and eating some bread and non-grass fed beef. Everything in moderation, right? Then we took them to tour a little building in Arlington. You may have seen it on TV before.
If you ever plan on going and seeing a game there, I do NOT recommend taking the tour. After seeing Jerry's suite, the regular suites and the ground floor seats, I don't know that I could be happy sitting in the seats we can afford. :(
After the tour, we had dinner at Bob's Steak and Chop House (our favorite steak house if we go out, which is only 1 or 2 times a year) Totally finished wrecking my diet and my blood sugar showed it the next day. Oh well.
Sunday we headed down to the Farmer's Market and got some produce. Then we took our out of town friends and met some others at The Blue Goose for some Cinco de Drinko. Somehow after a few hours, we all ended up back at our house. The girls sent us home to light the Egg and they went to get meat. We told them to keep it simple (like fajitas) to go with the theme of the day. Now, I'm not sure if the store was really out of fajitas, or if Mrs. G had her mind set in picahna, but we ended up with this: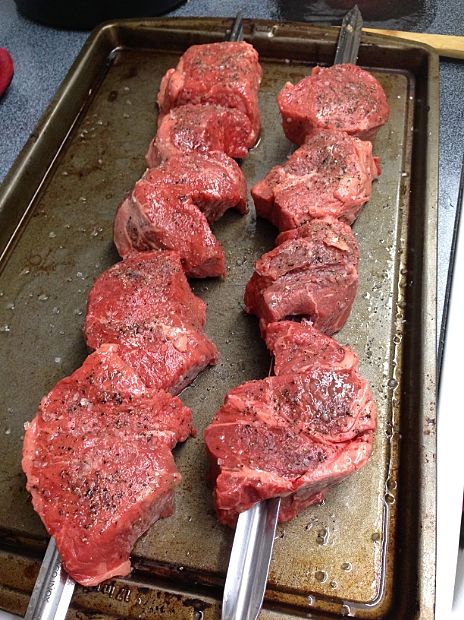 I kept it simple with coarse sea salt and fresh black pepper, can't seem to recall what temperature I had it at (500 maybe? Maybe hotter?) Never did get any finished pics, the booze had started getting in the way. While it was resting, I handed over the tongs and let my buddy grill up some squash
That was the last pic that got taken, but we had picahna, home made chimichurri, authentic Mexican rice, pao de queijo, fresh guacamole and probably some other stuff. My memory got a bit fuzzy. Kind of a weird Brazilian/Mexican themed dinner. Everybody had a great time and raved about the food. I had so much fun, after dropping off our guests at the airport Monday morning, I went back home and couched it for the majority of the day.
Rowlett, Texas
Griffin's Grub or you can find me on Facebook
The Supreme Potentate, Sovereign Commander and Sultan of Wings